The best compact wireless mice for the Mac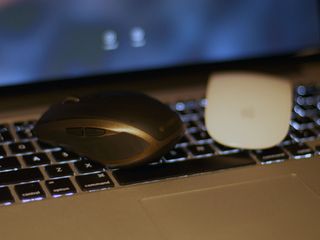 (Image credit: iMore)
Sometimes a trackpad is simply not the best way of moving your Mac's cursor. Whether you're a gamer looking for an edge, in need of a device that causes less wear and tear on your wrist, or just hoping for the best input experience possible, there are lots of options out there. I've narrowed them down to several different wireless models — most equipped with Bluetooth — that have a nice compact size which won't take up too much space.
Razer Orochi
For gaming and performance
Razer's line of mice are made for gamers, but gamers aren't the only ones to benefit: These mice aren't toys, they're incredibly durable - I've been using Razers since the first Boomslang came out: This company knows their stuff. The Orochi sports a compact ambidextrous design. It includes a USB cable but works via Bluetooth too; you can use it tethered if you forget to charge the two AA batteries (which should give you about 3 months of normal usage). Razer's Synapse 2.0 software enables you to customize button and scrolling input and how the 6400 dpi sensor tracks. It glows green, too, and looks cool. The price is great for what you get.
Evoluent VerticalMouse 4 Small Wireless
For avoiding RSI
Evoluent has been making vertical mice for years. Evoluent mice relax your wrists by keeping them at a more neutral upright posture — and the company has the backing of doctors and physical therapists to vouch for them. As the name implies, this is a more compact version of their Vertical Mouse 4. Adjustable optical sensor with top-mounted LEDs so you can see at a glance how fast the tracking is set. Only downsides: It uses a small 2.4 GHz USB receiver instead of Bluetooth, which makes it unsuitable for the new MacBook — too bad given its snappy color scheme; and it comes in right hand only (Evoluent makes leftie versions of other models). If you're concerned about carpal tunnel syndrome or other repetitive stress injuries (RSIs) and it's worth it to you to give up a USB port, this pricy mouse may be the one for you.
Magic Mouse
For gesture integration
Apple's own Magic Mouse is hard to beat, since the operating system software is designed to support it from the get go. No additional software is needed to get the most out of the Magic Mouse: Pair it with the host Mac and get the full benefit of gesture support: Click, secondary click, 360-degree scrolling, screen zoom and two-finger swiping, all customizable in the Mouse system preference. Its sleek, ambidextrous shape makes it a natural for righties and lefties alike. The Magic Mouse isn't the most battery-efficient Bluetooth mouse I've used, so I keep an Apple Battery Charger and spare AAs on hand to keep it working.
MX Anywhere 2
For glossy surfaces
Logitech's MX Anywhere 2 gets its name from its tracking technology. You can use it on any surface, including glass and high-gloss. You won't bother with the included Pico receiver because it works with the Mac's built-in Bluetooth. It also works with up to three Macs or PCs at once using a selector button on the bottom, much like Logitech's Bluetooth keyboards. The rechargeable battery works for an hour off a one minute charge using an included micro USB cable. Don't discount Logitech's driver software for OS X, which adds an array of customization features. The black design with gold trim looks especially smart paired with Apple's 12-inch MacBook.
Designer Bluetooth Mouse
For BT on a budget
Microsoft's Designer Bluetooth Mouse has a design that seems to echo the Magic Mouse somewhat: Quite thin and ambidextrous, clad in stealthy flat black as opposed to Apple's glossy white. The mouse works for up to six months per set of batteries. Don't let the Microsoft brand name put you off. I've used Microsoft mice for years with my Macs and they work fine, despite the relatively tepid support from the manufacturer.
Your favorites?
These are some of my favorite options for wireless, compact mice for the Mac. Do you have your own favorites you prefer? Sound off in the comments and let me know.
I just use a Logitech wireless m325, they're cheap, feel nice, and last forever. Sent from the iMore App

I tried the Apple Trackpad and loved using it but seemed to have connectivity issues to my 2012 MacBook Pro. It's only about 2 feet away so I don't know what the problem is. So I switched back to the old Magic Mouse and it still has some issues where occasionally I feel disconnected from the mouse pointer. Is the BT really that weak or does my setup have a problem?? I read on a forum to move them closer together so I did and put the MB on the right side of the monitor to be closer and still has the same problem sometimes, although less often. Seems insane that it should be happening.

I have a 2012 Mac Mini, use a Magic Mouse and a Magic Trackpad, and both will lose connection for no apparent reason. Sent from the iMore App

I have two Mac Minis (mid 2011 and late 2012), each with a Magic Mouse, and have never had any issues. And the battery life is amazing.

I think that happens when you don't touch them for a while and they go to sleep. That's why the battery life is "amazing." The devices have some pretty aggressive power management in them that a lot of other peripherals don't have. My Magic Mouse and Keyboard last like 3x longer than my Microsoft Sculpt Comfort mouse and I'm pretty sure the differences in power management is why the Apple Peripherals drop the connection, and why their battery life is so much better. The Magic Mouse is amazing except... It's an ergonomic and usability nightmare. You cannot rest your hand on the mouse or you trigger too many inadvertent scroll gestures. The shape of the mouse is too low to use comfortably over long periods of time, and the edges of the mouse are quite sharp. It sits on my desk, off. I use Microsoft's BT mouse, instead.

I have the Logitech MX Anywhere mouse and that thing is still a beast to this day. I love it and love that I can use it anywhere.

I have the Logitech Ultrathin Touch Mouse T631 for Mac. I works great, never loses connection to bluetooth. It has a built in rechargeable battery which the charge lasts about 7-10 days before you have to recharge. I use it with my 2011 iMac 27 inch. I is so much better than the Magic Mouse. The magic mouse always loses connectivity with bluetooth. Yes, I had Apple replace the Magic Mouse, and the same problem occurred, even when reformatting the Mac and reinstalling the operating system. It wasn't the computer, it was the mouse. Every other bluetooth mouse I tried worked with no problems. Back to the Logitech. It is a smaller mouse, but has all the touch ability for swiping, etc. You can use it for a iMac or Macbook Air, Pro etc. It is very comfortable on my hand. But, each person will be different.

I have the same mouse, but I've never gotten anywhere near that kind of battery life with it. It's always been 2-3 days for me. It's an otherwise good mouse.

Logitech Ultrathin is the best. I've found that with each new release of OS X, the Bluetooth connections fail every time I restart the computer. Fortunately, within a few weeks or so, Logitech releases an update to it's 'Logitech Options' platform and everything works great again. This mouse is perfect for the desk and on the go. Definitely worth the hassle of those few weeks between updates. It's tiny, incredibly packed with gestures, and the charge lasts a couple weeks. Also like the fact that when I forget to recharge in a pinch, it only takes a few minutes of charging to get me going for the next few hours.

Kensington SureTrack Bluetooth Mouse. The best I've ever used.

I use one of my Microsoft wireless mice with my MacBook. The only reason I use it instead of the trackpad is because it's one of the older MacBook trackpads that has the button press portion separate from the trackpad itself.
Get the best of iMore in in your inbox, every day!
Thank you for signing up to iMore. You will receive a verification email shortly.
There was a problem. Please refresh the page and try again.