Best compass apps for iPad: Spyglass, CheckIt, Compass 54, and more!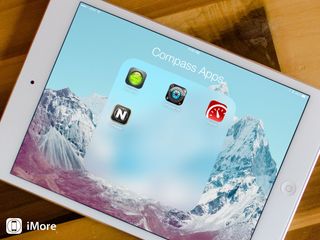 Unlike the iPhone, the iPad doesn't come with a built-in Compass app. That might sound fine, since you're more likely to be out and about and in need of finding your way with an iPhone. However, the iPad is a great travel companion as well, whether you're on a business trip, out hiking, or out on the high seas. And if you have it, why not use it? Luckily the App Store is full of great compass apps for iPad, the only problem is figuring out which is the best one for you. That's where iMore comes in! These are my favorite compass apps for iPad!
Compass 54 Pro
Why you can trust iMore Our expert reviewers spend hours testing and comparing products and services so you can choose the best for you. Find out more about how we test.
Compass 54 combines both compass and navigational data with current location information such as weather. Compass data can show location, direction, altitude, course, and speed. Basic items you'd expect from a pretty basic compass app. The added data such as weather is where Compass 54 differentiates itself. Weather data can be displayed in both Celsius and Fahrenheit and shows current temperature, humidity, and pressure.
If you spend a lot of time outdoors, Compass 54 is a great option as it combines both navigational information with current weather conditions.
CheckIt
CheckIt isn't just your ordinary compass but also a speedometer and scaled down GPS app. Aside from telling you what direction you're heading in, CheckIt can also alert you to your speed. Most of the other compass apps listed here can give speed as well but CheckIt focuses on alerting you when you're traveling over a given speed limit by pulling in data about the roads you're traveling on. I've tried CheckIt on local arounds around me and with the exception of one area, the speed limits were accurate.
If you want a compass app that can also keep your driving habits under control, get CheckIt.
Spyglass
If James Bond carried an iPad and needed a compass app, Spyglass would probably be his app of choice. Not only does Spyglass give you general directions and degrees like a regular compass would, it uses augmented reality to show what's around you too. Spyglass' gyrocompass makes it incredibly accurate and similar to what air and marine navigation uses. Not only does Spyglass feature a magnetic compass, you can use the stars as well. Built in is also an optical range finger, tracker, and more. Spyglass literally takes advantage of every sensor your iPad has inside of it.
Anyone who needs a compass app that's just as accurate as it is feature rich needs Spyglass.
Compass°
Compass° is probably the most basic compass replacement you're going to find which makes it the easiest to use. Just launch the app and point your iPad in the direction you'd like to check. Compass° tells you what direction you're facing and how many degrees. That's pretty much it. Since Compass° is so simple, it can make for a great learning tool for younger children learning the basics of navigation.
If you want nothing more than degrees and direction and don't mind ads you can't remove, get Compass°.
Your picks?
These are my favorite apps when it comes to finding a compass app for iPad. Depending on what exactly you need a compass for, your needs may be different. Whether you picked up one of the above compass apps or use something different, let us know what and why in the comments!
Get the best of iMore in in your inbox, every day!
iMore senior editor from 2011 to 2015.
That's a tough one. Compass 54 Pro sounds good because of weather info but Spyglass really sounds like it shines the most, especially with all the sensor use.
That last, free app would never live on my iPad - I hate ads worse than pilfering IAPs.
Just why is it that iPads don't have certain built-in apps that iPhones don't?
(ir: Compass, Calculator) Sent from the iMore App

Awsome apps... Now I need an iPad. Sent from the iMore App

Update on Spyglass -
It's on sale for $.99, not $3.99! Sent from the iMore App

... And it's a universal app. Sent from the iMore App

Thanks for the heads up! Spyglass looks pretty neat. Now, if only Q could build me a custom iPad and maybe an Aston Martin car, then I'd be all set for my mission. Sent from the iMore App

Theodolite HD -- it was one of the first AR compass apps on iOS.

I like the spyglass app. The design is nice and appears to be pretty simple to understand. Great comparison of the apps! Sent from the iMore App
Thank you for signing up to iMore. You will receive a verification email shortly.
There was a problem. Please refresh the page and try again.