Best document editing apps for iPad: Pages, Google Drive, Microsoft Word, and more!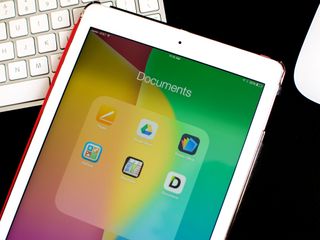 The iPad is a great writing utility and that includes editing and drafting documents, no matter what kind of work you do. From embedding images and charts to writing a term paper for college, there are lots of App Store apps for iPad that specialize in document creation and editing. Not sure which one is right for you? Follow along for a list of my current favorites and who I think they're best suited for!
Pages
Why you can trust iMore Our expert reviewers spend hours testing and comparing products and services so you can choose the best for you. Find out more about how we test.
Pages is part of Apple's iWork suite and focuses strictly on creating and editing documents. You can quickly and easily create invoices, resumes, outlines, and much more. You can also embed shapes and charts in just a few taps that are easy to manipulate and work with. All of your documents can also be stores in iCloud so you can access them on any other iOS device or Mac exactly as you left them on your iPad.
If you want a complete solution across iOS and OS X or prefer something with an easy to learn and use experience, look no further than Pages.
Google Drive
Google Drive is Google's own documents suite which lives on the web. You can access it in any browser and through the Google Drive app for iPad. That includes being able to view and edit text documents you create in your Google Drive. You can also invite others to collaborate or view your documents in just a few taps.
If you share a lot of documents or already live and breathe Google services, Google Drive is your best choice.
POLARIS Office 5
POLARIS Office 5 is a complete office suites that lets you edit and create documents as well as spreadsheets. You can link in your cloud storage services and pull your documents directly from them for viewing and editing in POLARIS. Once you're done, just save them up and you're good to go. As far as document editing is concerned, you can also import images and shapes from your Camera Roll to documents.
If you want an office suite that can pull from all cloud storage services, including Google Drive, check out POLARIS Office 5.
GoDocs
GoDocs was built for use strictly with Google Docs and in order to use it, you'll need to have a Google account. Your documents are then saved and synced between Google Docs and GoDocs. The thing I really like about GoDocs is that it gives you the flexibility of viewing documents in either desktop or mobile versions since it essentially loads Google Docs inside the main frame of the app. That also means you get all the benefits of Google Drive on the web.
If you use Google Docs but don't particularly care for Google's official offerings, be sure to give GoDocs a try.
Documents to Go
Documents to Go is also a complete office suite, much like POLARIS Office. You can pair it with the desktop application in order to wirelessly sync documents to and from. Documents to Go also supports sync with iCloud, Google Drive, Dropbox, and other cloud services through their premium version. When it comes to actually editing documents, the interface is simple enough that anyone can pick it up and use it.
For a simple interface that's easy to use and can sync with many services, including the desktop — Documents to Go is worth a hard look.
Documents 5 by Readdle
Documents 5 by Readdle does not have editing capabilities for documents but it's one of the best document management suites around. It supports many different file types for viewing and acts as a central hub for many of Readdle's most popular products including Scanner Pro, Printer Pro, and more.
If you're only looking to manage and share existing documents on your iPad and don't need to edit them, Documents 5 by Readdle is hands down the best choice - especially if you're already using other Readdle products.
Microsoft Word for iPad
Microsoft Word for iPad was just recently released and is Microsoft's official version. You can open and view Word documents for free but to create, edit, and manage them — you need an Office 365 subscription which costs $120 a year. After that, you'll get all the functionality you get from the Office 365 version of Word.
If you're used to Microsoft Word, prefer it, and don't mind forking over some cash, you can finally have Microsoft Word on your iPad.
Your picks?
If you create, edit, and manage documents on your iPad, what apps do you use? And if you're using something other than what's listed above, be sure to let me know why!
Get the best of iMore in your inbox, every day!
iMore senior editor from 2011 to 2015.
I'm using Quickoffice. It's free and works pretty well for what I need it for - mostly Word stuff, redlining documents etc. For most everything else, I use the Apple iWorks stuff. Collaborating with other other photos and techies, I have also used Google Docs; but with the iCloud enhancements of Pages and Numbers, I only have to resort to that when working with non-iOS users.

Honestly, I could see myself using the Microsoft Office for iPad suite now. They're beautifully done, and, frankly, as long as I've made due with Google Docs and the iWork suite, it's tough to beat having the full, complete, unabridged, uncompromised, real thing. Plus, work pays for my Office 365 account so there's really no reason to go with the half-measures that really only came out out at all because Microsoft was still living its Office-will-sell-our-tablets-if-we-make-it-exclusive pipedream.

Google Drive for iOS would be my favorite, but it's not since you can't create new or edit documents offline, even though you've chosen to have a document offline. I'll try GoDocs!

Have a 365 account. So getting Office for iPad was a no-brainer. Looking forward to Microsoft giving Office for Mac some love which IMO needs some tweaking. Sent from the iMore App

Are you liking the Office apps on the iPad? I haven't had a chance to use them yet, but they look pretty awesome.

I used to love Documents To Go, I've been using it since it was a value-added included app with the original Palm Pilot (well, my first was the IIIx). But more recently, I've been bothered by the lack of functionality in Sheet To Go, and the fact that Word To Go cannot display even some of the simple graphical elements of MS Word .doc files. Then when RIM bought them out, the program itself started to go downhill and I've been looking for something to replace it. The desktop sync is no longer sufficient to keep me with it. I've been trying Smart Office 2, which is mostly better. But whenever I open up my cloud service on it, it keeps prompting me to sign up for a stupid newsletter I'm not interested in. Now giving POLARIS a try.

This subscription model just doesn't work for me. Sent from the iMore App

My "other" screen is a Windows 7 box, so Pages + the icloud website seemed like a great solution. I was thrilled to have things "just show up", without having to go through Dropbox. Until I created an ipad document with features the website didn't support. It's not hard -- just add a table! For text documents, Quip is currently working well for me. I haven't had to do slides in a long time, but last time I used it Haiku Deck was great for that.

I've tried a couple of apps but Documents Free is by far the best!