Best email apps for iPad: A faster way to inbox zero!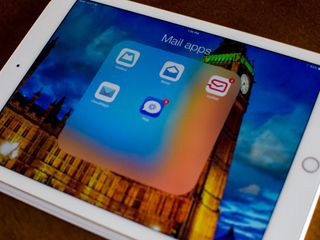 The iPad lets you hold the internet in your hands, which makes it an amazing tool for handling email. Whether you want to read and reply to messages from the couch, triage your email while on the go, or keep things organized at school or at the office, the iPad can help you do all that and more. The built-in Mail app has plenty of features to help you get your work done, but there are also a bunch of great alternatives in the App Store. These are currently our picks for the best iPad apps to help you clear out your inbox in no time!
Mailbox
You can always trust iMore. Our team of Apple experts have years of experience testing all kinds of tech and gadgets, so you can be sure our recommendations and criticisms are accurate and helpful. Find out more about how we test.
Mailbox lets you deal with your inboxes quickly by giving you lists and snooze options. Your inbox is meant to be only for the messages that need your immediate attention. Everything else gets filed in a list or snoozed for later. Along the top of your inbox, you can view what you've saved for later and what you've archived; the pullout navigation gives you access to all other features. Mailbox currently supports Gmail and iCloud account types. You can also link your Dropbox account to save email attachments and link settings on all your iOS devices.
If you want reliable push notifications and prefer a "get things done" approach — complete with snooze options – Mailbox has your back.
Boxer
Boxer offers push notifications along with support for Gmail, Outlook, Exchange, Yahoo, Hotmail, iCloud, AOL, & IMAP accounts. Unlike most of the other options on the store, Boxer supports both labels and folders for organization. This makes it a nice option for folks who already have their own system set up and don't want to completely rewrite it.
I'm also a fan of Boxer's dashboard view: It provides a great overview of each account, which is nice for folks who have multiple email addresses to manage. As far as additional features go, Boxer provides support for cloud attachments via Dropbox, commonly used response templates, Evernote integration, calendar integration, and much more.
For powerful features combined with great Exchange support, you want Boxer.
myMail
myMail is more traditional than most other apps on the store, opting not to specialize in adding snooze alarms or lists to your inbox. Instead, it lets you view, sort, and organize your mail into folders you've already set up, and you can tap on email avatars to bulk sort messages. myMail also lets you share multiple photos from the Photos app in just a few taps. As for push notifications, MyMail has those too. Currently myMail supports Gmail, Hotmail, Live, Outlook, MSN, iCloud, AOL and Yahoo.
If you want a more traditional replacement mail app that simply adds efficiency, myMail is it.
CloudMagic
CloudMagic supports Gmail, Exchange, Yahoo, Outlook, iCloud, Google Apps, Office 365 and any IMAP account. Along with support for all kinds of accounts, CloudMagic includes push notifications, custom folder sync, a unified inbox view, and much more. CloudMagic has also been updated to support interactive notifications for anyone running iOS 8 or later. That means you can quickly act on emails without even having to open the app. Even better, CloudMagic supports many productivity tools including Trello, OneNote, Todoist, and many more.
If productivity tool tie-in is something you'd greatly benefit from, CloudMagic is a great choice.
Hop
Hop takes a whole new approach to email, presenting your messages as conversations rather than a regular email thread. You can respond to emails just as you would regular iMessage or text message threads. Push notifications work great; you can also set different kinds of notifications for emails from certain people so only the important ones catch your attention. Hop supports iCloud, Gmail, AOL, and iCloud accounts.
If you think instant-messaging-style conversation will help you better manage your inbox, give Hop a try.
Note: Originally published January 28 2014. Updated December 3 2014.
Get more iMore in your inbox!
Our news, reviews, opinions, and easy to follow guides can turn any iPhone owner into an Apple aficionado
iMore senior editor from 2011 to 2015.
Although having been a big fan of Mailbox, it is still (as of typing) experiencing problems with Yahoo. A problem their blog says is at Yahoos end. Until this is fixed, it is unfortunately, for me, just a Gmail client, and no longer a wonderful all-in-one mail app. Hope sorted soon?

I'm using "Boxer". Have a look.

Indeed, omitting boxer from this list is a major flaw, I'm using evomail by the way. Evomail+ has a notification sound from 2007 for some reason!

I added Boxer. I for some reason thought Boxer was iPhone only.

Funny that no one mentions Mail Pilot anymore....

Edit: deleted. It wasn't relevant.

I've tried a lot of email apps during the past few months and based from my experience, Boxer is the one that best suits my needs. The only drawback I have with Boxer are: no push notifications for Yahoo Mail (I think it just utilizes background app refresh) and sometimes it feels quite slow (can't really tell why it feels like that to me, maybe the animation feels laggy?) compared to the Mailbox which just runs buttery smooth. Re-installing the app helped but it's still not at a Mailbox fast level yet. But I probably can live with it in exchange for the features I get to use.

Hi Allyson,
I think you should also include Boxer. It's a great mail app that supports GMail, Yahoo, iCloud, Exchange etc. One important feature for me (very handy for my company's exchange mail account) is that you can set a password for the app only. The only negative is that it doesn't support Exchange Mail Corporate directory.

If the app doesn't support attachments, it doesn't stay on my device. This is teh reason I like Boxer, it supports Dropbox and Box (which I believe is way more safe).

Boxer and the standard mail app. Mailbox is useless for people that actually use email. Mail pilot is pretty good but there have been a lot of bugs, it's still on the list to give another go later. The others I haven't tried because they didn't seem to fill the need that I was looking for. But yes, seroiusly can't believe boxer was left off this list.

For some reason I thought boxer was iphone only. If it works with iPad I'll add it! I agree it's awesome. Sent from the iMore App

Mail Pilot. Excellent app.

I tried Mail Pilot for awhile and just couldn't get used to a few things, (sorry, I forget what those things were). I'm really liking Boxer and have heard that a Mac OS version is in their plans - PERFECT! Couple more things, Boxer connects right up to Sanebox, a good email filter/manager, and, as pointed out in an earlier iMore article, if you download the Box app and sign up for a new account you get 50GB free for life.

I'm currently using the Gmail app.
The reason I am looking for an alternative app is because links are opened in the in-app browser (or Chrome app) instead of Safari app.
If anyone has a solution for that: please let me know.
Safari is where my love is. :)

If you go in to Chrome and select the menu lines at the top-left, then click the settings gear icon, you should see a Google Apps link at the bottom. Choose that and un-select the Chrome option. You should be good to go. Edit: Disregard me. :) I tested it and it just used the in app browser and not Safari when you do this.

in-app browser in Gmail: grrrr. :)
Thanks for trying!

I think Dispatch should also be in this list.

This is a roundup of iPad clients, Dispatch is iPhone only, it's included in that roundup: http://www.imore.com/best-alternative-mail-clients-iphone-mailbox-triage-boxer-and-more

ah, thanks. Overlooked that!

mailbox is a great app but needs to start supporting more email accounts to really be any use to people that use there mail on a daily bases. From the comments above I am going to give Boxer a try. Sent from the iMore App

Emailganizer pro:
Everything you need, email conversion to calendar and reminder events, directly in app, lots of third party support for tasks, intelligent archiving. Only thing lacking is an IOS7 UI, which I believe might be in the offing

I want to try out mail pilot. I like the idea of a mail solution for all platforms and the task reminder aspect as well. Great review of this category. Sent from the iMore App

Is there an email app that supports smime like the native email app?

I'm loving Mail Pilot....it's still got a few bugs and is missing some minor functionality, but I am at Inbox Zero on 3 of 4 gmail accounts.

I'm sticking w/Apple for now. I really love the look and appeal of Mail Pilot, so who knows? Maybe I'll try it out sometime?
Thanks for the list Ally!

I want an app that can actually attach Dropbox files instead of creating a link to them as I often email files to work but Dropbox is blocked by the firewall. If boxer could do this it would be perfect! Sent from the iMore App

Mailbox: can't acces Gmail folders
Evomail+: buggy buggy buggy
Mail Pilot: looks nice, but never tried because the reviews are scary
Boxer: This looks the best so far. I'm giving it a try.

I think Mailbox is a great app.I use it for my gmail account! :) Sent from the iMore App

I've tried them all and chose Boxer. Rock solid, gmail label integration and quick triage capability make this the best IMO.

Due to Yahoo being Yahoo, Mailbox can't sync with it anymore and they removed the option to add it with an update. Sent from the iMore App

Currently I'm using only the Gmail app which is ok, but I think I'll give a try to Boxer or Evomail app.
Nice list!! For the past weeks I've been searching/collecting nice email apps and it helped me a lot. Check it out here http://ios.discoverpinapp.com/user/xeni.prassa/mail

Decided to try Boxer, I will be deleting Mailbox now. Boxer is an amazing mail client. Sent from the iMore App

Mail pilot has nice ideas, but it's full of bugs and conversations order is inversed (old first). CloudMagic is my option now, and works on iPhone and iPad. Give it a try ;) Boxer is good too.

I installed MyMail after reading about it here. It's fantastic - a straightforward client that doesn't impose its view and dazzle you with pointless icons or hide basic functionality behind obscure gestures. Will be blogging about this soon. It's not as featureful as AquaMail for Android, though. I'd really like that ported to iOS.

personally altamail is a favourite of mine

Thanks for the Altamail recommendation! It's amazing! I've tried Boxer, evomail, Mymail, Gmail, Mailbox, Molto, probably a few others ... And so far Altamail vastly exceeds them all. It's so customizable, so powerful, and comes with such solid help -- printed, online, and 24/7 email response -- that it's a breeze to understand. I just have the free version now but will definitely be upgrading soon.

I'm biased: I'm a PC and Android geek. However, I need an iPad for testing my websites, and I didn't like the native Mail client. Your post comparing the email clients was informative, and based on your ratings I decided to try Evomail+. Yes, it's pretty and slick, and although the navigation is the "cool" factor, it didn't work for me. I simply couldn't get comfortable with the navigation and trying to send a simple test message became an exercise in frustration. myMail was my next choice, and I should have tried it first. Right away it impressed me with the ease with which it added my email accounts, and the layout is intuitive. It's the keeper.

Tried some of those apps and these are my feelings:
Mymail - have to say that I like it.
Would love to have the option of seeing an inbox for all accounts instead of having to check every single one.
Also an editor for the accounts would be useful, as I prefer to swap the position or have a personal icon for each one. Gmail - just good for Gmail
Lots of people love this app, but if you do have other email accounts it is kind of useless. Cannonball - Hmmm maybe in the future versions
What can I say ? You just see your inbox folder and nothing else.
That looks cool and a little bit different, but it misses all the basic email functions that I need.
Tried moving an email to a subfolder to archive it and did not find any way to do it, so I had to use the default email app.
This one gets a thumb down. Native app - Thumbs up
In the end I will either use the native app or Mymail.
Have to say that after trying out some other apps, the native one is not that bad :) Will also try Boxer, Evomail+, Altamail nad Cloudmagic, as I have read some positive comments here, and will give you a small review afterwards.

After installing and trying them all, now I have my chart :)
First comes Boxer.
Way the best of them all !
The only minor lack is a frame color for the emails in the general inbox folder, so that you can see in which account the mail is. If they implement that in future upgrades it will be the ultimate email app ! Second comes Altamail.
Just because it is more complicated, as you can configure everything. Third the native app, which at the end is really not so bad. myMail is also not that bad, but lacks the option to have a single inbox folder, which in my opinion is very important. Hope you like my comment and appreciate my hints.
When I am looking for an app and see that there are lots of similar ones, I would love to get some advice !

I use Offline Mail (for iPad and iPhone) in conjunction with the normal Mail App, mainly because it is incredibly quick at searching, and also gets you out of sticky situations when you need to access an email but you don't have any internet access...

CloudMagic (can't post link as marked as spam!) is a very good mail app. I've been using for a few weeks and it's working for me well (Office365 and gmail). Also has password to access and a "cards" interface which gives quick access to post to other apps, such as zendesk (useful for me). - Matt

Cloud magic is the best app for me , great UI and UX and integrations with cards like Evernote , one note etc just makes it so better

Since you added Inky to the iPhone list, may as well add it to this one.

I wish I could use a specific email account that I've had a fifteen year history with, but when it went north of a million messages per year I gave up. One friendly message per thousand junk makes the signal to noise ratio practically useless for everything except signing up for offers that encourage even more spam.
Are there any "trusted circle" type email apps that could burn everything with fire that didn't come from trusted sources?

I don't think there is, but it sounds like your problem may have been your email provider.
I'm using gmail, and when I check my spam folder it's filled to the brim with spam from unwanted sources, and, although it's possible to do so, I haven't lifted a finger to mark any as spam in the +8 years I've had my account. Previous to Gmail, I had a Hotmail account, and that ended much the same as your account.

I am glad to see CloudMagic getting a mention. I have been using it since it came to the App Store, and have been very happy with it. Sent from the iMore App

But Its support max 10 Accounts.

Once someone can tell me how to view emails in Boxer in full screen mode, then I will agree that Boxer is excellent. Failing that, it is frustrating to realize that one cannot enable full screen mode to view and respond to emails.

Thanks for the good comparison and highlighting some apps that complement the native Mailbox app. Here are three features that set InboxMind iPhone / iPad Email App apart from others, and provide an edge to busy professionals: (a) Smart email prioritization by learning from you (like Pandora learns your music preferences) , so you can focus on your important emails, first! (b) Text to speech functions that can convert your inbox into an intelligent Radio (InboxRadio) and can read out a prioritized summary of your inbox. Especially useful while driving, running or commuting. Keep listening to your music if you want, the app is intelligent to gently interrupt you music and let you know when an important email arrives. (c) intuitive workflow management to keep track of your actionable emails by "Due Date" as well as "Priority" . No need to create complicated folders or reminders. Automates and simplifies email productivity best practices (like GTD, Seven Habits, Inbox Zero etc.) Of course the app provides the basic email app functionality for business users: active sync, notifications, background processing and enterprise grade security. We do appreciate other tools and that everyone has their individual email management habits. But if you are a busy professional and use Microsoft Exchange, Office 365, Outlook.com or Hotmail – an intelligent app like InboxMind can provide a significant email productivity boost without having you to change your behavior. Please take a look at www.inboxmind.com . InboxMind is coming to App Store in January 2015. We welcome your support, feedback and suggestions. Thanks!