Best flowchart apps for iPad: What you need to map your mind and diagram your data!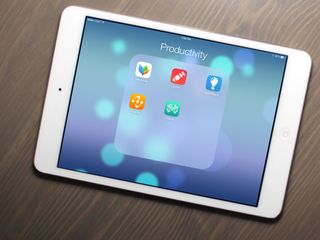 Looking for the best iPad apps to help you turn mindmapping and creating charts and diagrams into less of a headache? If you're giving a presentation or just in the beginning stages of starting a project, flowcharts and diagrams can be immensely useful when it comes to conveying and sharing ideas with others. And since most people benefit from visual cues, flowcharts can be a great way to help people make decisions. There are lots of App Store apps up for the task, but what flowchart apps for iPad are the best?
Mindnode
Why you can trust iMore Our expert reviewers spend hours testing and comparing products and services so you can choose the best for you. Find out more about how we test.
Mindnode is an easy to use diagramming and flow chart app that smartly organizes and handles the layout aspect on its own. Mindnode lets you create several independent charts in one document, display and hide nodes as you need to, choose fonts and highlights to emphasize particular areas, and more. Mindnode also offers iCloud sync with their pro version which you can then sync to the Mac version. As for exporting your work, Mindnode supports PDF, OPML, PNG, and more.
If you want to worry more about getting ideas out of your head and less about diagram style and structure, you need Mindnode.
Grafio
Grafio is a diagram app that isn't as conventional as the rest but offers a lot of flexibility. Simply start freehand drawing a shape and Grafio automatically recognizes and creates it. You can then add text, photos, and even record audio to add to your project. Since Grafio supports layers, you can send objects back or bring them to the front among many other editing features. Once you're done you can share your ideas via Dropbox, Box, AirPrint, or put them on paper with AirPrint support.
For a diagram and flowchart app as versatile and flexible as your brain, get Grafio.
Idea Sketch
Idea Sketch is a unique diagramming app that will appeal to folks that value organization and finding content easily. It's easy to create new blocks and add text in idea sketch. One of the features that makes it so unique is the ability to convert all your charts and diagrams to text outlines in just seconds. As for projects, they're organized in neat stacks on the main menu of Idea Sketch. When it comes time to share something, Idea Sketch supports export to Dropbox, Skydrive, Box, the Photos app, and more. You can create one idea in Idea Sketch for free. If you'd like to create more, you can unlock the unlimited version for $3.99 via in-app purchase.
If you highly value organization and wouldn't mind instantly creating text outlines from your charts, check out Idea Sketch.
Mindly
Mindly is mainly a great place to organize your own thoughts and if you do that best through diagrams and charts, it's an easier to use option than many others. Just create a new project and then start adding subsets. Tap on any of them to create as many more subsets as you'd like. You can attach notes and images to your projects, add links, and change color schemes as necessary. If you need to share your ideas, Mindly supports export to PDF, OPML, and plaintext. The free version only lets you manage a few projects at a time, an in-app purchase of $6.99 will remove that limit.
If your main necessity is tracking your own ideas for personal use, be sure to give Mindly a try.
PureFlow
PureFlow is one of the most basic and traditional flowchart apps you are going to find on the App Store. There aren't any fancy features, just a blank canvas and the ability to create whatever kind of flowchart you need. Create your first element and branch out from there choosing different types of objects. Drag anchor arrows to extend your chart outwards, drag elements around, and more. When you're done you can share your ideas via the email, Facebook, Twitter, PDF, or save it as an image.
If basic flowcharting is what you want, it doesn't get any easier than PureFlow.
Your vote for best flowchart and diagramming app for iPad?
If you are a visual thinker and rely on a flowchart, diagram, and mindmapping app on your iPad, which one did you choose and why? And more importantly, what do you think makes it stand out from all other apps? Let me know in the comments!
Get the best of iMore in in your inbox, every day!
iMore senior editor from 2011 to 2015.
Great review, Allison, thanks a lot. I like the idea of these apps for "mind mapping" purposes.
After this step, an outline can take things to the next step in more detailed steps. I'd really like to see a review like this on the best Outline apps from the App Store.
If it comes to be, thanks in advance. :) Sent from the iMore App

I'm surprised that iThoughts (mindmap) wasn't included. It's one of the best mind mapping app on Mac and iOS
https://itunes.apple.com/us/app/ithoughts-mindmap/id866786833?ls=1&mt=8&...

Yep. I'm a mind mapping maniac, and I have not seen anything better than iThoughts on any device or platform. And it is absolutely cheap for what it offers and supports imports/exports from pretty much every relevant desktop mind mapping tool in existence. Two other apps that should be listed are obviously: - OmniGraffle for all types of charts and even wire frames
- Cubetto for process graphics Both are expensive for iPad apps, but I could not live without them anymore.

Totally agree! iThoughts is a fantastic and rich app.

I'm also thinking why http://creately.com the online diagramming solution (platform independent) to draw all kinds of diagrams was not included here.

I have used Coggle, a Google app, for mind mapping and it has good touch controls for iPad. It's a very seamless experience moving between iPad and full computer. Sent from the iMore App

Check out Zen.Bonsai for iOS - mind mapping and task management app designed with touch experience in mind. Functional, intuitive, beautiful. http://bonsai.zenlogic.io

List of popular mind mapping app which you described. I used Mindly since couple of years back. It was quite interesting app. Now, I use a mind map app on iPad (one of my friends suggest me - Mind Vector [ goo.gl/0WDLoV ]). I feel it is an amazing mindmap tool which never use before.
Thank you for signing up to iMore. You will receive a verification email shortly.
There was a problem. Please refresh the page and try again.