Best home improvement apps for iPad: Houzz, DesignMine, ColorSmart, and more!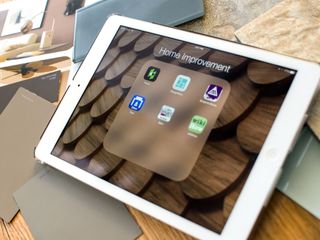 Do-it-yourself can save you money. It can let you get away without having to hire a designer or avoid having to bring in contractors entirely. But what if you need a little help getting started? From estimating budgets, to finding out the perfect paint colors for the kitchen, to double-checking directions for laying down new tile, there are lots of iPad apps available to do just that. Here are the best ones!
Houzz
Why you can trust iMore Our expert reviewers spend hours testing and comparing products and services so you can choose the best for you. Find out more about how we test.
Houzz is your interior design go-to app when you need inspiration. Not only does it have the largest database of interior design ideas, it's beautifully designed and fun to use. Design different rooms to your liking, browse Houzz's Ideabooks for creative ideas, and more. You can even look up professionals in your area to do the work. From architects to tile layers, it's all there right at your fingertips, complete with reviews.
If you need some home design inspiration, the possibilities are endless with Houzz.
Digs by Zillow
Digs by Zillow specializes in remodeling and has thousands of ideas available. From featured remodels to those contributed by members, you can browse through ideas for virtually any room in your home. The unique thing about Digs is that it gives you estimates up front on what a specific remodel costs. That way you're prepared ahead of time before making any decisions.
If you need remodel ideas but want cost estimates before getting attached, check out Digs by Zillow.
DesignMine
DesignMine is similar to Digs and Houzz. The workflow is slightly different though and gives you design boards that can be laid out many ways. You can then add ideas to each. For example, create a board for kitchen remodel ideas and then pin remodels you like to it. It's a great way to visualize what types of colors and elements blend well together. And like Houzz you can also find professionals in your area to help with harder or more complicated home projects.
If you need help matching colors, elements, and styles, DesignMine is a great source of inspiration.
Digital Editions by Benjamin Moore
Benjamin Moore arguably makes some of the best paint colors on the planet. The Digital Editions app for iPad lets you browse through different collections as well as view the entire product portfolio for the year. Different editions feature different collections and most have illustrations and photography to go along with so you can visualize specific color palettes.
If you need help deciding what color palettes to go with or how to theme a room, Digital Editions gives great suggestions.
ColorSmart by BEHR
ColorSmart is an excellent app for matching tones before you paint, whether you're going with BEHR paint or not. You can choose tone families so if you're trying to avoid a grey that looks purple in certain lights, a tap rules out colors that fit that gamut. It doesn't get any easier this when it comes to picking paint colors and palettes.
If your picky about color tones and palettes, ColorSmart is a great app to help you pick great ones.
wikiHow
wikiHow isn't technically a home improvement app but it does offer tutorials on pretty much every topic on the planet. That includes home improvement. Whether you want to tackle hanging drywall on your own or want to tackle installing tile for the first time, wikiHow has you covered from start to finish.
If you're looking to make home improvements without the help of professionals, every DIY'er needs wikiHow.
Your picks?
If iPad apps have played a part in your home improvement and design projects, let me know which ones and how they worked out for you!
Get the best of iMore in in your inbox, every day!
iMore senior editor from 2011 to 2015.
Truly enjoy your articles. So useful, so informative, so perfect! My pick? Houzz has been my choice like forever!

My girlfriend is a realtor and she LOVES Houzz. She has built her dream house about 6 times over with it :P

Hmmm... my dream house will be one of a kind .... I'm still working on it ... this Houzz shows me new ideas / dreams every time .... but ... one of these days ... oooooohhhhh one of these days I'll make sure it becomes true. ;) lol

Thanks for the comparisons of the home improvement apps. Sent from the iMore App

There is also MagicPlan and Homestyler. And if you buy a Bosch Bluetooth Distance Laser Ruler - GLM Measure and Document which is free along with Bosch Professional Toolbox which is several apps in one.
Remember several things - Turn off Electricity in the area you are working!!! and visit the DIYnetwork.com who also has an app to watch shows and tips and clips.
If working with something like in-floor heating look at it days before hand so you can understand what to do instead of not looking at it that day and the store is closed.
If wanted I could make a general list of do's and don'ts for this.

i like pinterest for ideas and i use measures to diy stuff

My dream house will be one of a kind and i want to installed a Lift in my home for my grand mother, i am Including an elevator in my home improvement plans, it is easier than ever.

It's a blog with full of latest and spectacular information's – This blog has helped me to gain much more information about. I'm interested in Home improvement blogs or site were I can get some ideas about on how to remodeling our home. I would like to appreciate the blog owner for his efforts.

I used this one: www.intiaro.com
it's quite smart - you can see quite realistic furniture in 3D in your home, look from different angles. pretty impressive. personally i used it to check if Eames Chair is a right selection for my living room (in fact it is too big ;) - quite practical.
Thank you for signing up to iMore. You will receive a verification email shortly.
There was a problem. Please refresh the page and try again.