Best Indoor Security Cameras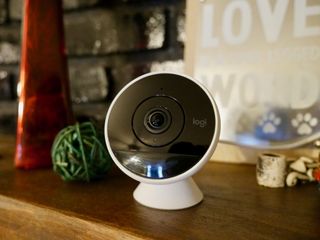 Indoor security cameras are a great way to give yourself peace of mind when you're away from home. Not only can you check in on pets if you have them, but you can also receive notifications that'll alert you to intruders. Many cameras feature smart alert systems that can tell you about out-of-the-ordinary sounds and motion in your household; some cameras feature both a speaker and a microphone for two-way communication, and a few even come with sirens and alarms to scare away intruders. If you'd like to add an extra layer of security and safety to your household, consider picking up an indoor security camera!
If you're still mulling over the pros and cons of an indoor security camera, you should take a look at my piece on the reasons why you might and might not want one!
Why you might (and might not) want an indoor security camera in your home
I have a Nest Cam in my home and I'm very happy with it. It automatically turns on when both my partner and I are away from home and alerts us to any motion and sound events that take place in the specified Activity Zones in our home. It's a very popular choice for indoor security cameras; it's listed as an Amazon's Choice product and #1 Best Seller, while maintaining a four-star rating with over 5,000 customer reviews.The Nest Cam features a 130-degree 1080p camera, microphone, and speaker, so you can watch, listen, and talk with the device. You can also see at night, thanks to the Nest Cam's eight infrared LEDs and a special filter that improves the night vision. The camera comes with a mountable magnetic base that makes installing your Nest Cam super doggone simple. I've got mine mounted in the frame between my living and dining room overlooking both the front and back doors.The Nest Cam offers many software features, including location-based activation and notifications, so you can set the camera to turn on when you leave home and turn off when you return. If you'd prefer to keep the camera running, you can tie your location to notifications instead. If you're sitting in your living room, you won't have to hear that the Nest Cam thinks it's spotted a person in your living room — it'll only notify you while you're away.You can always check in on a live stream of your Nest Cam, but some features, including video history, are tied to the subscription-based Nest Aware cloud service. For $10 a month, you get all the normal Nest Cam features plus a full 10-day video history, person alerts (Nest not only notifies you of motion, but it can try to determine if the shape it's seeing is a person), activity zones (instead of tracking motion across the entirety of its view, Nest Cam can pay attention to specific zones), and clips and time-lapses (if your Nest Cam captures something you've got to share, you can create downloadable video clips).The Nest Cam is a well-regarded, feature-packed security camera that's sure to give you some peace of mind.
Taking top honors for best indoor security camera over on The Wirecutter and maintaining a four-star rating on Amazon, the Logitech Circle 2 definitely had to make our list! Here's a little of what The Wirecutter had to say:The Logitech Circle 2 camera was the easiest to set up, the most flexible to place, and the most intuitive to use of all the cameras we tested.First and foremost, the Circle 2 gets bonus points in our hearts for its versatile nature — the little camera can work plugged in or it can run off the internal battery. That means it's never limited by a pesky cord (even the really, really long ones that come standard with most of the security cameras on our list).The Circle features a 135-degree 1080p camera with up to 15 feet of night vision. It's also got a microphone and speaker, so you can listen to and talk with the device. Its unique, wall-mountable, magnetic base gives it a 360-degree pan and 110-degree tilt so you can set the camera's view juuuust right.As for security footage, the Circle lets you tune into a live stream any time you wish and stores up to 24 hours of footage for free. For $9.99 a month, per camera, you can also get Logitech's person detection (filtering out non-person motion), 31 days of storage, activity zones (specific areas where the camera looks for motion), and special alert filters that cut back on the number of notifications you get for activity in your home.Also, I just have to say this: The Logitech Circle 2 is kind of adorable. Many of the other cameras that make our list are very home security-esque; the Circle seems more friendly and inviting. I'd be more apt to install a Circle in a kid's room than many of the other cameras that make the list. It's also worth noting the company focused on making setup a breeze — the Circle is meant to be one of the easiest cameras to set up and get going.Logitech recently announced a new $20 magnetic mount for the Logitech Circle 2. It makes placement about a thousand times easier, given that you can stick it on any magnetic surface inside or outside your home. It even comes with a metal plate that you can fasten to the wall inside your home.If you're in the market for a portable, friendly, crystal-clear security camera that's simple to set up, the Logitech Circle 2 is worth your attention!
You can't put together a list of the best indoor security cameras and leave out the celebrated Arlo Q! Not only does the camera maintain a 4.5-star rating with more than 2,000 customer reviews on Amazon, but Netgear's Arlo line ranks in both of The Wirecutter's lists for best indoor and outdoor cameras. Here's a little of what the popular reviews site has to say about the Arlo Q:The Arlo's video and audio quality is among the best of the cameras we tested, presenting bright, sharp, and colorful 130-degree video and still images in both bright and dim light, even when 8x digital zoomed in.Much like the Nest Cam, the Arlo Q features a 130-degree 1080p camera, microphone, and speaker, so you can watch, listen, and talk with the device. You can also see in the dark, thanks to multiple infrared LEDs that surround the camera's lens. The camera can be mounted on a wall or placed on its base throughout your home.What really sets the Arlo apart from the competition is its cloud recording: You get seven days of free cloud storage with paid plans that'll give you 24/7 continuous recording options. Like any good security camera, the Arlo lets you set activity zones (areas where the camera will watch for motion and notify you if motion takes place), schedule on and off periods, and set up motion and sound alerts. You can, of course, check in on your Arlo live stream at any time on the web or in the free iOS app.Netgear makes it super simple to expand your Arlo setup as well. You can connect up to five cameras to an account for free — more cameras and you'll need to subscribe to one of the company's service plans.The Netgear Arlo Q (and the rest of the Arlo lineup) is a fantastic, well-reviewed security camera that packs the punch of seven days of free cloud storage for your home security footage. You really can't beat that!
Canary is more than a security camera — it's an all-in-one security system and home monitor. On top of looking incredibly futuristic (like a cross between a tower fan, HAL 9000, and some sort of Pixar robot), the Canary provides quite the stack of features. It's also quite popular — the security device maintains a four-star rating on Amazon with nearly 2,000 customer reviews.The 147-degree 1080p camera offers the standard night vision and microphone — the only thing it's missing is two-way audio, giving you the option to communicate with who or whatever is in your home while you're out and about. Luckily, the device features a powerful 90 dB siren and access to emergency services … you might not be able to talk to an intruder, but you can give 'em a good scare! Unlike the other cameras on our list, the Canary is a standalone device that's not meant to be mounted to a wall in a distant corner; you'll want to put this thing in the center of the action. That's something to keep in mind before you spring for the purchase.Other than the typical security camera features (and that awesome siren), the Canary features something it calls "HomeHealth Technology" which monitors air quality, temperature, and humidity in your home. In that way, it becomes more than just a way to look in on the goings-on of your house — you can also check in on the heating and cooling and get more information about your home's environment.You can always check in on a live view of your home with the Canary app, but a $9.99 Canary membership gets you 30 days of video history, incident support in the event of a break-in, a 2-year extended warranty, and a pretty nifty addition: up to $1,000 reimbursement of your homeowner's or renter's insurance deductible.If you're in the market for a feature-packed home security system, consider the Canary. Just remember that you won't be talking to your pets with this thing … and you definitely don't want to set off the siren on them!
Do you have a security camera in your home?
You can always trust iMore. Our team of Apple experts have years of experience testing all kinds of tech and gadgets, so you can be sure our recommendations and criticisms are accurate and helpful. Find out more about how we test.
Have you equipped your home with a security camera or system? Thinking about it? What security cameras stand out to you? Leave us a comment below or shoot me a tweet over on Twitter!
Master your iPhone in minutes
iMore offers spot-on advice and guidance from our team of experts, with decades of Apple device experience to lean on. Learn more with iMore!
Mikah Sargent is Senior Editor at Mobile Nations. When he's not bothering his chihuahuas, Mikah spends entirely too much time and money on HomeKit products. You can follow him on Twitter at @mikahsargent if you're so inclined.