Best Instant Pot Cookbooks for One-Pot Meals in 2020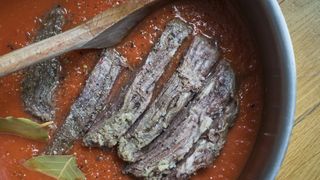 (Image credit: RawPixel.com)
One-pot cookery is an absolute lifesaver for busy families and households, especially on weeknights. Being able to gather and prep a big old pile of ingredients and chuck them all in one cooking vessel saves on washing up, time, and energy. Instant Pots, with their fast cooking speeds, make the process even easier. In celebration of the marvel that is one-pot Instant Pot cookery, we're taking a look at the six best cookbooks available to provide you with inspiration and expert guidance.
Specialty recipes
All these cookbooks come recommended, but we love our overall choice, Skinnytaste One and Done (opens in new tab) from Gina Homolka. You honestly won't realize you're eating healthy options with gorgeous hearty recipes like beef goulash macaroni and carne asada fries.
If you're looking for a cookbook that goes beyond just Instant Pot options, the Taste of Home One Pot Favorites (opens in new tab) recipe collection gives you over 500 dishes to work your way through with various cooking methods covered.
Fans of Southern cooking should definitely try Laura Arnold's Instant One-Pot Meals (opens in new tab). Arnold makes the most of your Instant Pot's multi-functions with Southern-inspired meals that can all be cooked in just one pot.
Amy-Mae has been writing about consumer technology since before the iPhone was even a twinkle in Steve Jobs' eye. She started out in magazine publishing with the UK lads' mag 'Boy's Toys' then moved online with startup Pocket-lint.com as the first full-time member of staff, helping grow the site to one of the UK's largest gadget sites. Amy-Mae then moved to Mashable when it only had a staff of around 10 people. After working her way up to a senior role there, Amy-Mae left in 2014 to have her daughter. Since then Amy-Mae has continued to contribute to Mashable and The Daily Dot, keeping up-to-date with the latest consumer technology and social media trends. For iMore.com, Amy-Mae gets to her explore her love of home cooking, concentrating on all things kitchen tech.
Get the best of iMore in in your inbox, every day!
Thank you for signing up to iMore. You will receive a verification email shortly.
There was a problem. Please refresh the page and try again.