Best iPad apps for cats: Pocket Pond 2, Magic Piano, Paint for Cats, and more!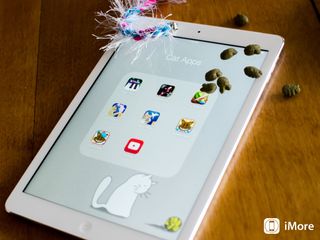 If you own an iPad and a cat, I bet you're guilty of searching the App Store for apps that your cat can play with. That's okay, we don't blame you. It can add up to a good time for you both! Luckily, the App Store is stock full of stimulating apps that can keep your feline friend entertained. Some of them were even made specifically for cats. Here are my current favorite iPad apps that are sure to keep your cat busy!
Pocket Pond 2
Why you can trust iMore Our expert reviewers spend hours testing and comparing products and services so you can choose the best for you. Find out more about how we test.
Pocket Pond 2 is actually a game for us mortal humans but it's also one that many cats like since it has fish in it. Tapping the screen ripples the water and makes many of the fish flit away and move around. You can stock your pond with tons of different kinds of bright colored fish that are sure to keep your cat entertained.
If your cat shows an interest in fish or other small animals, Pocket Pond 2 is a must.
Magic Piano
Magic Piano is another app that was made for us humans but its popularity with cats is overwhelming. With lots of songs and levels where shiny droplets fall on the screen for your cat to catch, what's not to like? You can also enter into regular piano modes where your cat can swipe his paws across the screen in order to play the piano.
If your cat is stimulated by sound more than anything, make sure you check try out Magic Piano.
Cat Fishing 2
Cat Fishing 2 is made my Friskies specifically for cats. The premise of the game is simple enough for any cat to understand. Brightly colored fish swim across the screen and it's your cat's job to swipe and swat at them in order to rack up points. Cats all over compete for prize of top score. Not that they really care about any of that anyways.
For a progressive game play experience, Cat Fishing 2 is a good choice.
Happy Wings
Happy Wings is another title by Friskies that's specifically aimed at curious cats. Each level is timed and the object is for your cat to swat at the creatures on the screen as many times as they can before time runs out. Each level is a different kind of bug or bird. Each time they tap them, a little trail of sparkles, glitter, or feathers will follow. It's very similar to Cat Fishing 2 but for cats that get bored with the same shapes, Happy Wings may be a better fit.
If your cat is a bug hunter, Happy Wings 2 is an absolute must.
Fruit Ninja HD
Fruit Ninja HD may be aimed at us humans but cats seem to take just as much interest in it due to the fast paced action and awesome sound affects. In this game, you're tasked with slicing as many fruits that fly up from the bottom of the screen as you can. Most of us are probably already familiar with this game since it's been around for so long. If you haven't yet, introduce it to your cat. I bet they'll have even more fun that you do.
If your cat likes to hunt anything that moves fast, Fruit Ninja HD is sure to be a winner.
Game for Cats
Game for Cats consists of two mini games in one for cats. The first is a simple laser pointer that runs a red dot continuously across the screen for your cat to chase. That's it. Just tap into the laser and let your cat go nuts. The second game lets your cat chase a mouse around the screen. To completely unlock the game, there's an option for a $1.99 in-app purchase. Aside from removing the mouse trap from the mouse and cheese level, you'll also get an additional butterfly level.
For a good variety of ways to keep your cat busy in one single app, definitely check out Game for Cats.
Paint for Cats
Paint for Cats is a simple game where your cat chases the mouse on the screen. Without realizing it, your cat is actually painting a picture at the same time. There are lots of color pallets to choose from so just pick the one you'd like and let your cat do the rest. Aside from the mouse entertaining your cat, it can give you something fun to watch at the same time. You can even share your cat's paintings to Facebook once they're done if you'd like.
If you want something that lets you have a little interaction as well, check out Paint for Cats.
YouTube
Who doesn't like YouTube? I use it not only to entertain myself, but the animals in our house. There are hundreds of thousands of videos and searching for things like other cats, mice, squirrels, and even animated bug cartoons are sure to keep your cat's attention. This one may be hit or miss for some people though, as it really just depends on whether or not your cat likes to watch TV.
If you catch your cat checking out what's on TV from time to time, give YouTube for iPad a try.
Your picks?
While these are the best apps I could come up with when it comes to using the iPad to entertain all our feline friends, I know you guys are great at digging up apps on your own too. If you found any awesome iPad apps that your furry companion loves to play, let us know in the comments!
Get the best of iMore in in your inbox, every day!
iMore senior editor from 2011 to 2015.
Wouldn't letting your cat touch your iPad scratch the glass? Sent from the iMore App

Exactly what I was thinking. I'd rather just go to a Pet Store and buy them a more traditional cat toy. Although I must admit there's this hint of cuteness looking at a cat playing with an iPad. Sent from the iMore App

The glass doesn't get scratched, at all.

That's completely unexpected. I'm really not sure I can accurately express developing an app for animal to use an expensive, high tech and obviously trans species device for no good reason at all...
[incoming notification]
Hold on a sec...
Oh goodie! Clumsy Ninja's equipment is ready!
xD
(I wonder if there are any apps for our Dashund...) Sent from the iMore App

This is something really cool, letting your cat play on your iPad now that's funny. Sent from the iMore App

I have no words. I am wordless.

Your idea boss! I am not a cat person. :p Sent from the iMore App

Here. Use this one:
"Incroyable!" Sent from the iMore App

We write for what people want. We've had requests for this and you'd be surprised how many people search for best cat apps. I personally wouldn't let any animal use my iPad. But lots of people do. YouTube has lots of proof of that. Sent from the iMore App

I'm currently accepting iPad donations for our pet! Sent from the iMore App

Our cat loves Happy Wings. I'll have to try out the others too. :-D

For a quick glance, it look like the cat took a dump on the iPad! Sent from the iMore App

My cats like Game for Cats and Cat Fishing 2.

Someone is really reaching with this article. Who would let there ipad entertain a cat. Sent from the iMore App

There are apps made for cats specifically. As are there many articles. Search google or YouTube and you'd quickly realize I'm not reaching in the least bit. Sent from the iMore App

Thanks for the post. My cat loves Paint for Cats! And they don't scratch the screen, it's fine.

We have many cats and most of them like Game for Cats or anything with lots of motion. As for using high tech for cats, why not? The iPad is a fancy tool. The cats have fun just as they would chasing a ball or a laser pointer. I have a first gen iPad that I use for this so I'm not worried about scratches. They don't get near my Retina iPad Mini. Also, it's interesting to see how the different cats react. Some actively chase. Some sit and stare and then pounce. Some just sit and stare. And then there are a couple that look under the iPad to see where the mouse or fish go. Great fun.

I don't even let my wife touch my iPad never mind my cat!! Although my hamster does enjoy Netflix on the big screen like experience the iPad offers.

Have you tried free game for cats, called Paw Me? Its for Android and iPad and has online multiplayer mode: http://paw.me
Thank you for signing up to iMore. You will receive a verification email shortly.
There was a problem. Please refresh the page and try again.