Best iPad apps for Instagram: See all your favorites shots, and selfies, on the big screen!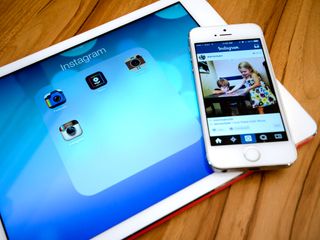 While Instagram may only be officially supported on the iPhone, that doesn't mean it doesn't belong on your iPad too. The larger screen begs to have photos views on it and Instagram is no exception. Luckily, lots of App Store developers have stepped up to fill in the app. Unfortunately some options are not nearly as good as others, so if you're only interested in the best iPad apps for Instagram, follow along for our top recommendations!
Padgram
Why you can trust iMore Our expert reviewers spend hours testing and comparing products and services so you can choose the best for you. Find out more about how we test.
Padgram goes above and beyond your run of the mill Instagram experience. Not only can you view your Instagram feed, you can also subscribe to both users and tags. On the flip side, you can also hide users that are chronic posters in order to clean up your feed. Find a photo you really like or lost one of your own? Padgram lets you quickly and easily download up to 100 photos from Instagram at once without interrupting what you're doing. If your iPad is shared amongst more than one person, Padgram also supports multiple user accounts for on the fly switching.
If you want the ability to add multiple Instagram accounts in one app along with the option to download multiple photos at once, look no further than Padgram.
Retro for Instagram
Retro for Instagram also lets you subscribe to tags and users as well as sign in to multiple accounts. What sets it apart from other Instagram apps available for iPad is the amount of options you have when it comes to viewing your feed. In just a tap, you can toggle between several viewing modes to find the one that suits you. Retro also saves your recent searches and history so you can jump back to something incredibly quickly. There is also a great notifications stream for users and tags you follow which makes it easy to separate them from everyone else. Retro also supports downloading images in just a tap.
For great search history combined with multiple account support and a better design than even Instagram offers, you want Retro for Instagram.
Instapics
Instapics offers an experience that's very close to what you get from the official Instagram for iPhone app. All the same tabs are there plus the addition of a liked section so you can quickly get to all the photos you've favorited. If you find photos you want to download, just open a photo and tap on the download button. There are also shortcuts to generating links to a photo and sharing it.
For an Instagram experience on your iPad that's as close to what you get on your iPhone as possible, check out Instapics.
Instagram for iPhone
Even though the official Instagram app was only optimized for iPhone, that doesn't mean you can't download and run it on your iPad. Is it ideal? No. But since Instagram doesn't allow access to the camera API to any other third party app, you'll need it in order to take and upload photos to Instagram on your iPad. If you don't need tag and user searches, multiple account support, or any other fancy bells and whistles, the official app may suit your needs just fine. And even if you do, you'll want to download the official app so one of the above apps can route you to Instagram in order to take and upload photos right from your iPad.
If you desperately need to be able to upload photos to Instagram from your iPad, you'll need the official Instagram app, optimized or not.
Your vote for best Instagram app for iPad?
None of the above apps are a perfect solution to using Instagram on the iPad, but in some ways, they contain awesome features that even the official Instagram app doesn't offer, which makes them unique and worthwhile. So which one are you going to go with? And if you chose something else, be sure to let us know that too!
Get the best of iMore in your inbox, every day!
iMore senior editor from 2011 to 2015.
Have used Padgram and Replay as stand alone Instagram apps but the one I use when I'm checking Instagram is always Flipboard. Don't get the notifications but really simple and easy to view and save images.

Used to use Padgram until they introduced IAPs but now I use Flow. Good app. Sent from the iMore App

Flow is the only decent iPad instagram client: https://itunes.apple.com/ru/app/flow-for-instagram/id766462439?mt=8&at=1...
Today's update has even brought notifications! The post is worthless without mentioning Flow. It's fast, convenient, beautiful, intuitive and does everything you would want from an iPad client for Instagram. That's a pity there's still no official Instagram app for iPad, with their new app Hyperlapse optimised for big screens, but Flow is a great app

Use to use Padgram, but switch to Retro, liking it better.

I have found that the Instagram app on 2x really is not that much difference than a normal iPad app. Normally going full screen for an iPhone app looks distorted on full screen iPad but Instagram is not really that bad at all.

One of my favorites is flow for Instagram:http://www.theflowapp.com

Padgram (and Phonegram) are great except for the ugly icon!

I am surprised that the official Instagram app has not made an iPad version. Why would they allow us to seek an alternative? Those apps mentioned, look great. I am going to try one of them.

I cannot wait for this fad to be over. Sent from the iMore App

Yeah the instagram situation on ipads really does suck. I had no idea how bad it was until i saw a friend running it on their ipad. I just assumed with all the hype about ipads having all the good tablet apps versus android tablets they would have a decent instagram app. The instagram app on android has scaled perfectly on every android tablet I've ever used and you wouldn't even know that it was designed for a phone only because of the way android properly scales apps unlike ios. Just goes to show that ipads aren't the best at everything since they have to wait for a tablet optimised app when android tablets can scale any android app appropriately to make it work like a natively designed tablet app. Apple really should pull their finger out and fix application scaling so that this sort of thing doesn't reduce ipad user experience when tablet optimised applications aren't available. It's becoming more important now than ever with their move into different screen sizes, aspect ratios and resolutions across different generations of ipads and iphones.

Hi, I highly recommend the V.I.P. Service from http://www.buycheapestfollowers.com , here you can create for free your own personally account and can send any quantity of followers and likes to any picture or profile. It is very comfortable and safe as well because this service don`t need your instagram login details like password or e-mail. Thats why it is very safe because I dont trust APPs which needs my Instagram Password, I lost 2 Accounts at the past with APPs like that. But V.I.P. from buycheapestfollowers are very safe and reliable as well and dont need any sensitive details like password or email. It works very simple! You can order 7/24 and all orders of followers and likes are done within several minutes. You can also order small quantities like 50 or 60 likes / followers. It is really my favourite to promote my instagram account. This service is much more better then any App to gain followers or likes.