Best iPad apps for TV watchers: Couch surfing at its best!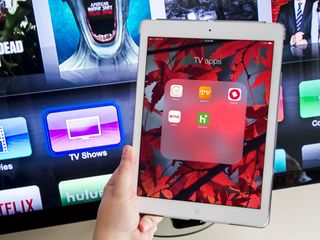 If you've got an iPad, you most likely enjoy consuming media on it. For most people, that includes their favorite television shows. With full HD support, not only is the iPad a convenient way to access your favorite content, it looks great too. So if you're looking for the best iPad apps to get your tv fix, we've got you covered. From never missing your favorite show to catching up on past seasons, these are the apps every tv watcher should have on their iPad!
TeeVee 3
Why you can trust iMore Our expert reviewers spend hours testing and comparing products and services so you can choose the best for you. Find out more about how we test.
TeeVee 3 is a beautifully designed tv companion app that not only notifies you when one of your shows is going to start, but also gives you cast, series, and episode guides all in one place. Unlike a traditional guide, TeeVee 3 only shows you want you want to see which makes it completely personalized to you. Add your shows once and TeeVee 3 can sync them across all your devices and provide notifications just as you initially set them up. There's also a Today widget available that shows all your upcoming shows.
For a great tv guide app that personalized to you with notifications and widget support, you want TeeVee 3.
BuddyTV
BuddyTV isn't your run of the mill tv guide app. Not only can it show you local listings based on your provider, it also filters in information from Netflix, Hulu Plus, and many on demand channels. You can also link it to your supported Smart TV or Chromecast and use the remote functionality right inside of BuddyTV. The more information you give BuddyTV, the better it understands your tastes and can make recommendations based on what you already watch.
For an all in one remote and full featured guide for every service imaginable, check out BuddyTV.
Beamly
Beamly, formerly Zeebox, is a social checkin service that lets you tell your friends watch your watching, listening to, or playing — as in video games. You can also view your friends feeds and see what they're up to. More than that, Beamly is a community and provides a lot of feedback on tv shows and movies that you may find helpful. Want to start that new series on Netflix but not sure if it's really that great? Check out Beamly first to see what others think. Beamly also comes with a complete guide feature as well as news from many different media outlets.
If you want to check out what your friends and others are watching, Beamly is a must have.
Netflix
Netflix is one of the largest collections of tv shows and movies on the planet. And you can have unlimited access to it for a mere $8 a month. With tons of original series such as Orange is the New Black, House of Cards, and Hemlock Grove, not only do you get past seasons of shows from many networks, you get instant access to Netflix's own shows as well. Many may argue that Netflix's movie collection is lagging behind in some areas. However, television series is something that Netflix seems to be getting right.
If you want to check out some great original series and past seasons from many networks, Netflix is your one stop shop.
Hulu Plus
Hulu Plus also requires an $8 month subscription to access most content and the Hulu Plus app but just like Netflix, it has a great collection of tv shows and movies. The main different between Hulu Plus and Netflix is that Hulu Plus typically airs new series of shows instantly. That means if you missed last night's episode of your favorite show, you can log on to Hulu Plus the very next day and stream it on demand. A subscription also gives you access to past seasons of your favorite shows.
If you want access to currently airing tv shows from many different networks without a cable subscription, Hulu Plus is what you want.
Your vote for best tv companion apps for iPad?
If you watch tv regularly, whether on your iPad or on the tv, what apps have you loaded up on your iPad, or even iPhone, to help you keep up with your favorite shows? Be sure to let me know in the comments!
Get the best of iMore in in your inbox, every day!
iMore senior editor from 2011 to 2015.
TeeVee 3 is great. It's perfect for what I need it to do. I had deleted it until today because the iCloud sync was driving me mad. Deleted TV shows kept reappearing but that appears to be all sorted now. Buddy TV is downloading right now so I'll take a look at that but as a back-up I have a note in Evernote with TV shows I'm watching listed ('cause you never know...)

I used to use TeeVee but found it to be unreliable in iOS 8; especially the widget. Moved onto tv show tracker 3 (https://itunes.apple.com/us/app/tv-show-tracker-3/id334565283?mt=8&at=10...) Much better!

Will check that out as well!

Finally you published this article :) Being impatient, I bought iTV shows. I think its a decent app. Would have bought TeeVee 3 if you had published earlier ;) Thanks Anyways, will try it in future if i see it on sale. Edit: both apps looks the same. Don't know if they use different TV DB.

I don't think any of these beats the Directv iPad app (if you have Directv). Full guide info, recording info, watching live, recorded, or on-demand TV, all packaged in one app. This app puts Directv ahead of all other providers, and all these apps.

I didn't include provider specific apps because they are just that, provider specific. A DirecTV app has no bearing on a comcast customer and vice versa. So I stuck with apps that everyone can use, regardless of cable provider

If you have Comcast, the xfinity app. I also use canistream.it, and Amazon Instant video. If you use Windows Media Center, I also recommend Couch Potato and Ceton My Media Center.

My go to TV app is fan.tv. ok iphone app, but has a great ipad app. It keeps track of everything, watch list, seen it lists, etc....
Also has a nice web interface, www.fan.tv/home

What about Crackle Sent from the iMore App

I have two: TeeVee and Next Episode. I prefer each for different reasons. My biggest knock against TeeVee is the process of marking episodes watched. For long running shows, it's a pain to always have to scroll down to the bottom of the list to find the new episodes so that I can mark them read. I do like the content rich approach of TeeVee, though many shows don't have a properly populated cast section - lots of missing information. It also has a widget for the iOS 8 Notification Center. The Next Episode app allows you to filter the view by unwatched episodes, so only the shows that I have not seen (or more correctly, marked as seen) are displayed. It makes staying on top of missed episodes really easy.

"Movie box" on a jailbroke device!
Hands down my favorite.
Streams to my apple tv with no problems and it's all free.

We have a Tivo, so their app is absolutely must have for me. Not only does the app control all features of the Tivo (and better than the usual way with the remote), but you can stream recorded or live shows to your iOS device and even move shows to your iPhone or iPad from the Tivo for watching while away from home. Anyone with a Tivo that can stream must get this free app, it makes all aspects of TV watching and recording better.

When I am in front of the TV, it is Roomie Remote. When I am away from home, it's Slingbox.

Just a correction:
Beamly was formerly Zeebox.. and I used to work there
It is tvtag that was formerly known as GetGlue...

You're right sorry about that. Will fix! Sent from the iMore App

If you are looking for the best looking app for tracking TV episodes, TeeVee3 and iTv Show apps are the best. But my issue with these are that they are iOS only. I'm using "TV Show Time" app which is universal - iOS, Android, Web. UI is not as awesome as TeeVee3 but is good enough. Being universal is big plus. And there's a large community of users with whom you can discuss about each episode. That's another plus.

Is there any app that sync with a Mac app? Thanks. By the way, the best app for iPhone I've tried was iTv Shows and it's not listed.
Thank you for signing up to iMore. You will receive a verification email shortly.
There was a problem. Please refresh the page and try again.