Best stands for iPad Pro 2022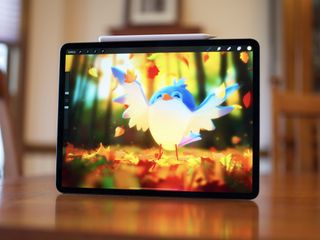 (Image credit: iMore)
We love punching in weird configurations while drawing or lettering on our iPad, but sometimes it's better to get work done at a desk. The best iPad Pro stands will keep you comfortable regardless of how you decide to work, draw, browse, or play. If you're drawing on a steady surface, you're going to want a great stand to support your iPad Pro and keep you from hunching over its screen. These are some of our all-time favorite iPad Pro stands for drawing and writing at a desk, which will help make your iPad Pro the best iPad it can be.
If we may make some suggestions...
Why you can trust iMore Our expert reviewers spend hours testing and comparing products and services so you can choose the best for you. Find out more about how we test.
We love the iPad Pro, but finding the best iPad Pro stands can be a little tricky. It's always worth checking back to see if we update this list with more awesome options. Personally, we love the Elevation Lab DraftTable for drawing and drafting. It's at the perfect angle to use the Apple Pencil on the screen with ease, and it comes with a little armrest, so you can be creative for hours and always be comfortable using your best iPad.
Another great option is the Yohann stand. It's made of high-quality materials and is built to last. Plus, the unique U-shape is surprisingly stable and gives you the perfect angle to work with. And how can we not love having a place to store our Apple Pencil?
If you have the money to spare, then the LEVO Deluxe Floor Stand is a great one. Since it's a floor stand, it can work at any height and angle, and the wheels at the bottom let you freely and easily move it from room to room in the house. It's perfect when you want to watch some Netflix on your iPad before bed because having a heavy iPad Pro fall on your face is not fun.