Best jailbreak apps for iPad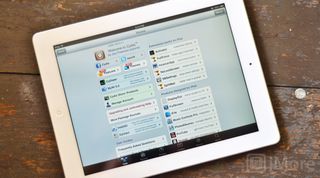 iMore's authoritative guide to the very best Cydia apps, tweaks, and more for your jailbroken iPad
If you've already jailbroken your iPad on iOS 5.1.1 you'll probably want to start loading it up with the best jailbreak apps and tweaks Cydia, the jailbreak app store, has to offer.
Cydia has tons of great apps that you just can't get on the App Store but if you're new to jailbreak in general, or to iPad jailbreak in particular, you may not know where to begin. After you check out our list below you can check out our jailbreak starter's guide for even more tips and tricks. And don't miss our companion list, Best jailbreak apps for iPhone!
If you're a veteran jailbreaker and think we missed some of the very best jailbreak apps for iPad, let us know why you love them and we'll make sure we include them.
Check back often as we'll be updating this list as we find more great jailbreak apps for iPad.
System enhancements
You can always trust iMore. Our team of Apple experts have years of experience testing all kinds of tech and gadgets, so you can be sure our recommendations and criticisms are accurate and helpful. Find out more about how we test.
If you've installed any kind of jailbreak app that uses springboard gestures, you probably already have Activator installed. Most jailbreakers will also tell you it's one of the few jailbreak tweaks they can't live without.
Activator allows you to set quick gestures on your iPad such as double tapping the status bar to bring up a quick compose message or swiping up from the bottom of the screen to toggle on or of Wi-Fi. There's tons of default toggles and gestures to configure and a lot of jailbreak apps will also be compatible with Activator. Just pop into settings and Activator to start customizing gestures.
Free - Cydia Search Link
If you want a way to activate quick toggles from your iPad within Notification Center, look no further than NCSettings. It's very similar to SBSettings but a lot simpler in premise and execution. I actually prefer it to SBSettings for toggles since it blends right into iOS 5 like it's meant to be there.
Just enable it within Notifications in Settings and then open Notification Center. You'll see a new top row of icons. You can customize the order and what ones show up in Settings and you're done. Super simple and it even looks like something Apple would design stock.
Free - Download Now
SBSettings has been around just about as long as jailbreak has. While it was obviously made for iPhone it also works on iPad. It's a great way to add quick toggles, manage memory, clear out running processes to free up memory, and more. If you're on iOS 5 it'll even integrate into Notification Center, just enable it in Settings under Notifications.
Since SBSettings has been around so long, there are tons of add-ons, themes, and other enhancements available in Cydia. I personally prefer the look and feel of NCSettings better on the iPad but if you need more than just toggles SBSettings will be a better option.
Free - Cydia Search Link
Quasar is a nifty little tweak for iPad that allows you to run and view multiple open apps at once. It's very similar to expose on a Mac and aims to provide a desktop-like multitasking experience. Instead of having to run one app at at time, Quasar will open them in individual windows the same way a desktop computer would.
Quasar is also tied into the iOS app switcher which means whenever you perform an action like killing an app will kill it but closing a window in Quasar will still allow it to run in the background.
$9.99 - Cydia Search Link
Fullscreen for iPad is a Safari plugin that not only brings fullscreen browsing to the iPad but adds true multitasking gestures and actions such as two and three finger swiping. By default you'll just have to double tap anywhere on a webpage to enter fullscreen mode. Double tapping again will exit fullscreen mode and bring back the address bar.
You can customize gestures and actions within the Settings panel however you'd like.
$2.19 - Cydia Search Link
Folder Enhancer & Infinifolders
Apple only allows you to stick 20 apps into a single folder on your iPad. If you're anything like me, you've got tons of games on your iPad. Apps like Folder Enhancer and Infinifolders remove the cap Apple has put in place and will allow you to put as many apps as you'd like inside a folder.
Both apps also take it a step further and will allow you to nest folders inside of each other just like you can on a desktop computer. I find this great for games so I can have one main games folder and sub-folders containing different types of games inside of that.
Folder Enhancer - $1.99 - Cydia Search Link
Infinifolders - $1.99 - Cydia Search Link
Notification enhancements
While Notification Center was a great addition in iOS 5, it still leaves a lot to be desired. IntelliscreenX will allow you to fine tune notifications on your iPad just the way you'd like. You can even link Facebook, Twitter, RSS, feeds, and more straight in Notification Center. Just tab like you would through pages to view your Facebook Timeline, Twitter feed, and any other service you've linked.
Since Apple also left out the default apps on the iPad, you also won't get things like the weather widget within Notification Center. IntelliscreenX supports widgets and allows you to add several such as weather, SBSettings, and more.
$9.99 - Cydia Search Link
LockInfo is another notification enhancement app that'll do a lot of the same things IntelliscreenX does. I personally prefer IntelliscreenX over LockInfo due to the Messages+ integration but you may not.
LockInfo is just as full featured and functional as IntelliscreenX but in a different package. It offers a bit more fine tuned control over how it behaves than IntelliscreenX in some cases but the general settings are a bit more confusing. If you can get over the initial shock of how many options there really are, you'll realize how powerful it really is.
$7.99 - Cydia Search Link
It'll really be up to you which one you choose as both are great notification enhancement options for both iPhone and iPad, but if you need help deciding you can always check out our LockInfo vs IntelliscreenX comparison.
Customizing your iPad
Whether you just want to be able to customize the look and feel of your iPad or tweak the overall layout, there's tons of apps in Cydia available to get your iPad looking just the way you want it.
Apps like Springtomize 2, Winterboard, and Dreamboard will all help you theme out your iPhone and customize every little aspect of the overall look and feel. Change your dock, icons, fonts, menu bar colors, and every other visual element you can think of.
Springtomize 2 - $2.99 - Cydia Search Link
Winterboard - Free - Cydia Search Link
Dreamboard - Free - Cydia Search Link
Maybe you don't want to completely theme your iPad but would like the ability to see more of the background picture behind your icons. I find Shrink perfect for this kind of task.
You can change the size of your dock and springboard icons within Settings. If you want to keep your dock icons at 100% but your page icons at 50%, you can do that. You can also remove icon labels from within Shrink.
$1.49 - Cydia Search Link
Just like with Shrink, if you want to view more of your background picture, Gridlock will come in handy. It simply allows you to move icons around on your iPad wherever you'd like. If you don't want a top row of icons or want them every other row, you can do so.
Organize however you want, wherever you want.
$0.99 - Cydia Search Link
What are your favorites?
Have any favorites you think should be on the list but aren't? Drop them in the comments below and tell us why you can't live without them. If you need more jailbreak help, tips, or suggestions, check out the resources below.
Additional Resources
Master your iPhone in minutes
iMore offers spot-on advice and guidance from our team of experts, with decades of Apple device experience to lean on. Learn more with iMore!
iMore senior editor from 2011 to 2015.