Best jailbreak apps for iPad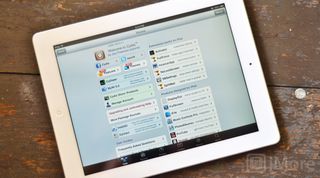 iMore's authoritative guide to the very best Cydia apps, tweaks, and more for your jailbroken iPad
If you've already jailbroken your iPad on iOS 5.1.1 you'll probably want to start loading it up with the best jailbreak apps and tweaks Cydia, the jailbreak app store, has to offer.
Cydia has tons of great apps that you just can't get on the App Store but if you're new to jailbreak in general, or to iPad jailbreak in particular, you may not know where to begin. After you check out our list below you can check out our jailbreak starter's guide for even more tips and tricks. And don't miss our companion list, Best jailbreak apps for iPhone!
If you're a veteran jailbreaker and think we missed some of the very best jailbreak apps for iPad, let us know why you love them and we'll make sure we include them.
Check back often as we'll be updating this list as we find more great jailbreak apps for iPad.
System enhancements
Why you can trust iMore Our expert reviewers spend hours testing and comparing products and services so you can choose the best for you. Find out more about how we test.
If you've installed any kind of jailbreak app that uses springboard gestures, you probably already have Activator installed. Most jailbreakers will also tell you it's one of the few jailbreak tweaks they can't live without.
Activator allows you to set quick gestures on your iPad such as double tapping the status bar to bring up a quick compose message or swiping up from the bottom of the screen to toggle on or of Wi-Fi. There's tons of default toggles and gestures to configure and a lot of jailbreak apps will also be compatible with Activator. Just pop into settings and Activator to start customizing gestures.
Free - Cydia Search Link
If you want a way to activate quick toggles from your iPad within Notification Center, look no further than NCSettings. It's very similar to SBSettings but a lot simpler in premise and execution. I actually prefer it to SBSettings for toggles since it blends right into iOS 5 like it's meant to be there.
Just enable it within Notifications in Settings and then open Notification Center. You'll see a new top row of icons. You can customize the order and what ones show up in Settings and you're done. Super simple and it even looks like something Apple would design stock.
Free - Download Now
SBSettings has been around just about as long as jailbreak has. While it was obviously made for iPhone it also works on iPad. It's a great way to add quick toggles, manage memory, clear out running processes to free up memory, and more. If you're on iOS 5 it'll even integrate into Notification Center, just enable it in Settings under Notifications.
Since SBSettings has been around so long, there are tons of add-ons, themes, and other enhancements available in Cydia. I personally prefer the look and feel of NCSettings better on the iPad but if you need more than just toggles SBSettings will be a better option.
Free - Cydia Search Link
Quasar is a nifty little tweak for iPad that allows you to run and view multiple open apps at once. It's very similar to expose on a Mac and aims to provide a desktop-like multitasking experience. Instead of having to run one app at at time, Quasar will open them in individual windows the same way a desktop computer would.
Quasar is also tied into the iOS app switcher which means whenever you perform an action like killing an app will kill it but closing a window in Quasar will still allow it to run in the background.
$9.99 - Cydia Search Link
Fullscreen for iPad is a Safari plugin that not only brings fullscreen browsing to the iPad but adds true multitasking gestures and actions such as two and three finger swiping. By default you'll just have to double tap anywhere on a webpage to enter fullscreen mode. Double tapping again will exit fullscreen mode and bring back the address bar.
You can customize gestures and actions within the Settings panel however you'd like.
$2.19 - Cydia Search Link
Folder Enhancer & Infinifolders
Apple only allows you to stick 20 apps into a single folder on your iPad. If you're anything like me, you've got tons of games on your iPad. Apps like Folder Enhancer and Infinifolders remove the cap Apple has put in place and will allow you to put as many apps as you'd like inside a folder.
Both apps also take it a step further and will allow you to nest folders inside of each other just like you can on a desktop computer. I find this great for games so I can have one main games folder and sub-folders containing different types of games inside of that.
Folder Enhancer - $1.99 - Cydia Search Link
Infinifolders - $1.99 - Cydia Search Link
Notification enhancements
While Notification Center was a great addition in iOS 5, it still leaves a lot to be desired. IntelliscreenX will allow you to fine tune notifications on your iPad just the way you'd like. You can even link Facebook, Twitter, RSS, feeds, and more straight in Notification Center. Just tab like you would through pages to view your Facebook Timeline, Twitter feed, and any other service you've linked.
Since Apple also left out the default apps on the iPad, you also won't get things like the weather widget within Notification Center. IntelliscreenX supports widgets and allows you to add several such as weather, SBSettings, and more.
$9.99 - Cydia Search Link
LockInfo is another notification enhancement app that'll do a lot of the same things IntelliscreenX does. I personally prefer IntelliscreenX over LockInfo due to the Messages+ integration but you may not.
LockInfo is just as full featured and functional as IntelliscreenX but in a different package. It offers a bit more fine tuned control over how it behaves than IntelliscreenX in some cases but the general settings are a bit more confusing. If you can get over the initial shock of how many options there really are, you'll realize how powerful it really is.
$7.99 - Cydia Search Link
It'll really be up to you which one you choose as both are great notification enhancement options for both iPhone and iPad, but if you need help deciding you can always check out our LockInfo vs IntelliscreenX comparison.
Customizing your iPad
Whether you just want to be able to customize the look and feel of your iPad or tweak the overall layout, there's tons of apps in Cydia available to get your iPad looking just the way you want it.
Apps like Springtomize 2, Winterboard, and Dreamboard will all help you theme out your iPhone and customize every little aspect of the overall look and feel. Change your dock, icons, fonts, menu bar colors, and every other visual element you can think of.
Springtomize 2 - $2.99 - Cydia Search Link
Winterboard - Free - Cydia Search Link
Dreamboard - Free - Cydia Search Link
Maybe you don't want to completely theme your iPad but would like the ability to see more of the background picture behind your icons. I find Shrink perfect for this kind of task.
You can change the size of your dock and springboard icons within Settings. If you want to keep your dock icons at 100% but your page icons at 50%, you can do that. You can also remove icon labels from within Shrink.
$1.49 - Cydia Search Link
Just like with Shrink, if you want to view more of your background picture, Gridlock will come in handy. It simply allows you to move icons around on your iPad wherever you'd like. If you don't want a top row of icons or want them every other row, you can do so.
Organize however you want, wherever you want.
$0.99 - Cydia Search Link
What are your favorites?
Have any favorites you think should be on the list but aren't? Drop them in the comments below and tell us why you can't live without them. If you need more jailbreak help, tips, or suggestions, check out the resources below.
Additional Resources
Get the best of iMore in in your inbox, every day!
iMore senior editor from 2011 to 2015.
Great collection of apps your recommending.
One thing to be wary of when jailbreaking your iPad though, if you want to use themes, they'll most probably won't work.
I jail broke my iPad 3, and tried several themes, some free, some paid, and none of them worked.
It's my first time jailbreaking, but I've been reading up on it, and have done all the stuff you're supposed to do, eg. The theme you want on top in winterboard settings, tried Summerboard setting etc.
I don't know if it's the latest iOS, my iPad 3, or a combination of both, but new jailbreakers might want to wait a while until the theme makers have caught up.
Also, Cydia really, really sucks if you want to search for iPad related stuff.
Try searching for iPad under themes, and you'll mostly get iPad themes for the iPhone!

A lot of theming issues probably has to do with themes not being optimized for retina on the new iPad. That'd be my guess. They'll get there but since this is the first run with the new iPad, some tweaks and themes will take a bit to become compatible.

IA weather pad theme works for the Ipad3. It is a very nice weather theme for the lockscreen!

Thanks for the warning. My iPad 3 will arrive soon, and I'm interested in jailbreaking. Rooting my Android tablet certainly brought some good benefits, and I suspect jailbreaking is even more important for full usage of the iPad.

Hm...just tried Quasar last night and while the idea is great...it was buggy as hell.

Hm, it seemed ok for me but i'll keep an eye on it. If it's that buggy, I don't want it on a "best" list ;)

Well it could be because I have Card Switcher as well as multitasking gestures so the iPad would flip out and show me cards or the Quasar windows would disappear and the screen would flicker=/

Quasar works great for me.
What's been your issues with it?

I like Quasar and it's a nice showcase program to run on an iPad. One problem I uncovered is that when it is active and you try to create a new game in Draw Something, the new iPad locks up so tight not even the power button works! After a minute or two the Springboard restarts and everything's ok though. One other bug of note is that Mobile Terminal refuses to load. It pops up and then shrinks to nothing.

What about RetinaPad? It's great for running iPhone-only apps on the iPad. It smooths out all the graphics and text beautifully!

Thanks, I'll check it out!

Is it updated for the new iPad? On day one of the jailbreak it wasn't and it screwed up everything so bad I had to restore (same with many others)

Ah, then I may wait to add it until it is. Don't want to recommend it if users are going to have issues. Thanks for the heads up :)

Well i dont think it would ever get updated for the new iPad since the new iPad already has a retina display. Therefore, you should only download a tweak called "FullForce" which forces apps to work like if they were built for iPad's and they look so great because of the new retina display.
P.S: Im using whatsapp on a 2x mode on my iPad and it looks smooth and nice. The only falldown when it comes to using FullForce, is that very little amount of IM apps would have problems when trying to type, as the writing bar would jump way over the keyboard and blocks some text. If it gets updated soon, it would be amazing.
Another great tweak, one that makes using the keyboard much easier and faster by adding incredibly awesome gestures, is "SwipeSelection" which you'll never regret having on yous iOS device.

Was buggy for me (RetinaPad)

Awesome list.
Tweaks I'm using so far: Quasar (once in a while, still a little buggy), Multifl0w (a must for any of my iOS devices), Activator, NCSettings, Gridlock, CustomGrid, MultiIconMover, CyDelete, Barrel (with page zoom effect), and trying out Dashboard X (but not working well in landscape mode).

For some reason, I seem to be the only one who can't get Absinthe to work on my 3rd gen iPad.
I guess I'll hold out for redsnow

Have you tried the updated version of Absinthe? It's up to version 2.0.4 now so maybe whatever issue you had has been addressed now?
You can grab the updated version from our downloads page:
http://www.imore.com/2007/12/07/greenpois0n-jailbreak-software/
Good luck!

Thanks for the suggestion, but I've already tried 2.0.4 many times. I've tried every version so far, and it always gets to the part where it says "Waiting for reboot -- not done yet, don't unplug your device yet!" and stalls out there. I've waited as long as 8 hours with no luck.

Did you update via OTA? If so, you'll have to restore 5.1.1 via iTunes for the jailbreak to work. Afterwards, you can do a restore. This tripped me up on my new iPad and iPhone 4s. After I restored via iTunes all went as expected!

I tried restoring in iTunes (probably a dozen times now) as well as every trick I've found online, but it still fails :-(
Tried unplugging, rebooting manually, different USB port and cable, toggling VPN, removing passcode, updated iTunes.
I always end up with some sort of lockdown error.

install redsnow and just plug in your ipad, turn it off and follow the instructions to enter dfu mode. then wait about 3-5 min and it should finish. This is a tethered jailbreak though, to get it un-teathered just open cydia and search for Rocky Racoon 5.1.1 Unteather and install. This will unteather your 5.1.1 device so you can reboot and turn off your ipad without having to boot it again with redsnow. Then, enjoy your jailbroken ipad!

try to change the sync cable.

Thanks for the tip on NC Settings, i've always used sb settings but this is so much nicer looking and easier to set up.

SwipeSelection for easy text editing and PC Networking for easy Windows network access.

Nice call on SwipeSelection.

Tried changing the DNS on my wifi and it worked like a charm! Been at this for 3 days. Resetting the network settings didn't work.
Thank you for signing up to iMore. You will receive a verification email shortly.
There was a problem. Please refresh the page and try again.