Best MagSafe chargers 2023
The best MagSafe chargers are the ultimate in convenience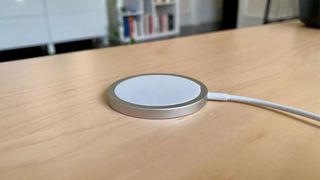 (Image credit: iMore)
MagSafe chargers have steadily grown in popularity since the introduction of MagSafe with the iPhone 12.
MagSafe chargers are distinct because they can charge your iPhone 12 or above with 15 watts of power if used in conjunction with a 20-watt brick. They also provide a steady physical connection due to the magnets, compared to other wireless charging pads.
Speed and extra peace of mind is a potent mixture which is why many people are buying MagSafe chargers these days. However, where do you start? With so many available, we've picked out some of the best MagSafe chargers around. Each is useful in different situations and offers a different form of style, so there's sure to be something for everyone here.
Made by Apple

The official Apple MagSafe charger is a simple magnetic disk that attaches magnetically to your iPhone 12 or above to provide 15 watts of charging power when used together with a 20-watt charging brick. Predictably, no charging brick is included, so you'll need to buy it separately but it's a worthwhile investment. The Apple MagSafe charger also has Qi compatibility so you can charge any wireless compatible device with it. However, such devices won't attach magnetically or charge at its maximum of 15 watts. That's limited to MagSafe compatible iPhones.
Belkin MagSafe 3-in-1 Wireless Charging Stand
3 chargers in 1

Belkin's MagSafe 3-in-1 Wireless Charging Stand doesn't just charge your MagSafe compatible phone. It also works as a charger for your AirPods and Apple Watch, so it's a good all-rounder. Looking pretty stylish, it'll fit on your bedside cabinet or desk well, while consistently charging quickly and efficiently at up to 15W.
Moko Armor Wireless Charger
Magnetic with a stand

As the Moko Armor Magnetic Charger is an old device and isn't an official MagSafe charger, it will only charge at a maximum of 7.5 watts of power. However, its attractive design makes it tempting. For one thing, you can charge your iPhone while still using it to watch a movie or TV show which is certainly useful. It's inexpensive too although you'll have to purchase the charging brick separately.
yootech Magnetic Wireless Charger
Budget magnetic charger

The yootech charger looks like a basic Qi charger, but it still attaches magnetically to your iPhone. As an older option, it only charges at a maximum of 7.5 watts of power but it's very inexpensive. It also acts as a regular Qi charger for your other wireless devices.
MagSafe Duo Charger - White
Dual charging by Apple

The MagSafe Duo charger will charge your MagSafe compatible iPhone with 15 watts of power while charging your Apple watch at the same time. Because it folds up, this is a great charger to pack up and take on the road. When considering the price, note it does not come with the recommended 20 watts charging brick so it gets pretty expensive.
The Anker Wireless Charger, PowerWave Magnetic 2-in-1 Stand
Anker 2-in-1

Ideal for AirPods owners who want to charge their earbuds at the same time as their phone, the Anker PowerWave charges with up to 7.5 watts of power. It's also possible to attach your phone either vertically or horizontally if you want to watch a movie while it charges.
WAITIEE 3-in-1 Magnetic Wireless Charger
3-in-1 on a budget

The WAITIEE 3-in-1 wireless charger will charge your iPhone and Apple Watch magnetically and your AirPods simultaneously. The stand features a USB-C connection and silicone non-slip material so it will not slip off of your desk or nightstand. It will charge your MagSafe compatible iPhone with 7.5 watts of power, and you can mount it either horizontally or vertically. This is a great budget choice for a 3-in-1 charger.
Petino 3 in 1 Charging Station for Apple
Fold up magnetic charger

Able to fold up and be far more portable than you'd think, the Petino 3 in 1 Charging Station for Apple will charge your iPhone, AirPods, and Apple Watch all while looking pretty stylish at the same time. The stand also means you can still watch your iPhone while it charges too.
Which MagSafe charger should you buy?
You can always trust iMore. Our team of Apple experts have years of experience testing all kinds of tech and gadgets, so you can be sure our recommendations and criticisms are accurate and helpful. Find out more about how we test.
Since the introduction of MagSafe, MagSafe chargers have been a big hit. An official MagSafe charger can charge an iPhone with 15 watts of power wirelessly, while keeping the device secure. That will continue with the iPhone 15 series too. Official MagSafe chargers continue to have the "Made for MagSafe" badge on them to denote you gain full charging power using one of these. Other chargers that are attached magnetically to an iPhone will charge at a maximum of 7.5 watts of power. Remember that in most cases, you'll also need to purchase a 20w power brick to get the maximum charging power.
For most people, Apple's MagSafe charger is the obvious choice. It's fairly inexpensive compared to other Apple products, and simply just works great. You'll still need to purchase the 20w power brick to get the most power from it through. Another option if you have many devices like an iPhone, Apple Watch 8 and a pair of AirPods Pro 2, is to buy the Belkin MagSafe 3-in-1 Wireless Charging Stand so you can charge them all at once.
If you are looking to save a few dollars and usually charge overnight, take a look at the Moko Armor charger. It's not an official MagSafe charger, so it will only charge with 7.5 watts of power, but if you're simply charging overnight, this doesn't really make a noticeable difference. It has an useful stand, so while it's charging, you can prop up your phone to watch a movie or TV show. It's also half the price of the official MagSafe charger.
Ultimately, if you've bought one of the best iPhones, you deserve to add on one of the best MagSafe accessories to get the most from your time with it.
Master your iPhone in minutes
iMore offers spot-on advice and guidance from our team of experts, with decades of Apple device experience to lean on. Learn more with iMore!
**Mark Goldschmitt** is the father of three boys and loves anything Apple. Born and raised in Queens, NY, and currently residing on Long Island, Mark is a lifelong New York Mets fan. {.end}