Best MagSafe chargers 2022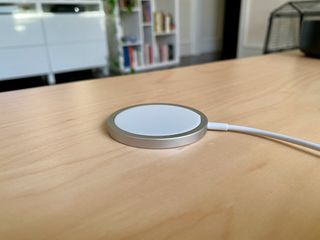 (Image credit: Joe Wituschek / iMore)
With the introduction of the iPhone 12, Apple introduced MagSafe. MagSafe chargers are distinct because they can charge your iPhone 12 with 15 watts of power if used in conjunction with a 20-watt brick. Other manufacturers are making magnetic chargers, but they are not officially MagSafe, as they will only charge at a maximum of 7.5 watts. It can be difficult to know which chargers are the best to buy, so let's take a look at the best MagSafe chargers that you can buy with your hard-earned cash.
Which MagSafe charger should you buy?
Why you can trust iMore Our expert reviewers spend hours testing and comparing products and services so you can choose the best for you. Find out more about how we test.
Apple has created a new system of accessories with the introduction of MagSafe. An official MagSafe charger can charge an iPhone 12 series phone with 15 watts of power wirelessly. Official MagSafe chargers will always have the "Made for MagSafe" badge on them. Other chargers that are attached magnetically to an iPhone 12 series phone will charge at a maximum of 7.5 watts of power. And keep in mind, in most cases, you will have to purchase a 20w power brick to get the maximum charging power.
Apple's MagSafe charger is the best way to get started with MagSafe accessories. It is relatively inexpensive by Apple standards, and it will charge your iPhone quickly and efficiently. Remember that you will need to purchase the 20w power brick separately to get the maximum charging power if you don't already own one. The Belkin Boost 3-in-1 charger is another great official MagSafe option if you are already entrenched in the Apple ecosystem. It will charge an iPhone, Apple Watch, and AirPods simultaneously.
If you are looking to save a few dollars and usually charge overnight, take a look at the Moko Armor charger. It's not an official MagSafe charger, so it will only charge with 7.5 watts of power, but this will not be a concern if you usually charge overnight. It has a unique stand, so while it's charging, you can prop up your phone to watch a movie or TV show. It's also half the price of the official MagSafe charger.
**Mark Goldschmitt** is the father of three boys and loves anything Apple. Born and raised in Queens, NY, and currently residing on Long Island, Mark is a lifelong New York Mets fan. {.end}