Best news reader apps for iPad: How to stay on top of your RSS feeds!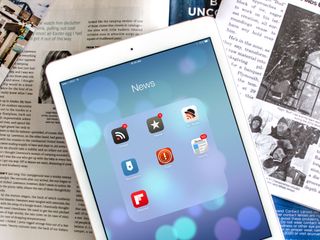 Looking for the best iPad apps to help you keep up with all the latest news? Reading on the iPad is an amazingly enjoyable experience, and news feeds are a great way to get amazing stuff to read. Put them together and what do you have? The best of all possible reading worlds. Apple no longer provides the online Safari news reader, which made opening feeds right in the browser a breeze, but there are a ton of great App Store apps that can help you get your RSS fix, but which is the best one for you? That's where iMore comes in! These are currently the best news and RSS apps available for iPad!
Reeder 2
Why you can trust iMore Our expert reviewers spend hours testing and comparing products and services so you can choose the best for you. Find out more about how we test.
Reeder 2 syncs with Feedbin, Feedly, Feed Wrangler, Fever, and Readability. Just sign into your account and all your news feeds come down, or If you want to add feeds manually, you can do that as well. The interface is simple, easy to use, and gorgeous in its own way. Reeder 2 also supports pretty much every sharing option you could want, including all the popular read it later services, and themes are available for reading in any environment. Since Reeder 2 is a universal app, buying it for iPad gets you the iPhone version as well.
If you value simplicity but still want complete control over your news feeds, you want Reeder 2.
Unread
Unread is a gorgeous RSS and news feed app that supports FeedWrangler, Feedbin, Feedly, Fever, and NewsBlur. What makes Unread so great is that the way it presents news is undistracting and beautiful. You can customize the theme and text to suit your personal reading preferences. After that, the Unread app itself gets out of the way to let you enjoy your content. Unread was also built around gesture navigation so you can swipe your way anywhere without reaching to tap on-screen buttons. It's one of the most well thought out news apps available. It's also available for iPhone so you get the same experience across the board.
If you want the most intuitive and beautiful news reading experience the App Store has to offer, get Unread for iPad.
See also:
Mr. Reader
Mr. Reader is one of the few news apps for iPad that has managed to create an amazing balance between design and feature set. Use the settings menu to tweak settings until your heart's content but all of that gets out of the way while you're reading. Many themes are available including light and dark options for day and night reading. Mr. Reader supports Feedly, BazQux Reader, Feedbin, FeedHQ, Feed Wrangler, Fever, InoReader, AOL Reader, SubReader accounts. Gesture support also lets you quickly swipe between or out of articles in portrait view.
If you aren't worried about iPhone support and want a great experience with as many features as one app can possibly cram in, look no further than Mr. Reader.
Reconnaissance
Reconnaissance is designed to be used with the Feed Wrangler service and will appeal to anyone who likes control over the organization of their news feeds. Beyond that, Reconnaissance is also a great way to quickly filter through many articles quickly due to its unique flick gestures. Just flick and article up to mark it as read, or flick it downwards to send it to the read it later service of your choice. Reconnaissance is easy to use and has a minimal interface that stays out of the way, which many people will appreciate.
If you use Feed Wrangler as your RSS service and prefer minimalistic news reader apps, Reconnaissance is the best choice.
Faast
Faast is a subscription based news and RSS app that goes way beyond just refreshing your news feeds in the background. Tell Faast what you want to know about and it can deliver real time push notifications for breaking news that's important to you. Not only that, you can link up social accounts and receive customized notifications for those too. This makes Faast a great tool for journalists and anyone else in a professional where breaking news is extremely important. Faast is subscription based so how much you'll pay will depend on how many sources you need notifications for. If you want to try out the service first, you can do so for free for two weeks. Your subscription gets you access to your Faast notifications on both your iPhone and iPad.
If you need real time notifications for breaking news in your industry, stop what you're doing and download Faast right now.
Newsify
Newsify provides Feedly account support or manual entry which then syncs with iCloud. Starting with the obvious, Newsify is more of a magazine style experience than it is an RSS feed. Newsify does have a list view though which can be accessed inside any feed in order to display a simpler way of scrolling through articles. There's no denying the interface is nicely done and manages to balance magazine style with quick reading. There's also a dark theme included for night time reading.
If you're a casual news browser and either use Feedly or don't mind entering feeds manually, the magazine style interface of Newsify is one of the best ones available.
Flipboard
Flipboard is a magazine style news app that gets smarter the more you use it. One of the most compelling features of Flipboard is the personalized magazine feature that lets you save articles to your own collections. It's somewhat of a Pinterest of sorts for news articles. Start a collection of articles for home improvement tips or for gift ideas. The point of Flipboard is that there's less upkeep on your end as Flipboard starts to recognize your reading habits. Flipboard also links up with all of your social accounts for a true all in one news reader.
For casual readers or hobbyists that like to save articles or prefer magazine style reading, Flipboard is hands down the best choice.
Your picks for best news and RSS app for iPad?
These are my favorite apps when it comes to reading news stories on the iPad but we know you guys have your favorites too. Do you use one of the apps mentioned above or something else? Sound off in the comments and let us know!
Note: Originally published, December 2013. Updated, August 2014.
Get the best of iMore in your inbox, every day!
iMore senior editor from 2011 to 2015.
I was a longtime Reeder user until the developer decided went absent on updating the app. I've been happy with Mr. Reader ever since.

That´s right, if I am not mistaken it came out with iOS7. It is probably the best RSS reader out there in my opinion. But I wish he would change that hideous icon so I can stop hiding it in a folder.

FeeddlerPro is my all-time favorite. I use it on iPhone and iPad for years. Minimalist and extremely reliable. I subscribe to InoReader and it works marvelously well.

Quintus, I am with you. I have been using it for some time. I was glad they were able to move off of Google Reader onto other free services.

Has it been updated for iOS7 UI?

FeeddlerPro for me too. Subscribed to bazqux after Google discontinued their reader. Unfortunatelly instapaper as embedded to it has had trouble with many of my feeds, but using rss and web formats has worked well enough for me. Feeddler's appeal to me has been the plain simple interface. No frills, oldschool RSS feeds, please. Sent from the iMore App

Mr. Reader has been my long time favorite. I like Reeder 2 but with the iOS 7 update to Mr. Reader it wins on my iPad hands down. Sent from the iMore App

All of these are great. I like Mr. Reader and Newsify the most. I wish Mr. Reader was available on the iPhone and Mac. I like information to feel and look the same on all my devices. I'm also a big fan of DIGG. Great comparison of these apps! Sent from the iMore App

It's funny: in the breakdowns of each app, I kept seeing mention over and over again of Feedly support. This makes me wonder why there was no mention of the Feedly app itself. I use the Feedly app on my iPhone, iPad, AND via web browser and am very happy with it. Hell, I even read this article via the Feedly app. Then again, I'm an old school Google Reader user who strongly dislikes magazine style layouts when I'm reading my news aggregators. I've even tweaked my Feedly view settings to be as slimmed down and minimal as possible to mimic the old Google Reader feel. I love it for the fact that it provides such flexibility, while still syncing what I've already read across all my devices.

Feedly is very error prone. It logs me out randomly and doesn't by any means provide the best experience. Is it a good app? Sure, for some. Is it one of the BEST? Not by any means.

Strange, I've never had the negative experience you're seeing with Feedly. I'm a former Google Reader user who switched over to the Feedly infrastructure. I previous used Newsify, and before that I used Reeder, but found that the Feedly app works the best for me and has the best user experience. But that's just one guy's opinion.

Not just "one guy's opinion", but definitely two :) Like I said previously: I'm very happy with Feedly. But then again I notice that both you and I are former Google Reader converts, so this kinda makes sense. Feedly seems to fit the way we were used to working before Google shut things down. I've tried both Reeder and Flipboard, but Feedly is the only one that has become a mainstay in my workflow. Plus I have NEVER had any of the random logout problems mentioned above. I would definitely contact their support team to look into this.

I've never experienced Ally's issue with Feedly. My only issue is that it often puts up pictures next to articles where the picture and article are not related. I really like Feedly's seamless integration between devices.

I agree with you on Feedly, I like Flipboard and have yet to try Reeder 2 ( I still have Reeder v1) but what about Zite? it is a GREAT app with a very nice and easy to use interface very iOS 7-like and the way it works and delivers news is different from the others, you find yourself discovering new feeds that you would not know about otherwise, the same goes to Circa. Oh! and Pulse? now called LinkedIn Pulse, I think that latest update took away what a lot of people liked about it and many others dislike the "LinkedIn" part, but still it is good to sort through feeds that mostly deliver images.

I agree: I can't believe Zite missed the cut. It used to be a favorite around here.

It's still one of my favorites. I look more at overall for these than my preference, if that makes sense. Sent from the iMore App

Yep agree - it's now in my dock Sent from the iMore App

The Flipboard App is definitely the BEST source when looking for "NEWS" that I have found.
I use it to find what's new in Apple and what's going on around the world. I love the way it presents everything in a magazine form and best of all it's free...

I really enjoy using PULSE. Easy to use, syncs on all iOS devices and I can save my favorite stories.

I haven't tried it in awhile. The latest App Store reviews are awful.

I have tried them all. They're all good, but unquestionably, Mr. Reader is the power-reader's choice. For anyone who needs to go through a high volume of articles each day, only Mr. Reader is designed with that type of productivity in mind. If I had a small volume of feeds and was more of a casual news reader, I would probably choose Reeder because it's so pretty and I feel good using it. Newsify is a good choice too, especially if you don't want to pay, but for power users it would be cheaper to pay for Mr. Reader to take advantage of the greater productivity it offers. Flipboard is nice, but as the article says, it's for casual readers. For those of us who really use our iPads to get real work done, Mr. Reader fits within that scheme. For everyone else, any of the other choices are quite good.

On the iPad clearly Mr. Reader for me, too. It is more powerful than most desktop apps, quick, absolutely solid, well supported and absolutely self-explanatory (something Reeder is not IMHO). I use Unread on the iPhone, as it really makes the best use of the limited screen size, the iPad version does not really 'get' me.

Been using Reeder forever. Hands down my favorite RSS app.

All I want in an RSS reader is a list of my RSS subscriptions, sorting each subscription by date, oldest first. I do not want any "magazine style" clutter or guesses as to what I might be interested in.

I have been using Ziner on my iPhone and iPad in conjunction to the Feedly service. It's a decent app. Not perfect, but it has worked well for me.

Really like unread, very useable with VoiceOver. Newsify works well also. Sent from the iMore App

I have used Early Edition 2 and previously Early Edition for years. No RSS feed service required, works as a stand alone. I also like the ease of pushing to Instapaper.

I like Trove best. I need something to replace Zite when it finally dies.

I wish I could use the organisation functions of Feedly in Flipboard. Sent from the iMore App

Because XKCD exists, my RSS reader needs to handle mouseovers. So far, Reeder is the only one I've found that does. It's never talked about as a feature, though. Are there others? The feature I haven't found yet is the ability to autoload feeds that don't provide their content, such as Penny Arcade. I have no issues with clicking through to their site, but it's seem obvious to me that the app should have a per feed setting to click through for me.

I'd like to find an RSS reader that reads RSS feeds.

Apparently at least someone didn't get my comment. Feedly isn't an RSS feed. Flipboard isn't an RSS feed. These are *services* that suck info from feeds and lay it out for their applications. I'm talking about something like the feed reader that used to be in Safari where you could just go to any ol' website and put in the site /feed (or similar) and get the feed from that site. Yes, I know you can actually do that with some of these apps, but the control over formatting is typically horrendous or non-existant. You usually get a solid block of text that is pretty unreadable.

Try AOL Reader, app or WWW.

I've been using Inoreader for a couple of weeks and just upgraded to the Plus. It's handled the feeds I need, has good rules option, folders, etc. Best is that it works very well between my PC at work, my Mac at home, and my iPad and iPhone. No worries about reading deleted items 3 or 4 times. The free version is quite adequate for a general reader and is worth trying.