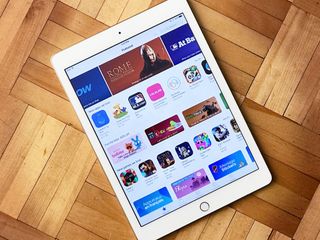 (Image credit: iMore)
Pretty much the best part of owning an iPad is all the free content available. You can download a multitude of amazing apps for absolutely free. That being said, there are some incredible paid apps that are definitely deserving of your dinero.
Here are the best paid apps for iPhone.
Alto's Adventure
You can always trust iMore. Our team of Apple experts have years of experience testing all kinds of tech and gadgets, so you can be sure our recommendations and criticisms are accurate and helpful. Find out more about how we test.
Right off the bat, one of the prettiest mobiles games ever is Alto's Adventure. It's really just an endless runner, but it's somehow so much more. The gorgeous visuals, calming music, and "you can do it!" attitude in the tutorials and gameplay is refreshing and totally calming — even when you fall off a cliff a hundred times in a row.
Alto is a mountain boy who's off in search of his lost llamas. Collecting llamas gets you points, as does landing tricks and grinding bunting and roofs. If you like endless runners but hate the frustration that goes along with them, then check out Alto's Adventure and just ride the powder, collect llamas, and chill out, man.
1Password
1Password might be free to download, but a subscription takes a good app and makes it great (you also have to subscribe if you want to continue using it when your 30-day trial is over). It's basically a password vault for every password you have for every account. It saves you from having to remember every single account you have (especially those you rarely sign into), and it lets you sign into websites with just a few quick taps instead of having to painstakingly type everything in.
All your passwords are protected by the Master Password, and you can even use Touch ID to unlock the app; all of your information stays safe and secure. 1Password uses end-to-end encryption, and encryption keys never leave your device.
If you're not one for mixing business and pleasure, you can even create separate vaults to keep everything neatly organized.
If you value your online privacy and have many accounts for which you require password after password, then definitely check out 1Password. It's $3.99/month or $6.99 for a family of five.
Fantastical 2
You might think the Calendar app that came with your iPad is great, and you'd be dead wrong. Kidding. But if you think that Calendar is the be-all/end-all, then check out Fantastical 2. It's the best. Fantastical 2 is a calendar app that organizes all of your calendars in one convenient place and, using natural language processing, makes adding events a breeze.
You go into the app, tap the add button, and then enter a sentence in the way you'd normally describe an upcoming event: "Lunch with Jeff on Tuesday at noon". Boom, Fantastical takes that and just turns it into an event, which you can add to any calendar you have. You can set things up to receive alerts, and Fantastical even includes your timed iOS Reminders, so you know absolutely everything on your schedule.
The interface is pleasant and intuitive and that natural language processing comes in handy a lot more often than you'd expect.
Duet Display
Duet Display is simply an app that acts as a second screen for your Mac or PC, but it's note "simple". Developed by a team of ex-Apple engineers, Duet lets you interact with your Mac or PC on the touch level. You can perform pinch zooms and use two-finger scrolling as though you were working solely on your iPad.
Love using your Apple Pencil? Dynamite. You can actually use it with Duet Display, so that you're essentially drawing on your Mac or PC.
All you have to do is plug your iPad into your desktop computer or laptop and away you go. The wired connection means there's no lag, so you can seamlessly bounce around both displays and stay as productive as you need to be.
Minecraft: Pocket Edition
Minecraft took the world by storm, going from a simple, underground online game to a full-fledged, multi-platform behemoth. If you love Minecraft on your Xbox or PC, then why not take it on the road with the Pocket Edition?
Basically, if you can imagine it, you can create it using the building blocks that the world of Minecraft is made of. Create skyscrapers, castles, vehicles, amusement rides, houses, whatever. Mine minerals, gather supplies, farm — live out all of your fantasies in geometric form.
Oceanhorn: Monster of Uncharted Seas
If you love The Legend of Zelda and other medieval-style RPGs, then Oceanhorn is likely the iPad experience you've been looking for. This gorgeous game is reminiscent of the Wind Waker in its theme, as you embark on an oceanic adventure in search of your missing father, with nothing more than an old notebook and a mysterious necklace.
This game is basically the perfect storm of excellent storytelling, exciting gameplay, a great score, and beautiful visuals. So go exploring, solving puzzles, battling monsters, and mastering magic as you unravel the mysteries of Uncharted Seas.
Stop Motion Studio Pro
What's this? What's this? There's great apps everywhere! And Stop Motion Pro is an unreal app if you're at all interested in creating stop motion video. It's the perfect place to start, since it really breaks down stop motion animation and acts as an easy foray into it.
Stop Motion Pro has various modes to let you better control your animations: Overlay mode shows you the difference between frames, while Grid mode lets you move and position animated objects quickly and easily. You can cut, copy, paste, and delete frames at any point in your timeline, and you can even zoom in and out on your timeline so that you don't lose your place.
If you have an iPhone that can shoot in 4K, then you better believe you can create 4K stop motion videos. You can even import pictures from your photo library to use in your movies. There are seven fun effects to give your videos so pizzazz, and there's even a green screen mode to set your scenes anywhere you please.
If you're just getting started with stop motion or just want a fun way to bang out some quick shorts, then definitely check out Stop Motion Studio Pro.
V for Wikipedia
Going online for Wikipedia is fine, but to have an intuitive app with all of Wikipedia at your fingertips is even better. V for Wikipedia is basically a Wikipedia reader that pretties up Wikipedia and provides an even more mobile-friendly reference experience. That's really it, and it doesn't sound all that incredible, but when you're searching up what you're interested in via a pleasant, welcoming, and rather gorgeous interface, it makes the experience all that much more enjoyable.
V's best feature, though, is using your location to point out interesting landmarks nearby and providing you with the Wikipedia articles about them. If you've never really taken time to explore your city or you're abroad and would like to know more about where you are, this feature is invaluable. You don't have to just explore your immediate surroundings; you can use the GPS function to search anywhere in the world.
Scrivener
If you're a serious writer on the go, then Scrivener should be on your iPad — no questions asked. It's made specifically for long-form writers, combining all of the tools writers need to effectively create great pieces.
You can make notes in one document and continue writing in another, and open then both, side-by-side on your iPad. If you're someone who likes to barf all your ideas out and arrange them later, Scrivener makes it exceptionally easy — just drag and drop sections at will. And every section is fully integrated with the available outlining tools, so you can take a look at an overview of your manuscript quickly and then get right back to writing. Scrivener also makes it easy to switch between devices, syncing your progress with iCloud.
Once you're ready to print, you can just put everything into one document to print straight from your iPad, or you can export to PDF, Word document, plain text, etc. If you write long manuscripts and need a way to keep your ideas organized, even when on the go, then check out Scrivener.
djay Pro
djay Pro bills itself as "a complete toolkit for performing DJs". It integrates with your media library and spotify so that you can mix tracks on the fly, complete with HD waveforms, four decks, and video mixing. If you're looking to get a house party bumping with just your iPad — djay Pro. If you're looking to get a club on its feet and you only brought your iPad, djay Pro has you covered.
You can lay everything out the way you like it and use every tool as much or as little as you like. Spotify integration features a video library with pre-bundled content, cool transitions, title and image overlays, recording capabilities, and much more. This is truly an app for professionals who don't have the time to lug around turntables and all that other equipment. Just plug into a sound system and start mixing.
If you're not satisfied with the initial effects, you can buy other FX packs in the app.
Yousician
Yes, Yousician is free to download and initial lessons are free as well, but if you want the full experience and truly want to learn an instrument, then you gotta subscribe — and it's totally worth it.
Yousician uses your iPad's microphone to effectively teach you to play the piano, guitar, bass, or ukulele. You'll get step-by-step video tutorials, and then you'll have to play along in real time while the app critiques you. The best part is that you can come in as a complete beginner or as a seasoned pro and Yousician will still have a lesson for you. It gets a feel for your skill level before you get into the nitty gritty and then offers lessons based on that.
If you're looking for a really fun way to learn any of the above-mentioned instruments, then definitely look into Yousician. Subscriptions start off at $19.99/month, which is hella reasonable, considering you might spend that per lesson at a music school.
Pixelmator
It's anyone's guess as to why Adobe hasn't jumped on the iPad bandwagon with fully formed Creative Suite apps, but that's OK because Pixelmator has the Photoshop hole covered. It's a layer-based image editing app made exclusively for iOS that lets you do just about everything you can do in Photoshop.
Control colors, brightness, and saturation, remove blemishes, blur, sharpen, add effects, and much, much more.
Pixelmator isn't just for editing images, oh no. You can actually paint images right on your iPad. You can choose from over 100 brush styles and go to town painting watercolors, pixel art, acrylic-style paintings, and more, and you can still use layers to isolate spots on your image. Pixelmator is even compatible with Apple Pencil, so you can have even more control over your creative process.
Editing, painting… Oh yeah, Pixelmator is also a powerful graphic design tool, letting you add images, words, and shapes to create visually appealing artwork, promotional material, and more.
So if you feel like sitting and painting along with Bob Ross, but you don't want a house littered with canvases, just download Pixelmator and paint beautiful nature images (don't forget a friend for the happy little cloud). Oh yeah, all this, and Pixelmator's only $5. Hell of a deal.
Procreate
No, this app won't help you cash in your v-card or aid with fertility. It's all about creating beautiful works of art right on your iPad. Procreate uses layers (like Photoshop), as well as filters and thousands of brush styles to help you create masterful images — you can even use your Apple Pencil (Procreate supports pressure sensitivity).
Procreate is an Apple Design Award winner, as well as an "App Store Essential" because it's perfect for anyone who loves to draw. Lay down your pencils, add inks on another layer, and then color everything to your heart's content. There are even blending tools like a smudge and blur tool to help you blend colors and seamlessly integrate your layers. Don't like a section of your image? Use the selection tool to separate it and delete it.
Procreate's a lot like Pixelmator, but it's more focused on editing and transforming your artwork.
Goat Simulator
Who doesn't love goats? If it's not Gary the Goat, then it's any goat really, and wouldn't you like to live life with a goat's-eye view? Well now you can! Goat Simulator is the wonderfully whacky and completely non sequitur game from Coffee Stain Studios. Your main objective is to cause as much destruction as possible: smash into cars, run people over, blow through buildings, and enjoy the almost total absence of physics.
If you like a serious game with a solid story and interesting character development, don't bother with this one. It's all about stupidity and the sheer freedom of being a goat on the rampage. The game is buggy as hell and it makes for some hilarious situations, and the developers have left them all in (aside from crash bugs) because why not? Goat Simulator is basically like Tony Hawk's Pro Skater, except you're a goat, and there's really no point to anything. Sure, you'll rack up points for destruction, but does it really matter when you're a goat? Narp.
If you need a laugh, spend $2 and get lost in the mind of a goat on the loose.
Editorial
Are you a writer for the web? Then you'll probably find great use in Editorial, which is a dynamite plain text editor for iOS. It features inline previews for Markdown, Fountain, and TaskPaper documents, so you can see everything as it'll look in its final form. You can see the documents formatting while you're writing, in real time, and you can speed up productivity with Snippets — frequently used bits of text that you can insert with abbreviations.
As a blogger, I can tell you that one of the biggest pains in my ass is bouncing back and forth between my research and my writing — even with two browser windows side by side. Editorial features an in-app browser so that you don't have to go out to your Home screen or app switcher to find your browser, search, go back to your Home screen, forget what you were doing, play Candy Crush for a few minutes, browse Instagram, and then remember "Oh, shit, I have a deadline!"
Dropbox sync lets you take your documents with you wherever you go, making Editorial the ultimate text editor for web writers on the go.
Coda
Coda is another amazing text editor, and is more powerful and robust than Editorial. This full-featured app highlights syntax for developers and software writers, and also features clips and find and replace (oh so important), as well as context keys and more. You can also manage files locally or remotely, and see previews of your sites on the fly.
Coda is a web developer's dream, allowing you to manage multiple projects right on your iPad. It supports multiple remote protocols, like SFTP, WebDAV, FTP, DreamObjects, and more. It also adds a special section to your iOS keyboard with context keys and helpful special characters that you can access automatically.
If you're a programmer and don't feel like lugging your Mac or PC with you everywhere you go, then do it all on your iPad with Coda.
Tweetbot 4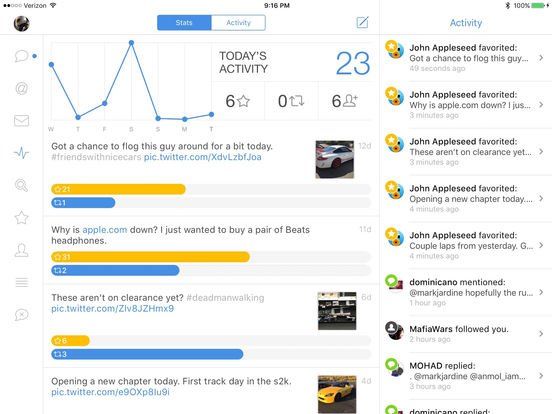 You might think that Twitter's own iOS is perfect, and if you do, that's totally fine. But if you're a diehard Twitter user, you'll probably want something a little more robust, with better features and ways to view your feed. Tweetbot 4 lets you sync your timeline across all of your devices and puts you in control of what you see.
You can mute tweets by certain users, mute hashtags, and even keywords, so that you don't get so frustrated with all the crap flying around that you just up and quit Twitter altogether. You can still do everything like you would normally — DMs, tweet, view lists — as well as a statistics view, a night theme for low-light environments, and more.
If you want to keep track of how popular certain tweets are or how many followers you're gaining and losing every day, Tweetbot is invaluable.
Astropad Studio
Astropad is a sort of cousin to Duet Display in that it sort of acts as a second screen for your Mac, but it turns your iPad into an integrated tablet. Connect to your Mac via Wi-Fi or USB and then draw right into Photoshop, Illustrator, and other creative apps.
Astropad Studio features customizable Apple Pencil shortcuts, keyboard support, customizable gesture shortcuts, and more. You can start a free 7-day trial or dive right in for $7.99 a month or $64.99 per year.
If you want to turn your iPad into a full-fledged graphics tablet, then Astropad Pro should be your go-to, especially if you're wanting to use it professionally.
Bear
No "best apps" list is complete without a solid note taking app. Why waste paper when you can conveniently take class notes, make shopping lists, write down reminders, and more with Bear. If you're writing for creative or professional reasons, then jot away, and Bear lets you link notes to one another so that you can keep all of your ideas in a convenient group.
You can even create code snippets and write in Markdown and other markup options for web content. Getting a Bear Pro subscription opens up all of the editing tools and export options to you. It's $1.49 a month or $14.99 a year. Subscribing also lets you sync notes between all of your devices, change the app theme, and you'll receive updates more quickly than non-paying users.
Whether it's notes or literature you're jotting down, Bear's a great app to help keep your ideas organized, and paying for a subscription is quite valuable.
Paprika
Food! Paprika is the best recipe manager around. You can create and update your recipes on any device, download recipes from hundreds of websites and other recipe apps, create grocery lists, and a LOT more. Paprika also helps you with the cooking process, providing helpful tips for specific recipes, offering multiple timers and scales, and organizing your recipes into subcategories so that you can easily search for and find what you're craving.
As you're cooking, you can cross off the ingredients you've already used, and if it ends up tasting great, you can share your recipes via email or print them out. You can create meal plans, use the pantry feature to keep track of which ingredients you have, and Paprika will even organize the ingredients on your shopping list by aisle so that you can blow through the supermarket and get cooking!
Paprika has far too many features to name individually, but know that if you're a foodie, on a diet, love cooking, or just plain love to eat, then you'd be remiss not to give it a try.
What's your favorite?
What's the best app you've ever spent money on? Let us know in the comments below.
Master your iPhone in minutes
iMore offers spot-on advice and guidance from our team of experts, with decades of Apple device experience to lean on. Learn more with iMore!
Mick is a staff writer who's as frugal as they come, so he always does extensive research (much to the exhaustion of his wife) before making a purchase. If it's not worth the price, Mick ain't buying.