Best phone apps for iPad: No Phone app? Not a problem!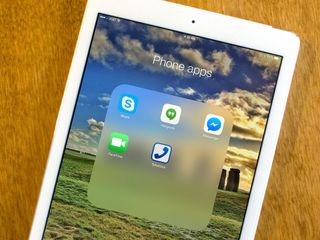 Looking for the best iPad apps to let you make audio and video calls? Apple doesn't include a Phone app on the iPad, and maybe that's just as well. Do we really need to see people with 7.9- or 9.7-inch devices propped up to their heads? Yet iPad owners may certainly need to make calls too, and like the giant conference phones of old, in some cases, bigger really can be better. So, if you absolutely, positively need to get your call on, and the iPad is what you want to use, you'll need to check out some alternatives. Luckily, there are several excellent voice calling apps to choose from. But what audio and video calling apps for iPad are the absolute best?
FaceTime Audio
Why you can trust iMore Our expert reviewers spend hours testing and comparing products and services so you can choose the best for you. Find out more about how we test.
Apple's FaceTime Audio is included as part of iOS 7 on every iPad as part of the FaceTime app. It's just like regular FaceTime but, as the name suggests, is voice-only instead of video. You can use it to place calls to anyone else who's also using iOS 7. It works great, the audio quality is amazing, especially over WiFi, and it's completely free to anywhere in the world.
If most of the people you call are iOS users, FaceTime Audio is your go-to.
Free - Comes with any iPad running iOS 7
Skype
Microsoft's Skype is easy to set up and simple to use. It's also completely free if all you want to do is call other Skype users. If you want to use it as an actual phone replacement, you can sign up for their paid service and get assigned a phone number that people can use to call you just like they'd call any other number. Skype supports both voice and video calling as well as regular chat. It's also one of the most widely used voice calling apps in the world, so the odds of friends and family using it may be greater than other services.
If you want an easy solution that's popular throughout the world, use Skype.
Google Hangouts
Google Hangouts is a universal messenger and calling app for iPhone and iPad. Anyone that you have in your Google contacts can easily be reached with Hangouts. The best part is you don't even have to have a phone number. Hangouts supports audio and video calling, both individually and as a conference. Hangouts is completely free to use in the US and Canada for regular phone calls. It's always free anywhere in the world from Google account to Google account.
For a versatile messaging app that's flexible and completely free in the US and Canada, you want Google Hangouts.
Facebook Messenger
The Facebook Messenger app for iOS lets you make free voice calls to your Facebook friends in several countries. This makes it a great option for folks who are on vacation and just need to stay in contact with friends and family. Since Facebook Messenger uses data to power phone calls, you should be able to contact Facebook friends anywhere you're on wifi or have access to data. Just be sure when traveling abroad you either have a local SIM card with unlimited data or you're on a wifi network.
If staying in contact with close friends and family while traveling is your biggest concern, Facebook Messenger has you covered.
Talkatone
Talkatone is one of the only apps available for iPad that fully uses everything Google Voice has to offer. It lets you make truly free voice calls a to any number, anywhere in the world, without having to forward calls from another number. It also works really well when used in conjunction with GV Connect. If you don't want to use Google Voice, you can also acquire a US phone number for your device via Talkatone. The interface is long overdue for an update, but if you use Google Voice, or want to, it's worth a look.
If you live and die by Google Voice and want access to all the features it offers, you'll want Talkatone.
Your picks for best phone apps for iPad?
These are our favorite picks for best phone apps for iPad but we know that sometimes there are country restrictions or other options that we miss. Let us know what you use in the comments below and why you picked it!
Note: Originally published, December 2013. Updated, July 2014.
iMore senior editor from 2011 to 2015.
FaceTime is my go-to app. The only people who ever want to face time are my kids... And they just make silly faces. [Face palm]
These apps can certainly make you iPad "ph-ablet-tastic"!
(I just couldn't resist. ) Sent from the iMore App

I have used lot many and also created many - but for sure the top one's may be concluded here.. FaceTime Audio
Skype
Talkatone
GV Connect
WePhone
Google Hangouts
Fring
IM+ Video
Camfrog Video Chat
Tango Text, Voice & Video
WeChat
FriendCaller
ooVoo Thanks!
http://www.agileinfoways.com/technical-expertise/mobile-applications-dev...

Talkatone is the winner for me. All you need is a data connection and off you go regardless of if the other party has a specific app. I used it on my recent trip to Europe for free calls. Worked great and I could text as well.

Currently using Google Hangouts for calls on my iPad mini retina. It works pretty well, but I'm thinking of going back to Skype.

I like Talkatone, but I don't use it enough to warrant a monthly subscription. And I loathe ads. I'd rather pay a one-time fee to get rid of it, but Talkatone doesn't offer it anymore. Sent from the iMore App

Some of these apps only work in the US. Perhaps you should think about this when reviewing. Disappointing.

Read the last para please. I am US based. It's not something I can help... Sent from the iMore App

I should have worded my comment more carefully, to say that Apple and the apps themselves should make regional restrictions clear. I would hope that iMore and others would take this up on our behalf, after all, if Apple and the app developers distribute something which is not for for purpose then this must be wrong. Unfortunately, for us who live outside the US, we see (perhaps unfairly), that US-based reviewers just don't care because it doesn't affect them. I'm not saying this is you personally, but that is how it comes across. Unfortunate, but true. Only with your help can this problem be effectively addressed.

I enjoy face time. I will have to take a look at the talkatone app. Great comparison and showcase. Sent from the iMore App

FaceTime isn't cross-platform :-/ - Viber, it has now an option Viber Out, and it's cross-platform.
Quality is really good ! Free No Ads. WITH PUSH - Hangouts does it all on IOS and it's free, No ads. The UI isn't perfect :-/ Skype doesn't have push notification, so I don't even understand why people can/do rely on a phone app like Skype that only works when in the background. It's a phone app.

I use skype every day... And it's annoying to receive notifications in the phone and iPad (they are not sync) Sent from the iMore App

Hey eddietec, Use Smartgroschen app for cheap international calls,voip calls with good quality voice calls.

Viber is iPhone only Sent from the iMore App

Actually it's not
Www.viber.com/#desktop
Www.viber.com/#iphone
Www.viber.com/#android
Www.viber.com/#windowsphone
Www.viber.com/#blackberry
Www.viber.com/#bada
Www.viber.com/#nokia Also they implemented Video Calls on the desktop versions, soon to come on the mobile ones, hopefully Cheers

Not what I meant. There is no iPad version, and this roundup is for iPad.

Well, not entirely true. Our family is scattered worldwide, and although we have tried them all... We tend to use viber over FaceTime mainly due to cross platform. It has most of the characteristics of iMessage too... And I really like the. Mac version
As for the ipad, the iphone version does work on the ipad, but you cannot run it on more than one ios device. And yes, it is an iphone app running on the ipad... But it does work.

What are you smoking? Skype has push notifications on iOS. Try closing Skype and then send a message to your account.

I use FaceTime to those using iOS devices and Skype for everyone else. Sent from the iMore App

It has been ages since I last used skype, but seems like it has improved a lot. I think that even though it doesn't have a pretty UI majicjack should've been added to the list; it looks like a pretty basic app but gets the job done, free calls to any number no need of credits or anything. But I admit that FaceTime right now is the only one I use on a daily basis. Sent from the iMore App

I mostly use skype for video calling. I'll use FaceTime with anyone who has an iPad, iPhone, iPod touch or mac. FaceTime is more integrated and reliable but Skype has really improved over time. Sent from the iMore App

Skype for now .... until Apple comes up with their own. Anything from google .... I don't even let the guy finish talking as soon as he / she tells me they're using something from google!

Skype and Bria. The latter allows me to use a UK phone number in Canada to make calls to the UK PAYG.

I've used Talk-a-tone and GV Mobile+, but since Google added calling through Google Voice into Hangout's I've dumped the rest.

Different phones according to use-case or location. FaceTime for iOS/Mac calls, Fongo to both receive and make calls in Canada or to Canada from elsewhere, MagicJack for U.S. calls, Skype when I have any doubts about the rest. With the mini and Bluetooth I no longer use a cellphone.

These iPad apps indeed provide best services to the users. I would like to add few more names such as UberConference, Freeconference, Accuconference etc. which provide features like international calling, call recording and many more.

Hey, I am a huge fan of Skype and I love using it for social interactions. But for business meetings, security and guaranteed attendance is what I need; hence have switched over to RHUB.

Security is the primary concern of businesses such as mine. All of the apps you mentioned, with the possible exception of FaceTime, have security issues. Skype has had back doors for years (google "TomSkype"), and Reports from last year revealed that Microsoft has given the NSA access to all of its services, including Skype, Outlook chat and Sky Drive. Microsoft's continued refusal to deny this speaks volumes. Of all the apps reviewed here, only FaceTime claims end to end security (Apple claims it cannot decrypt FaceTime messages). While this is encouraging, FaceTime is not cross-platform. This leaves businesses scrambling for a secure solution. An encrypted SIP solution may be the way to go, but the plethora of competing schemes makes SIP-based solutions less than ideal. Businesses are still waiting for a drop-in, end-to-end secure replacement for Skype.

Smartgroschen is for free calls and text chatting. You can also use chat with video clips, pictures,your current position on the map,app syncs with your mobile contact list and at start you get 0.50 euro.

I use RingCredible (http://dl.ringcredible.com/SH9l). You register with a mobile phone, and you use the same credentials on your tablet. It is really easy to use, cheap, and the connection is great! Perfect for calling with a tablet.

Facetime has a very hard time working through firewalls, so it almost never works for me with the wifi:s I'm connected to. I mainly use Skype (and Whatsapp), but I'm partially trying to migrate to Viber to get better support for sending files (without requiring the other party to be online).

I have Skype installed on PC, but I use it mainly to talk for free. Otherwise I use the Smartgroschen. They have a small top-up starts from 0.89 Euro, so just enough to use from time to time.

Talkatone, skype and messenger are the best for iPad.
Thanks
Thank you for signing up to iMore. You will receive a verification email shortly.
There was a problem. Please refresh the page and try again.