Best recipe and cooking apps for iPad: Zest, Evernote Food, Food52, and more!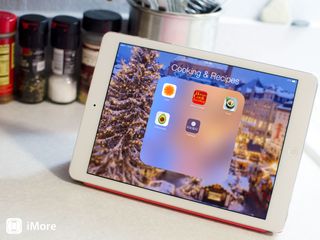 Whether you're looking for just the right recipe for the holidays, or you want to just want to add some variety to what you cook in your home, there is no shortage of cooking and recipe apps for iPad in the App Store. From apps that can show you videos of how to prepare every foods to those that cater specifically to holiday cooking, there's no denying that the iPad makes for a great kitchen companion. Finding the best ones, however, can be greater than any kitchen challenge. Here are my favorites!
Food52
Food52 caters specifically to prepping and cooking for the holidays. Not only does it provide lots of suggestions and recipes, it functions as a planning guide too. Just choose the recipes you'd like to prepare and plan your holidays ahead of time. Food52 has collections of recipes for Thanksgiving, Christmas, Memorial Day, Easter, Passover, and many more. The recipes Food52 offers come with video instructions for many and promise to be hassle free.
If you want easy recipe ideas that save you planning for the holidays, check out Food52.
Zest Recipe Manager
Zest doesn't provide news about food or recipe suggestions, it just stores your favorite recipes from anywhere on the web. There isn't even any need to copy URLs from Safari or somewhere else as Zest even has a built-in browser. By default Zest adds some of their favorite recipes but you can remove any you don't want. Basically, if a recipe you like is on the web, you can use Zest to store it in just a few taps. Navigate to it in the built-in browser and import it. Zest finds thumbnails and everything else automatically. I've tried it with several recipes and it's always dead accurate.
If you want a place to gather and store your recipes, you want Zest.
Allthecooks Recipes!
Allthecooks isn't just a recipe app, it can double as a grocery list and a place to store your own recipes. The main feature of Allthecooks is the robust community that's attached to it, which boasts over 150,000 unique recipes uploaded by members just like you. Allthecooks can also let you plug in what you've got to cook with and match those ingredients to recipes in your database. Who said you had to go to a grocery store to create a new and unique dinner?
If you want a recipe guide that's got a social twist to it, check out Allthecooks.
Evernote Food
Evernote Food is a place to collect recipes you like as well as explore new ones. Not only can you save individual recipes, but put together complete meals and store them for later. Evernote Food is also one of the only apps that lets you instantly find food places around you and in most cases, view photos and information other Evernote users have uploaded. This makes Evernote Food a great travel companion when you want to find somewhere interesting to eat.
If you want a recipe and food app that can also be used on the go, Evernote Food is perfect.
How to Cook Everything
How to Cook Everything has over 2,000 recipes in its database, several cooking guides, and lots of tips and tricks on everything from tools you use in the kitchen to how to prepare different kinds of food. How to Cook Everything is more of a vast informational database than anything that just happens to give you a recipe list and grocery list feature. There are also built in temperature and unit conversion tools as well so no matter what recipe you're cooking, you always have the information you need right at your fingertips.
If you want to learn to cook better, not simply easier, How to Cook Everything is where you want to start.
Your picks?
These are my favorite cooking and recipes apps for the times I find myself in the kitchen unsure of what to make for the holidays or for dinner. I know many of you have looked in the fridge a time or two and struggled with figuring out what to cook. What apps have you loaded onto your iPad to help combat these kinds of situations? Let us know in the comments!
iMore senior editor from 2011 to 2015.
How about Paprika? Anyone using that?

I love Paprika! I use it all the time.

Paprika should have been included on this list. I love Paprika!

What is that wallpaper? It's awesome!

I have always used Pinterest! I d/led Zest and might do others. Can you save those recipes in Zest that your friends share in your FB feed?

I love Pepperplate.com...they have a pretty good website, a great ios app and a good bookmarklet to grab recipes from websites...it rocks.

A fan of "How to Cook!" Also "Healthy Desserts - By Green Kitchen" and "The Photo Cookbook - Baking". Sent from the iMore App

Wait... Ally... you can cook? Where are my cookies!

I have used Evernote since it came out to add recipes into cooking notebooks. On the PC I loved Living Cookbook. A great program, but no Mac version, or iPhone version, so started using Evernote. When Evernote food came out, it really filled a slot that Living Cookbook did not have. Handy Cookbook app will take Living Cookbook mxp, mx2-Master Cook, mmf-Meal Master, fdx files. It is alright, but like Evernote. Through Living Cookbook, I was introduced to everylastrecipe.com. That is my main source to clip recipes into Evernote/Food.

OMG!!! I just uploaded Paprika tight before seeing this article. It's a great app with ability to make a grocery list with categories, adjust the # of servings & the ingredients change automatically. Add your own recipes or from the web. It's so cool. Sent from the iMore App

Now you gotta go and revise that! Paprika has them all beat hands down, and when you add the Mac version with cloud synch and MasterCook import, its awesome. Our entire family including the kids use it in the kitchen almost daily on iPad and iPhone.

I'm just learning how to cook and how to cook everything is the app for me! Sent from the iMore App

I just tried out "The Open Pantry" from an app discovery program at work. It's got some very unique ideas and it's a damn pretty app with high res images. It might be something you want to check out as well ;) Sent from the iMore App

Wow Evernote has a cooking app? Got to check it out. Wonder how many people have ruined iPads in the kitchen though. Sent from the iMore App

My sister has Epicurious Recipe, The Photo Cookbook, & How To Cook Everthing on her iPad Mini. And on her phone, some contact numbers of the nearest restaurant/food chains that offers delivery in case something goes wrong with the cooking. Sent from the iMore App

I use Basil, I haven't tried any others, Basil does everything I need it to.

Awesome cooking apps!
My wife loves them all. she's going through every recipe. Think I'm going to be eaten good this winter... :) Sent from the iMore App

I love allthecooks recipes and food52 great apps!! I love using my iPad in the kitchen instead of hassling with tons of cookbooks, plus I get to listen to music and take pics of the food I prepare!! Sent from the iMore App

Obviously I missed Paprika ;)

I use RecipeTin app. Love it because you can add printed recipes just by taking a photo of them then saving them in the app. Plus you can save email attachments, recipes from websites (it too has a built in internet - it prints the page as a PDF), and create your own recipes too.

I love using Recipes2Go available in App Store . It's so easy you can just take a photo or screenshot of your recipe and file it away. You can even mark your fav or must try recipes. I love it!

I swap recipes with my mom using Qollector. Which I also use to inventory a wide variety of other things I do (like wine collecting). It's simple to design your own recipe templates and share via web, email and more.
https://qollector.com/p/recipes

I can't believe nobody mentioned HotPot Recipe Manager. It's quoted to be better than Paprika recipe manager and its even free!

I checked it out, but it didn't make the cut.

I appreciate all of the comments and the information in this post. I am curious which food app is the. Est for food bloggers to submit or upload recipes to? Anyone know? I am Gluten Free Mama glutenfreemama1.com is he blog, but I heard you have to choose carefully cause it can confuse google search engines???

Cook! https://itunes.apple.com/us/app/cook/id687560846?mt=8&at=10l3Vy
Get the best of iMore in in your inbox, every day!
Thank you for signing up to iMore. You will receive a verification email shortly.
There was a problem. Please refresh the page and try again.