Best remote desktop apps for iPad: Access your Mac or PC from anywhere!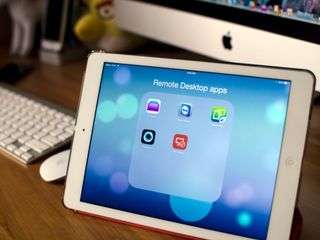 In search of the best iPad apps that let you access your desktop PC or Mac from anywhere? Let's face it, sometimes as humans we can be forgetful. Ever walked into a meeting and realized that you didn't remember to transfer a document or presentation you needed to your iPad? Or perhaps you forgot to email your finished lab assignment to yourself before leaving your dorm. Remote desktop apps for iPad let you take control of your computer, or someone else's if given permission, in order to view and transfer files while on the go. If you get work done both behind a desk and on your iPad, it's not a bad idea to have a remote desktop app handy. These are currently the best remote desktop apps available in the App Store for iPad!
Screens VNC
Why you can trust iMore Our expert reviewers spend hours testing and comparing products and services so you can choose the best for you. Find out more about how we test.
Screens VNC is dead simple to set up and start using. Just install Screens on your iPad and on your desktop computer and you're ready to fire up connections. Screens VNC has native apps for both iOS and Mac, but you can still create connections with Linux and Windows machines. Screens supports multiple displays too so if you have more than one hooked up to your Mac, it's not a problem. There's also support for shortcut keys, touch and trackpad modes, hot corners, AirPlay mirroring support, and more. Since Screens supports iCloud syncing, set up your computers on one of your iOS devices and you've got access from every device your iCloud account is linked to without any additional setup.
If you want a streamlined remote desktop experience, it doesn't get much better than Screens VNC.
See also:
TeamViewer: Remote Control
TeamViewer is available on virtually any desktop platform you can think of including Mac, PC, and Linux. Once TeamViewer is running on your desktop computer, you can easily access your files on the go. TeamViewer also has support for multiple displays as well as wake-on-LAN functionality so you can access your desktop remotely even if it's asleep. Since anyone can go to TeamViewer on the web, it's a great tool for remote support too. Just direct someone to the website and they can give you an access code to quickly and easily take control of their desktop. The best part is that TeamViewer is completely free for private and personal use.
If you provide remote support to friends and family now and again, or only need sporadic access to your own desktop computers on the go, TeamViewer is a great choice.
Splashtop 2 Remote Desktop
Splashtop 2 is one of the more flexible remote desktop apps available for iPad. If you just want to access your files from your iPad, you should be good to go with a one time purchase. However, if you want more than that such as the ability to annotate on the screen, play games with a built-in game pad, and much more, Splashtop 2 gives you those options as additional in-app purchases. Without them you can still access your remote desktop anywhere, view files, and use any application installed on your computer just as you would on your desktop.
Splashtop 2 is a great option for those that need advanced features such as annotation and full support for gaming with a dedicated gamepad.
Currently on sale for a limited time for $4.99
iTeleport Remote Desktop
iTeleport is an incredibly powerful remote desktop app that gives you complete control over as many desktops as you'd like. Need support for international keyboards or Bluetooth keyboards? iTeleport supports them all and also offers SSH encryption for all platforms. There's also wake-on-LAN support, multiple display capabilities, and tons more. And if you plan on using iTeleport for education, there's even discounts available by contacting them directly. iTeleport also uses Google accounts for login which means there's one less username and password for you to remember.
If you have multiple computers to access and manage, iTeleport gives you truly unlimited access to all of them.
See also:
Microsoft Remote Desktop
Microsoft Remote Desktop is Microsoft's official remote desktop app for iPad. It's been built from the ground up using the remote desktop protocol (RDP) and RemoteFX to ensure that Windows users have access to all gestures and functions that Windows offers. Any Microsoft apps that you have installed or use through Windows Live are also fully accessible in just a tap. There is also support for the Microsoft RemoteApp built right in.
If you're workflow is heavily Windows based and don't need a ton of advanced features, Microsoft Remote Desktop gets the job done.
Your pick for best remote desktop app for iPad?
If you frequently access files on your desktop computer from your iPad, what app do you depend on for remote access? What made you choose that particular app over all the other choices? Be sure to let me know in the comments!
Get the best of iMore in in your inbox, every day!
iMore senior editor from 2011 to 2015.
My favorite Parallels Access. I used to be a Screens user but never upgraded to version 2. I like how Access "appifies" all the apps on my Mac. Much more like using it on an iPad rather than pretending to be a Mac on my iPad.

You may also want to try free remote desktop software AEROADMIN http://www.aeroadmin.com However, it's PC only.. anyway it may help!

VNC Viewer / Real VNC ? Sent from the iMore App

VNC Viewer / Real VNC ? Sent from the iMore App

I agree with johnmichl, Parallels Access is my tool of choice. It is not just a Remote Desktop app, though, and may even be lacking a few features if that's all you're using it for... But the other stuff it does, oh my. I also enjoy Splashtop, though I almost never use it these days because of Parallels Access.

Don't forget about Jump Desktop. It's great. VNC and RDP like iTeleport but also supports remote printing. Their Mac app is great. iPhone and iPad apps are great too I just mostly use it on my Mac.

I also use Jump Desktop and like it quite a bit. Easy to setup and has Mac as well as Windows agent.

Jump Desktop for Mac and then iTap RDP for iOS.

iTap is dead. It was shut down like 6 months or so ago I think.

Couldn't agree more about Jump. I was sad to see that it wasn't mentioned here, as it has been absolutely vital to my survival in connecting to my computer whenever and wherever. It's been quite a few years, and they're quick to fix problems and improve the program.

The writer should mention that certain ISPs (AT&T) use routers that do not permit Screens to work, and knowing this before buying helps (although Apple gave me a refund no questions asked). Parallels Access does work however, as does Splashtop, regardless of ISP to my knowledge. Also, for some reason which I happily will not question, Parallels just gave me another year of Access for free.

I have AT&T and screens works flawlessly?! Sent from the iMore App

What router do you have? We have the Aeris (sic) and previously had the old 2Wire modems. I dug around (at the time) and found the router I have doesn't have user access to NAT-PMP or UPnP, which is what I needed. I had a couple of more advanced friends dig around and try to get it to work, but it would not work outside of the home network. As a teacher, I frequently find myself needing something uploaded from the home computer to the cloud, so Screens was my first option. I'd love to be corrected, as I've heard nothing but good about Screens and wanted to use it. Parallels Access has been great for my use, and Splashtop is amazing for technical help of family/friends.

Thanks for your research. It help me.

LogmeIn is also great. i use it mostly in college. it also works with iphone.

I used to love LogMeIn until they changed from a paid app to a subscription service. I deleted the app bc I couldn't justify paying the subscription price for the few times a year I need to use it. It DOES work great though if you need it a lot and don't mind paying. I have switched to Splashtop and Pocket Cloud for VNC to my pc. I have no need to VNC to my Mac, it's running 10.4.11. Lol. I need a new mac! Sent from the iMore App

Parallels Access has worked best for me. I've also used Logmein and found it good.

We use LogMeIn on all platforms and on 60+ devices. Works great! Sent from the iMore App

+1 for LogMeIn. Been using it for several years. Main "home" machine is a Windows 8 PC. Use LogMeIn to access it from my MacBookAir and iPad while on the road. Works flawlessly.

They screwed me by going to a subscription service.

I've used teamviwer for a looong time, specially for remote support since my windows days.

I use logmein on all my devices iPhone, IPad Mac & Windows and use the browser from devices I don't own.

Logmein is no longer free, I appreciate Allyson Kazmucha for the research on these other options.

VNC Viewer / Real VNC, I tried Parallels Access and while it did work really well I was extremely disappointed that it was re-arranging my mac'is desktop layout of the running apps I was using with it. Have sent several comments to Parallels with no answer on this issue thus they have lost my business.

I have been using logmein 2 years now. Works with no problem and for the pro subscription, just install and use the free version. Sent from the iMore App

No love for LogMeIn... my favorite. Expensive, but all the features of the rest with a web-based version so you can do remote support from any platform...

Parallels Access is awesome, and truly makes the remote environment behave like a native iPad app. LogMeIn is a quintessential tool for anyone in a support role. Go with with LogMeIn Central subscription rather than Pro licenses, though as it is cheaper and allows unlimited "free versions" for any machine.

The TurboMeeting app works well for remote support and its excellent firewall navigation avoids connection issues. However, you do need to have a TurboMeeting, GoMeetNow or GoSupportNow account to use it.

Why the hell does Microsoft offer a remote access app and Apple does not. Very lame Apple.

Why the hell does Apple ship with an SSH server and Microsoft does not? Every bit of remote administration I've needed to do has been done via SSH. Apple provides a method of remote access that to me is much more useful that remote desktop. If they made it all like Microsoft, I'd have to find something else instead.

Personally, I prefer a tool called NoMachine. When Logmein stopped their free version this is what I started using and I haven't looked back since. It has everything I need: recording of the desktop, whiteboard, multi-media support which are the main things I need for my job. I am very surprised that no one else mentions it.

you guys should try the Winflector. it is not well-known program, but it does miracles :)
http://winflectorexpert.com/

Hey, you also may to try for free remote desktop LiteManager Software with very good tools!

I need to use dragon on the remote PC to dictate. Is there something for Mac or iPad that will let my voice go to the desktop PC and trigger dragon? It works fine when I use VMware on my mac and the built-in windows remote desktop app. Thanks!
Thank you for signing up to iMore. You will receive a verification email shortly.
There was a problem. Please refresh the page and try again.