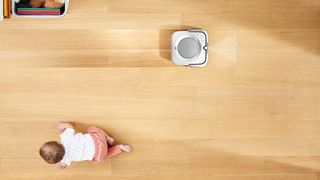 (Image credit: iRobot )
While robotic vacuum cleaners have been around for a while now, robo-mops are only just becoming affordable for the average household. Ideal if you've got hard floors and any kid/animal combo making a mess, you can set the robot mops up to do their thing, then put your feet up and relax. Our overall pick, the iRobot Braava Jet 240 can be activated by one simple button and automatically puts itself into the correct cleaning mode dependent on what type of cleaning pad you insert.
Best Overall: iRobot Braava Jet 240
You can always trust iMore. Our team of Apple experts have years of experience testing all kinds of tech and gadgets, so you can be sure our recommendations and criticisms are accurate and helpful. Find out more about how we test.
From the pioneering robot vacuum company iRobot, the brand behind the Roomba rage, comes this affordable robot mop for wet and dry cleaning all types of hard floors such as hardwood, vinyl, laminate, tile, and stone. With three cleaning modes — dry sweeping, damp mopping and wet mopping — and a precision jet spray, this is particularly suited to kitchens and bathrooms.
It comes with two wet mopping pads, two damp sweeping pads, and two dry sweeping pads and will automatically select the cleaning mode to suit the pad you insert into the robot's base. You simply hit the "Clean" button to start it working, then press the easy pad eject button to remove the used cleaning pad when it's done. You can also set up virtual walls to stop it from leaving a room with no door.
iRobot Braava Jet 240
Bravo Braava
Reasons to buy
+
Three cleaning modes
+
iAdapt 2.0 Navigation system
+
Gets into hard-to-reach areas
+
Affordable
Reasons to avoid
-
No scheduling capabilities
The iRobot Braava Jet 240 is an affordable option that's simple to use.
Best for Stubbon Dirt: iLife Shinebot W400
iLife's Shinebot has a patented "TidalPower Cleaning System" that sprays your floor with clean water from the 0.22-gallon tank, scrubs it with a microfiber roller, sucks the dirty water into a separate tank, then wipes the floor with a rubber scraper.
The Shinebot offers four different cleaning modes. Path Mode requires a full water tank to work for around 30 to 40 minutes covering approximately 400 square feet. Area Mode cleans a more concentrated 270 square foot area. Spot Mode gives you deep cleaning with increased suction in about a 3.5-by-3.5 feet area, while Edge Mode cleans around the edge of rooms.
iLife Shinebot W400
Shine on Shinebot
Reasons to buy
+
Four cleaning modes
+
Dual water tank design
+
Rubber scraper for tough dirt
Ideal for use in heavy-traffic areas, the Shinebot is a capable floor cleaner.
Best Vacuum/Mop Combo: Dibea D500 Pro
The Dibea D500 Pro is a capable little gadget, offering scheduled vacuuming and mopping, remote control operation, back-to-base recharging capabilities, and a decent battery life of up to 120 minutes. It can be set to auto clean, spot clean, edge clean, mop clean, or if you have really tough dirt, be used in "Max" mode.
The vacuuming side of things gets a HEPA filtration, ultra-strong suction, dual-edge side brushes, and a detachable 0.1-gallon dustbin, while the mopping is done using a mopping cloth. The slimline, D-shaped design is excellent for cleaning under furniture or up to walls. Plus, the robot has built-in anti-collision and anti-drop tech.
Dibea D500 Pro
Desirable Dibea
Reasons to buy
+
Remote control
+
Scheduling abilities
+
Automatically recharges
Dibea's D500 Pro is a savvy solution for anyone looking for a two-in-one vacuuming mop.
Best for Pet Owners: Roborock E25
With 100 minute runtime and a 0.16-gallon dustbin, the E25 can sweep then mop an entire floor of your house, automatically detecting between hard flooring and carpets, and changing cleaning modes accordingly. You can control the robotic cleaner via the Mi Home companion app to start, stop, schedule, customize, charge, spot clean, check accessory status, and control direction. It's also certified as working with Amazon's Echo range for voice control via Alexa.
This has strong 1,800pa suction, so it is great for hoovering up pet hair before the mop function makes everything sparkly. Boasting a dual-gyro system and motion tracking sensors, this has drop avoidance, anti-collision, trap prevention, and self-charging. Plus, it resumes cleaning once it reaches a sufficient battery level.
Roborock E25
Roborock rocks
Reasons to buy
+
Control via the companion app
+
Works with Alexa
+
1,800pa suction
Alexa-friendly and app-enabled, the E25 is smart with powerful suction action.
Best for Larger Households: iRobot Braava Jet M6
The high-end iRobot Braava Jet M6 is the top-of-the-range model with iAdapt 3.0 Navigation technology, app control, and Alexa voice control. Capable of cleaning large hard flooring areas, the Jet M6 will return to its base to recharge and then resume cleaning after it has juiced up. If you've already got a Roomba vacuum cleaner, this uses iRobot's imprint link technology to allow the Roomba and the Braava to clean in sequence by vacuuming and then mopping automatically.
To use manually, you simply attach a wet mop or dry sweep cleaning pad and the robot automatically selects the correct cleaning method. The robot's smart mapping enables the robot to learn, map and adapt to your home, and you can add keep out zones to avoid specific areas and objects in your home.
iRobot Braava Jet M6
Jet star
Reasons to buy
+
iAdapt 3.0 Navigation system
+
Control via the companion app
+
Works with Alexa
This high-end robot mop is loaded with iRobot tech for some seriously smart cleaning.
Bot or not
Our best overall pick, the iRobot Braava Jet 240 gets to enjoy the top slot thanks to its affordable price tag which means it is a viable option for most households. While it doesn't have all the smart home technology of more expensive models, it is nonetheless a very capable robot mop that at the press of a button will work away using iRobot's iAdapt 2.0 Navigation tech without any interference for you.
The Braava Jet 240 is also a very good choice for anyone who has to be particularly careful, perhaps for health reasons, about hygiene. This is thanks to the easy pad eject button which offers a hands-free way to remove the used cleaning pads when they're done.
Get more iMore in your inbox!
Our news, reviews, opinions, and easy to follow guides can turn any iPhone owner into an Apple aficionado
Amy-Mae has been writing about consumer technology since before the iPhone was even a twinkle in Steve Jobs' eye. She started out in magazine publishing with the UK lads' mag 'Boy's Toys' then moved online with startup Pocket-lint.com as the first full-time member of staff, helping grow the site to one of the UK's largest gadget sites. Amy-Mae then moved to Mashable when it only had a staff of around 10 people. After working her way up to a senior role there, Amy-Mae left in 2014 to have her daughter. Since then Amy-Mae has continued to contribute to Mashable and The Daily Dot, keeping up-to-date with the latest consumer technology and social media trends. For iMore.com, Amy-Mae gets to her explore her love of home cooking, concentrating on all things kitchen tech.