Staying Cool with Smart Air Conditioners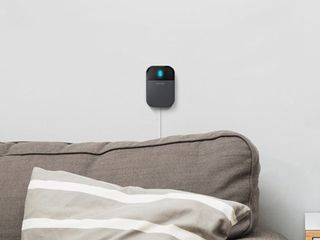 Summer is blazing here in the northern hemisphere and that means many of you are running cooling systems, hoping to beat back the heat and keep things nice and chilly (or at least reasonable) indoors. The problem with AC, though, is it can get pretty pricey if you don't keep an eye on your cooling costs. So what's an overly warm body to do? Upgrade your AC by adding smarts, of course! Beat the heat and the costs by checking out these smart air conditioners and controllers!
By the way, if you've got a full heating and cooling system and want to run things via a smart thermostat, check out our post on the best smart thermostats:
Sensibo Sky AC Controller
Why you can trust iMore Our expert reviewers spend hours testing and comparing products and services so you can choose the best for you. Find out more about how we test.
Firstly, it's important to note the Sensibo Sky AC Controller isn't, itself, an air conditioner. Instead, this AC controller works with any air conditioner or heat pump that can be controlled with a remote. After you get it set up, the Sensibo Sky mimics the signal of your AC's remote control, giving you out-of-home and app-based access to your cooling system.
Sensibo Sky lets you monitor the temperature and humidity readings of your air conditioner no matter where you are. You can adjust fan speed, change the temperature, set timers, create heating and cooling schedules, and set up geofences that can turn on your AC before you get home and turn it off when you leave. It also works with Amazon's Alexa voice assistant and the Google Assistant. For example, you can ask Alexa to "turn on the living room AC" and ask the Google Assistant to "make it cooler in my bedroom."
The $119 AC controller maintains a 4.5-star rating on Amazon. With more than one mention of "love" for the Sensibo Sky in the reviews, this is an excellent pick for anyone looking to add smarts to their current heating and cooling system.
See at Amazon (opens in new tab)
Frigidaire Cool Connect Window AC
The Frigidaire Cool Connect looks excellent and has a darn good name to boot. The Cool Connect features LED lighting, a mesh grill front, and a redesigned shape that makes it look a lot less like an ugly AC window unit. Oh, and that mesh front? It's magnetically attached, making it super simple to remove it and clean the unit.
For $379, the Frigidaire Cool Connect lets you connect over Wi-Fi and control cooling, set schedules, adjust fan speed, and more. It also works with Google Assistant and Amazon's Alexa voice assistant, meaning you can use your voice to control just about everything the app can. If you've got a Google Home smart speaker, an Alexa-enabled device, or an Android or iOS device with Alexa or the Google Assistant installed, you can say, "OK Google (or Alexa), lower the temperature" to cool things down.
Between the 4.5-star ratings on both Amazon and Frigidaire's own site, it's clear this sleek Wi-Fi connected air conditioner is a popular, reliable choice. Not gonna lie, if I needed to buy a smart AC unit, this'd be the one I'd get. The sleek, modern look and voice assistant integrations are enough to have me interested.
See at Amazon (opens in new tab)
GE Smart Room AC
The GE Smart Room AC is, for the most part, your run-of-the-mill AC window unit. It looks like a window unit and it operates like a window unit — the only difference is it's got Wi-Fi connectivity built in.
Using the free GE Comfort app, you can create your own cooling schedule, control your air conditioner while you're away from home (or just lounging on your couch), choose from different cooling modes, control different units (if you've installed more than one), and set reminders to clean your air conditioner's filter.
For $349 you're going to get a reliable AC unit that just so happens to feature Wi-Fi connectivity and compatibility with the Google Assistant and Amazon's Alexa voice assistant. It's not quite the high-design look and feel of the Frigidaire model from before, but this 10,000 BTU unit will cool up to 450 square feet, making it excellent for larger rooms.
See at The Home Depot (opens in new tab)
Tado Smart AC Controller
The Tado Smart AC controller has been around for awhile and works a lot like the Sensibo Sky we mentioned earlier: It's compatible with all air conditioners that are controlled via a remote control.
In fact, the Tado Smart AC is quite comparable to the Sensibo Sky. You can set up geofences that turn on and off or adjust your AC depending on your location. You can monitor and adjust temperature, fan speed, and more while you're away from home, you can set up schedules, and control multiple units throughout your home.
The $175 Tado Smart AC controller works with Amazon's Alexa voice assistant, meaning you can control your AC using your voice provided you have an Alexa-enabled device or an iOS or Android device with Alexa installed.
Although its ratings aren't great on Amazon, it's still a widely recommended, popular AC controller for folks who know a thing or two about tinkering with smart home gadgets. If you've been successful in adding other smart home products to your home, you'll be just fine with Tado. If this is your first smart home product, however, you might want to look elsewhere before making the purchase.
See at Amazon (opens in new tab)
Bonus: Wi-Fi Smart Plug
If you have an AC unit with physical controls, consider setting it how you'd like and using a Wi-Fi connected smart plug to turn it on and off. Most smart plugs feature energy monitoring so you can keep track of how much you're spending when you cool your home.
The good thing about going the smart plug route is it works with existing setups in almost every case (save for the cases wherein your AC unit only has digital controls that reset when power is cut off from the device). You can plug in a smart plug, control it using your voice (once again in almost every case), and keep tabs on everything via an app. The only thing you'd be missing out on is nuanced control for fan speed, temperature, and humidity. That said, if you've got a smart sensor that can detect temperature and humidity, you can leverage those readings to set up automations for your AC unit.
If you don't want to spend the cash on a full-on AC controller or smart AC unit, a Wi-Fi enabled smart plug could be just what you need! I recommend the HomeKit-enabled iDevices Smart Switch. It's reliable, it's well designed, and it has a nightlight.
See at Amazon (opens in new tab)
Questions, comments, concerns?
Run into any questions along the way? Have some thoughts on smart air conditioners? Know of an air conditioner or controller that belongs on the list? Give us a shout in the comments below or over on Twitter and we'll try to address it!
Get the best of iMore in in your inbox, every day!
Mikah Sargent is Senior Editor at Mobile Nations. When he's not bothering his chihuahuas, Mikah spends entirely too much time and money on HomeKit products. You can follow him on Twitter at @mikahsargent if you're so inclined.
What about those of us who have windows that open horizontally? I bought a free-standing a/c unit that has a hose to put in the window opening a few years ago, but am constantly kicking myself for not researching before doing so (just grabbed the first affordable one I could find). I'd love to see an actual professional recommendation of such a unit.

I think most of the free standing AC units out there have similar plastic frames to fit to windows and they only really work for certain windows. What I do is custom cut pieces of rigid insulation (styrofoam) to fit the space, over-sizing it slightly to friction-fit the AC hose kit. Most condo strata's want uniform colours for window coverings so I paint the styrofoam on one side basic eggshell white and haven't had any complaints.

Highly recommend you read reviews on thesweethome.com. They have articles on portable and window air conditioners and if you go near the bottom of the window article, they mention the Frigidaire FFRS0822S1 as a good casement window unit. Otherwise, you go with a portable unit and home-made rigid foam holder (as described by previous comment).

If you have Wink as your smarthome control center, you can still get the Quirky/GE Aros at Home Depot. They are not at every store, so check online for in-store availbility if you want them. They are very efficient 10k BTU window units with both native smart controls. They can be driven by external sensors like an open window, as well as a bunch of IFTTT recipes like trigger on local outdoor temperature from weatherunderground.com. The Aros had a rough launch a few years ago due to a combination of Wink software and early firmware. My personal experience with two units (out of 6 in my house) was that I had to call Wink support (they also respond well via twitter and email) to have them walk me through the wi-fi connection process. There was a bug in early firmware versions that seemed to timeout the wi-fi connection after 1-2 seconds instead of 5-10 seconds. I swear this sounds like a decimal point or millisecond conversion mistake, but either way support walked me through the process of getting them connected, and they have survived multiple winters in my basement storage without any issues the following summer.
Thank you for signing up to iMore. You will receive a verification email shortly.
There was a problem. Please refresh the page and try again.