Best Smart Feeders for Dogs and Cats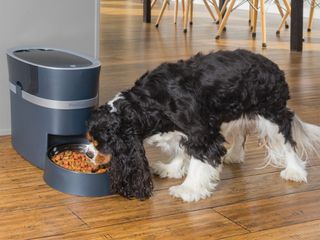 Before we get into the ins, outs, and bests of pet feeders, I want to lead with this: A smart feeder will (probably) never be as smart as a smart pet parent. If you choose to buy one, be sure to monitor your smart feeder regularly and test it at least once before you trust it to feed your pets. You don't want to leave the house for a couple of days only to return and find Fido munching on the loaf of bread he desperately snatched from the kitchen counter. OK, now that that's out of the way, let's dig in!
What is a smart feeder?
You can always trust iMore. Our team of Apple experts have years of experience testing all kinds of tech and gadgets, so you can be sure our recommendations and criticisms are accurate and helpful. Find out more about how we test.
You may be familiar with the concept of an automatic pet feeder. It's typically a bowl with a special opening into which an upturned canister of pet food is placed. Through the magic and mystery of gravity, as your pet consumes the food in the bowl, more food comes pouring out of the upturned canister into the bowl. It's a low-tech way to make sure your pet doesn't suffer hunger at the hands of your inattention to their food bowl.
Unfortunately, not all pets are suited to having an endless supply of food tempting their senses at all times. In fact, most pets are meant to be fed pre-portioned food on a schedule — a smart feeder can help with that. Through the use of an app, a smart feeder lets you set up and maintain an eating schedule for your pet and some even let you check in on your little critters while you're away from home. If you're interested in adding in a bit of pet-focused home automation, here's a look at some of the best smart feeders for dogs and cats (and maybe even pet crocodiles … I don't know your life).
Feed and Go Smart Pet Feeder
The Feed and Go Smart Pet Feeder is unique in its design and functionality. While most automatic feeders only support dry food, the unique compartment-style design of the Feed and Go allows it to serve up dry food, wet food, treats, and medication. Each of the six 8 oz. trays can hold your preferred ratio of sustenance, meds and goodies; the dish rotates around to the opening, exposing a single tray at a time. Oh! You'll dig this if you feed your pet wet food: The serving dish is dishwasher safe, making it simple to clean at the end of a feeding cycle.
Along with a built-in Wi-Fi connection for reliable control of your pet's feeding schedule, the Feed and Go features a webcam and voice recorder, letting you check in on your pets while you're away from home and send them encouraging messages to, "Please, for the love of all that is meaty, take your heart worm medication." Most of the feeder's settings and functionality are accessed through the companion app, which lets you set up and monitor your pet's feeding schedule, launch the webcam, and control multiple Feed and Go units (if you've got more than one pet).
Thanks to the multi-tray design, the Feed and Go Smart Pet Feeder is especially handy if your pet eats wet food and takes a daily medication. You can get a Feed and Go Smart Pet Feeder for about $200 from Amazon.
Jempet Petwant Smart Feeder
While researching smart pet feeders, I noticed something interesting about this particular feeder: Many companies seem to have purchased and branded the Petwant feeder as their very own. No matter which company you choose to purchase it from, however, the base device offers the same functionality. You can use the included app to monitor and schedule your pet's feeding times or issue a refill on demand. The Petwant feeder lets you choose portions between 10 and 100 grams, so you can be sure your pet is getting precisely the amount of food it's meant to.
The free app, of course, serves as the means of control for your Petwant feeder — you can trigger manual feedings, set a schedule, and check in on your pet using the built-in webcam, speaker, and microphone. One thing Petwant was sure to point out was how the device functions in the event it loses its Wi-Fi connection. Instead of throwing up an error message or failing to feed your pet, the device switches to an offline feeding mode, adhering to the schedule you've set up for it.
Although you won't be able to use this feeder with wet food, Petwant says the included feeding bowl and food storage hopper are easy to clean. When it's time to refill your pet's food, you'll be able to keep things nice and tidy for your pet pal. If you're looking for a reliable, simple smart feeder, the Petwant is a good choice. Petwant offers two models of its smart feeder — one with a webcam and one without. Amazon offers the webcam model for about $150 and its webcam-free counterpart for about $116.
PetSafe Smart Feeder
PetSafe is a well-known and trusted brand in the automatic pet feeder market and continues to receive high marks for customer satisfaction. The PetSafe Smart Feeder maintains a 4.5-star rating on Amazon as does its non-smart, programmable counterpart. The Wi-Fi connected feeder lets you monitor and schedule your pet's feeding times — even providing up to 12 separate meal times and a manual feeding option. As for portions, the feeder will dispense meals between 1/8 and 4 cups so it'll work just as well for your kitty as it does your doggo. It also offers a nifty feature for rambunctious eaters called "Slow Feed," which dispenses your pet's food slowly over a 15-minute period. Fido won't be able to scarf down his kibble and you won't be forced to clean up after him when it, erm, inevitably returns to the surface.
The free app lets you control your pet's feeding schedule, manually dispense food, and receive alerts when feeding time has begun. That way you can be at ease knowing your pet's been fed even while you're away from home.
Like the other feeders in the list, this model offers top-shelf dishwasher-safe components — the lid, hopper, bowl, and bowl holder can all go in with the evening's dishes.
Although it's not a good choice for those who give their pets wet food, PetSafe says dry and semi-moist foods work just fine in the 24-cup hopper. If you're looking for a reliable feeder from a trusted brand or if you've got a pet that's prone to scarfing down its food, this feeder is a great choice. Amazon offers the PetSafe Smart Feeder for just under $180.
SureFeed Microchip Pet Feeder
The SureFeed Microchip Pet Feeder is a unique addition to the list, but one worth considering. Unlike the other feeders I've listed, this unit isn't meant to feed your pet on a schedule — it's meant to limit consumption to the intended pet(s). If you've got multiple pets who tend to tussle over each other's food, the SureFeed can help mitigate some of that friction. It's also a popular choice — the feeder maintains a 4.5-star rating with more than 500 customer reviews.
I have to say, it's a pretty brilliant idea: The feeder uses your pet's internal identification chip to recognize its "authorized users." A plastic lid covers the food bowl and will only lift up when it scans your pet's ID chip or RFID collar tag. SureFeed also points out that your pet's food will stay fresher longer, as the bowl remains sealed until your pet approaches.
Again, this feeder isn't for every pet owner. It's also not for those looking to schedule their pet's feeding times. It is, however, for multi-pet homes where one or more animals have special diets or medication that's placed in their food. With the SureFeed, you need no longer keep an eye on your cat's food bowl when the puppy is around. You can get a SureFeed Microchip Pet Feeder from Amazon for about $140.
Thoughts?
Do you own an automatic pet feeder? Did it make the list? Are you planning on adding a smart feeder to your home automation setup? Gimme a shout in the comments or send me a reply over on Twitter!
Master your iPhone in minutes
iMore offers spot-on advice and guidance from our team of experts, with decades of Apple device experience to lean on. Learn more with iMore!
Mikah Sargent is Senior Editor at Mobile Nations. When he's not bothering his chihuahuas, Mikah spends entirely too much time and money on HomeKit products. You can follow him on Twitter at @mikahsargent if you're so inclined.