Best Smart Oil Diffusers in 2020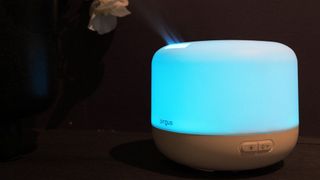 (Image credit: Birgus)
Whether you're having a hard time sleeping, need to unwind after a tough day, or simply want to smell the sharp, cool scent of peppermint on a snowy winter night, having a smart oil diffuser can totally help with all of those things. And today's clever contraptions come with their own apps, or can be controlled via smart home devices, like Amazon's Echo range. If you're new to the world of oil diffusers, then welcome, because here are the best ones available on the market right now.
Designer diffusion
There are so many awesome smart oil diffusers out there that it makes it tough to pick a favorite! We personally love the look of the KisoSmart Wi-Fi Smart Oil Diffuser (opens in new tab) with its attractive wood finish and cut-out design, it would not look out of place in the most stylish living space.
The YeYo Smart Aroma Diffuser (opens in new tab) is a strong option to consider if space is an issue for you. This not only works as an essential oil diffuser, but can double as a lamp and a Bluetooth speaker, so is perfect for bedside tables.
Our overall staff pick, the Asakuki Smart Wi-Fi Essential Oil Diffuser (opens in new tab) gets a big thumbs up thanks to its great connectivity, clean, modern looks and that generous 700ml capacity.
Get the best of iMore in in your inbox, every day!
Thank you for signing up to iMore. You will receive a verification email shortly.
There was a problem. Please refresh the page and try again.