Best spreadsheet apps for iPad: Numbers, Google Drive, Microsoft Excel, and more!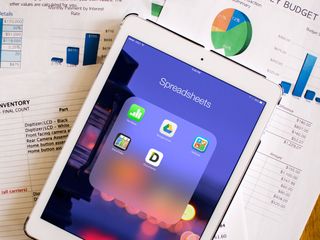 If you work on spreadsheets, be they in Microsoft Office, Google Docs, Apple Numbers, or something els, the iPad can be a great way to take them with you, edit them on the go, and even project them for a team. What you give up in laptop power you make up for in ultra portability. There are lots of different spreadsheet apps to choose from on the iPad, but which ones are the absolute best?
Numbers
Why you can trust iMore Our expert reviewers spend hours testing and comparing products and services so you can choose the best for you. Find out more about how we test.
Numbers is part of Apple's iWork suite and handles nothing but spreadsheets. It comes free with every new Mac and iOS device. You can choose from many different templates, save and export in Microsoft office format, and much more. You can even use iCloud to sync your data across all your devices so no matter which one you open a spreadsheet on, it's always up to date.
If you have an Apple ecosystem consisting of iOS devices and Macs, look no further than Numbers.
Free with new qualifying Macs
$9.99 - Download Now

(opens in new tab)
Google Drive
Google Drive encompasses the entire Google Docs service and lets you both view and edit spreadsheets right inside the app itself. If you have shared spreadsheets with others inside of Google Drive, you can view and edit those too. It's set up much like Google Drive on the web so if you use that, you'll be right at home.
If you use Google products or want access to your spreadsheets no matter what platform you're on, Google Drive is the safest bet.
GoDocs
GoDocs was made specifically for Google Docs and provides much of the same functionality as the Google Drive app. One thing I prefer about GoDocs over Google Drive app is the layout. It's also got some powerful search and filter features that Google Drive just doesn't offer.
If you're tired in Google Docs but don't particularly care for the official Google Drive app, give GoDocs a test drive.
Documents To Go
Documents To Go lets you store and edit many types of documents, including spreadsheets. The standard version lets you edit and manage spreadsheets and word documents. The premium version gives you the ability to edit powerpoint documents as well as sync and access files in iCloud, Google Drive, iCloud, Box.net, and SugarSync. The design isn't as great as several other spreadsheet apps but the functionality surpasses most.
If you want lots of functionality along with the ability to sync your files with any file storage service, Documents To Go is worth a look.
POLARIS Office 5
POLARIS Office 5 features Microsoft Office compatibility for both viewing and editing. You can also view files in both PDF and HWP format. You can link up many different kinds of cloud storage services such as Dropbox, Google Drive, Box, and more. POLARIS also features quite a few templates and shapes to choose from when creating spreadsheets from scratch, which sets it apart from some apps such as Google Drive which may not offer as many. I also have found that cells are much easier to manipulate and work with than some of the other options.
If you create a lot of spreadsheets from your iPad and want a wide variety of templates to choose from, POLARIS Office 5 is a safe bet.
Microsoft Excel for iPad
Microsoft Excel for iPad was just recently released and is Microsoft's official version. You can open and view Excel spreadsheets for free but to create, edit, and manage them — you need an Office 365 subscription which costs $120 a year. After that, you'll get all the functionality you get from the Office 365 version of Excel.
Free - Requires subscription - Download Now

(opens in new tab)
Documents 5 by Readdle
Documents by Readdle beautifully integrates with all of Readdle's other products for an almost complete office suite. While you can't edit spreadsheets, you can view and send them along with the rest of your files inside Documents 5. It plays nicely with other apps such as Google Drive as well.
If you just need to view and send spreadsheets rather than edit them, there isn't a more elegant option than Documents 5.
Your picks?
Do you have a favorite app for editing spreadsheets? Is it one of the ones above or something different? Be sure to let me know in the comments what you use and why!
Get the best of iMore in your inbox, every day!
iMore senior editor from 2011 to 2015.
Google Quickoffice. You have drive in there, but not this? Posted via the Android iMore App!

Add QuickOffice and it's a pretty great list. Sent from the iMore App

Quickoffice has a terrible layout... Sent from the iMore App

Not to mention it hasn't been updated in a long time to my knowledge. Sent from the iMore App

Google barely updates its iOS apps. Not a surprise. Hangouts was much needed. Wasn't there a deadline for updating apps for iOS 7 back in February?

I was talking about quickoffice. Google updates apps pretty regularly. I've seen two hangouts updates in the past few weeks? Sent from the iMore App

One of my favorite features of Numbers is that a spreadsheet is nothing but a table floating on a canvas. If I want, I can have several tables of various sizes positioned anywhere I like. I use Excel at work to create business forms. If I have a good layout on the upper portion of the screen, but need to have a different layout on the bottom, sometimes it requires having to change everything. I also appreciate that Numbers has built-in controls like checkboxes and steppers. A stepper control in Excel would require coding in VBA.

I agree and I also love the Interactive Charts feature. Normally data changes over time is shown on several charts. This feature combines them into one chart. Tapping the play button on the movie-like controller animates the changes as it goes from one chart to another. It's a great way to visualize data changes.

That is one feature I haven't tried yet, but will definitely check out!

Now, if only Documents by Readdle could also edit docs...

Agreed Sent from the iMore App

You said this: If you use Google products or want access to your spreadsheets no matter what platform you're on, Google Drive is the safest bet. This seems to ignore the cross-platform capability brought to the iWork suite by the browser-enabled versions in the cloud. This capability does make numbers and the other iWork programs usable by those on Microsoft's PC platforms. Otherwise, nice roundup.

Polaris office is the new winner for me. I was a longtime user of Quickoffice years before google stopped upgrading it and since my office work is all MS based I just never fully got into numbers so Polaris has most of the features I need including conditional formatting in excel. Now if someone could build real piviot tables I would never have to turn my office pc on again.

Never used it. I'll look into it, thanks!

I'm an accountant who lives and breathes MS Excel. I've found the Box Excel Plug-in to be my favorite way to deal with spreadsheets. It literally embeds itself into the Excel toolbar so I can save my spreadsheet at work on my Windows Dell Latitude and go home and open up the same spreadsheet on my Retina Macbook Pro. On my iPad I use Docs to Go to access my Box spreadsheets. As an aside, it is working with spreadsheets and all those tiny numbers where having a retina screen REALLY pays off! And the iPad mini sucks for spreadsheets.

Did not know that about box. Great tip, thanks for sharing!

Numbers is the most powerful spreadsheet app I've used on iOS. Google is best to use for collaborating, but you have to be on desktop web browser really for best experience. Sent from the iMore App

How about the Open Office suite of programs? It's as capable as Microsoft Office, considerably more powerful than Apples Numbers, Pages, etc. and you can't beat the price.

Editing in excel is now free in the iPad and android devices. No need to have a paid subscription for personal usage. In addition, Dropbox is now supported for cloud storage.