Best Stands and Docks for iPhone 6s and 6s Plus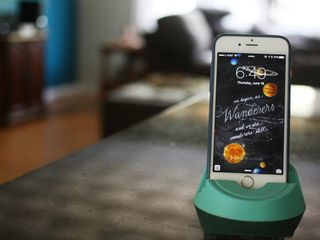 Updated 1/24/17 to include the latest and greatest iPhone 6s and 6s Plus stands.
As I've spent quite a bit of time researching my perfect office and bedroom stands, I figured I'd drop all that knowledge on you, dear readers. Save yourself the hassle of digging through Amazon ratings and pages upon pages of artisanal stands: Here are some of the best iPhone 6s and 6s Plus stands out there. (Also, remember: Most iPhone 6s stands will also accommodate iPhone 6 and 7 models as well as their plus-sized variants; if you have a multi-Lightning iPhone household, all should be happy.)
The Stump Stand
Why you can trust iMore Our expert reviewers spend hours testing and comparing products and services so you can choose the best for you. Find out more about how we test.
It doesn't charge—nor offer a hole to charge—your iPhone, but it sure makes a great perch: I first discovered the Stump Stand several years ago at Macworld Expo right after the iPad launch, and I've been using mine ever since. It's the goofiest of my recommendations, without a doubt—it's essentially a rotund, 3.5-inch rubber stump boasting colors like "Sea Glass" and "Royal Blue."
But the stand itself is incredibly versatile: It's weighted but portable, and its rubberized coating means that you can not only set your iPhone upright in the groove; you can also lean it against the stump. I use it a lot as my main traveling stand while I'm on business trips or vacation, but it also makes a good dock pretty much anywhere else, too—as long as you can enjoy some goofy color with your iPhone propping.
See at Amazon (opens in new tab)
iPhone Lightning Dock
I'm going to let iMore's own Rene Ritchie talk about Apple's official iPhone Lightning Dock, as he reviewed it:
See at Apple (opens in new tab)
Twelve South HiRise 2 and 2 Deluxe
If it's quality aluminum craftsmanship you're looking for in your iPhone stand, Twelve South won't disappoint. The company's cheaper HiRise and more expensive HiRise Deluxe differ largely in whether you need to supply a separate Lightning charge cable; otherwise, you're looking at a sleek, simple color-matched aluminum stand from which you can perch your iPhone.
See at Amazon (opens in new tab)
Henge Docks Gravitas
Tired of having to buy a new stand every time you upgrade your iPhone's form factor? Henge Docks's Gravitas stand not only comes with several swappable inserts for both iPhone and iPad, but it also offers the company's Life After Device program: If Apple decides to change the form-factor of the iPhone, you only need to pick up a spare insert, rather than a whole new dock.
Like the HiRise, the zinc-alloy Gravitas wouldn't look out of place in a metallic-themed office, though it looks just as nice in regular surroundings; the stand also comes with its own USB charge cable, and offers an AUX out port in case you'd like to hook some wired speakers up to your device. It's got some heft to it, too, allowing you to pick up your iPhone without picking up your stand, as well.
Satechi 7-Port Charging Station Dock
If your office is a multiple-iPhone household or you simply have multiple devices floating around at any given time, individual iPhone stands may not make the most sense: Instead, check out Satechi's 7-Port Charging Station Dock: The charging stand grips firmly atop any surface you place it on for easy one-handed docking removal, and offers spacers to keep your devices upright. You'll have to supply your own cables—but that can be a bit of a blessing for those of us with secondary Android work devices (or older iPhone test models).
See at Amazon (opens in new tab)
Grovemade Maple iPhone Dock
The perfect blend of wood and metal, Grovemade's Maple iPhone Dock encapsulates Apple Store fashion chic: If Apple were to make a tiny table for each individual iPhone, I imagine it would look something like this. A hefty three pounds, the Maple iPhone Dock sits firmly on your desk with no suction or grippy rubber feet needed; you just have to thread a Lightning charger cable up through the dock's base and you're good to go.
You can use the dock with or without a case, though I'd recommend nothing too bulky if you want to keep an easy dock-in/dock-out process. (And as an extra bonus, Grovemade's products are entirely sourced and built in the USA.)
See at Grovemade (opens in new tab)
The Timber Catchall Stand
If you're looking for a great combination stand for your iPhone and your Apple Watch that looks great on your nightstand, too, Pad and Quill's Timber Catchall stand is a beautiful option: The hardwood stand requires you to bring your own cables, but keeps them all but invisible under its base after the initial threading process, and lets you either lay your iPhone flat or prop it up. It's a great option, too, for folks who prefer a wallet or other bulkier type of case that doesn't fit so comfortably with traditional vertical docking options.
See at Pad and Quill (opens in new tab)
Any stands I missed that you love?
Those are my top picks—if you have a stand that you want to see us take a look at for the next version of this roundup, sound off in the comments! I also haven't covered the many, many, many handmade iPhone stands (opens in new tab) that lurk within Etsy, but recommend giving that section a whirl if you're looking for something with a more rough-hewn feel.
Get the best of iMore in your inbox, every day!
Serenity was formerly the Managing Editor at iMore, and now works for Apple. She's been talking, writing about, and tinkering with Apple products since she was old enough to double-click. In her spare time, she sketches, sings, and in her secret superhero life, plays roller derby. Follow her on Twitter @settern.
I love the Twelve South HiRise Deluxe. I have three of them; one for my work office, one for my home office, and one for my night stand by my bed.

Have you tried it on an ipad air?

I use Smartphone Coasters, they look cool and our cheap, http://newpcgadgets.com/products/smartphone_stand/

iPhone ihome clock radio Sent from the iMore App

The Spiderpodium is the only stand I've really ever needed. Goes anywhere - desk, car, pushbike.
http://www.breffo.com/

My Dock+ is still going strong after 2 years. Handles any device that uses the Lightning plug, cases or not, and never lifts up. I always appreciate things that last a long time and as a bonus it's made in the US.

I would have liked to see some stands that incorporated Apple Watch charging as well.

https://www.etsy.com/listing/237185740/iphone-6-dock-apple-watch-chargin... Sent from the iMore App

Love the Henge Docks Gravitas docks. I have three. They are solid and weighty which makes it easy to get the phone into and out of the dock. The phone comes out of the dock without having to put one hand on the dock. I can use the dock while my 6 is still in the case, and an important feature for me is it has an audio out plug so I to plug it into my Cambridge Radio unit. Highly recommended.

These are all such great choices! This article comes at the perfect time for me! Sent from the iMore App

I have the new Apple dock, but I disagree with the idea that it's the "best ever." It's okay, and it hasn't failed or given me an error message once so far (unlike previous Apple docks), but the fact that the phone will never sit on it perfectly straight is a definite detraction. I buy docks for convenience and because I like the way it presents the phone or tablet. Apple's dock kind of goes against the whole point of that in that the little nub in the middle means you are always fiddling with it so that the phone is straight instead of at an angle. It's a minor, but nonetheless very irritating flaw.

I got the Belkin Charge and Sync Dock for Christmas. 2 weeks ago it died. It started out giving me the error message on my phone about it may not be working correctly because it's an unauthorized accessary. It only came up once the charge got to 100%. It would sync just fine. Then, 2 weeks ago, that was it.

If money is no worries then the elevation lab dock is superior to all of these in terms of looks, build, and usability. Sent from the iMore App

What aren't there any docks that can be used horizontally? Sometimes I like to watch a quick Netflix and I'd much rather have the screen wide. I'm surprised that you didn't even show one option! Are there any? Sent from the iMore App

Sorry, other than wood, handmade stands. I'd like some hi-tech looking horizontal stand worth the money. Thanks Sent from the iMore App

Sorry. Why aren't there any horizontal, non wood, non handmade stands. I'd like a high tech stand that can be used horizontally. Sent from the iMore App

You left out one of the highest quality stands available: https://www.imore.com/e?link=https2F2Fr.cfm%3F...

That's going to be part of our Apple Watch stands roundup coming next week, given that it's primarily an Apple Watch stand. :)

The bottom of some of these docks have micro suction tape on them that can lose staying power with time. The simplest solution is to wipe the surface of the desk with a wet tissue to remove any grime and then press a piece of Scotch tape on the micro suction surface and rub for complete contact. Then strip it off. I use a new piece of tape for each area of the surface. Once you press down on the dock, it ain't going nowhere.

Hey Serenity - Great post and iPhone Stands! This is Hannah with Thought Out Company responding to item #13. We have many iPhone stands that our customers love and thought you and your team may love them as well. Our most popular is the PED4 GRAND which fully rotates to horizontal and/or portrait. Let us know if you'd like to take a first hand look.

One of the best docks that wasn't mentioned here is the Podi-m. www.podi-m.com it weighs 2 pounds! pretty heavy, and not a cheap plastic dock. the podi.m matches the iPhone in the way it looks and the way its made. matches the bead blasted macbook pro look, and its not crazy expensive. i use for my iPhone and iPad.

Surely our great handmade wooden Iphone docks deserve a look! Handmade docks from driftwood, reclaimed wood, tsunami wood even! Plus all personalised to your own needs! See the full range here:
https://www.etsy.com/uk/shop/ImaginaNatural?section_id=17202581

The lambda-dock combines the ability to adapt to cases (like the hirise) with a wooden design. Through the adaptable back-plate you can use the touch-screen while docked. Fits for all iPhones (5-6s) with a lightning plug.
Check it out on: http://www.ck-altstaedt.de

Why do all the comments show they were made a year ago? Am I missing something?