Best Stock Market apps for iPad: Bloomberg, StockTouch, Stock Guru, and more!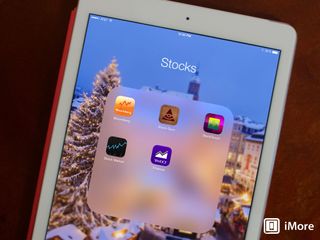 Even though the iPhone's built-in Stocks app is nowhere to be found on the iPad, it's still is an amazing tool for managing your finances either at home, at work, or on the go. From checking on your investments, to monitoring trends, to knowing when to buy and when to get out, when to short and when to stay long, there are ton of apps that help you do just exactly that. Which stock apps is best for you? Here are our favorites!
Bloomberg
Bloomberg combines the stock market with financial analysis and news. It isn't an app strictly dedicated to stocks and portfolios, but it does provide enough information for the casual trader. You won't just find common exchanges like the DOW and NASDAQ inside Bloomberg, you'll find all kinds of world markets. Whatever you're looking for, odds are Bloomberg not only has financial trend information, it's got live stock tickers and news about it. The tradeoff you pay is that Bloomberg doesn't do any one thing exceptionally well, but does everything good enough for light users.
If you want an all in one place for news, financial analysis, and stocks, Bloomberg can offer you that. Just keep in mind it isn't meant for the pros.
Stock Guru
Stock Guru is one of the best stock apps for daily traders, hands down. But if you fall into that category, you probably don't need me to tell you that. It provides information other stock apps just don't such as rick scores for several exchanges, volatility comparisons, valuation rankings, and so much more. It's one of the most feature complete stock apps you'll come across that really is worth the money.
For hardcore stock trackers and portfolio managers, it doesn't get much better than Stock Guru.
StockTouch
StockTouch is a new and interesting take on the stock market due to its interface and how you actually interact with it. This is also what makes it one of my personal favorites. The main screen in StockTouch sorts stocks by type. You can change stock views by top 9 US sectors, top 9 global sectors, and ETFs (exchange-traded funds) in the side menu. Tap into any one of them to view the actual stocks. StockTouch arranges stocks in a way where the top 100 companies in a sector are presented starting with the top 4 in the center. They then spiral outward from that point. Tap any one to view more information, pinch it to close it out. If you don't like the way StockTouch sorts data, you can change it in the side panel too using the sort settings.
If you're looking for a stock app that's easy to use but provides an extremely good amount of data, StockTouch will exceed your expectations.
Stock Market Pro
Stock Market Pro not only lets you track an unlimited amount of stocks, it's probably one of the closest to an actual replacement for the native stock app. There are no frills, it looks as if it belongs in iOS 7, and there aren't a lot of extras. Hardcore users won't have any interest in it but casual and intermediate users will. You can use Stock Market Pro simply as a reference or as a resource to track unlimited portfolios and the stocks inside them. Volume, price/earnings ratio and market cap, and all the other features you'd expect are there but sorting and viewing is more advanced than the native Stocks app for iPhone.
If you're after something close to the native Stocks app on iPhone, Stock Market Pro is it. It's just got a couple added options and features, which we're sure no one will complain about.
Yahoo! Finance
The thing that draws me to Yahoo! Finance time and time again is its great interface. It's easy to use and doesn't provide more news than it does stock information. Stocks that you follow will always show in the right hand navigation for easy access. Tapping into any one of them shows beautiful graphs and charts that you can interact with. I'm also a fan of how any changes that happen while you're in Yahoo! Finance will show up in red. Scroll down on any stock page and you can browse news that has to do with that particular company. News stays out of the way, until you want to see it, and I like this in a stock app.
If you're only interested in following a few stocks and reading news about them, Yahoo! Finance gives the best experience in doing so.
Your picks?
These are our favorite apps for checking and managing stocks on the iPad but as usual, we know you guys are super capable of finding awesome apps too. If you're using something different that you think is great too, let us know in the comments!
iMore senior editor from 2011 to 2015.
I'm sorry for the off topic but Ally, could you post a link to this gorgeous Christmas wallpaper?

Here you go! http://d.pr/i/4hB5 Sent from the iMore App

How about mySTOX (for the iPhone, but it works as well on the iPad)? http://mystox.mobi

Check out budding social investing platform grademytrade.com, native apps coming soon.

I just stick to the ETRADE app for my stocks. Mainly just because I can easily buy and sell my stocks there and it has a nice simple layout. The apps listed in this article are all good, but they all seems to so the same things. I don't see one being far superior to the other. Sent from the iMore App

Great selections, I've downloaded most of these apps. If may suggest one Stock Live is a favorite of mine. You may want to purchase some of the in app services but they are definitely worth it

I loved yahoo finance, but it doesn't have Indian stocks and that's a deal breaker for me... So stock market free is my go to app!

I like the CNBC app for stocks. It is iPad only ad pretty darn close to realtime.

My favorite is Daily Stocks Pro. It scans the entire stock market in realtime and has realtime streaming charts. Beautiful design.
https://itunes.apple.com/us/app/daily-stocks-pro-stock-market/id68099436...

You should definitely check out "Stock portfolio" by http://www.bastaware.com. I really like the simplicity, yet nice way of displaying the development of my portfolio in a given period. Also it's handling a lot of european stocks that are now always available in the other apps.

How about the ipadstocks app?

Try out "The stock portfolio" app. It has the most rich feature set and can also be accessed from web. Find links at http://www.bastaware.com - Quotes for British, Danish, Dutch, German, Norwegian, Swedish, Swiss, and U.S. stocks.
- Portfolio Monitor will monitor entire portfolios and alert when stocks drop or Golden Death/Golden Cross occurs. *
- Development line-graph that displays value of your portfolio, as individual stocks as well as total.
- Composition pie-graph that displays the share of each stock
- Compare the development in your portfolio with major indices such as Nasdaq100, Dax, S&P500 etc.
- Push/Mail alerts (price + stop loss)*
- Unlimited number of portfolios*
- Portfolio in your own currency, and automatic currency conversion of foreign stocks. Handles USD, EUR, DKK, NOK, SEK, GBP, CHF.
- Receive daily/weekly rapports via push / mail.
- Top 10 Winners and losers of the day.
- Share portfolio between devices (Android / IOS / Web).
- Account (Transactions). Which enables registration of profit, loss, dividends and other income and expenses.
- Portfolio Monitor that will monitor an entire portfolio
- RSI (Relative Strength Index)
- SMA (Simple Moving Averages)
- Alerts on Golden Cross / Death Cross
- See development since any given date since 1. january 2000.
- Optional password protection.

Hey, nice apps for stock traders. I would like to add a stock screener app which I found to be useful if you use technical indicators.
https://www.imore.com/e?link=https2F2Flinks%2F1...
Get the best of iMore in in your inbox, every day!
Thank you for signing up to iMore. You will receive a verification email shortly.
There was a problem. Please refresh the page and try again.