Best Nintendo Switch family games 2023
Bring in a family game night with these Nintendo Switch games!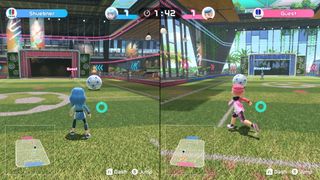 (Image credit: iMore)
There are plenty of Nintendo Switch family games for everyone to enjoy! A ton of the best Nintendo Switch games aren't just good for kids; they're also fun for parents to learn and play along. Most Switch games are appropriate for all ages, so whether it's little Jimmy or Grandma Joyce joining in on the fun, your family night can accommodate everyone. What's more, many of the games on this list support up to four people who can easily join in by using Joy-Cons. If you're considering a Nintendo Switch for family fun, these are the games that need to be on your radar.
Mario Kart 8 Deluxe
Few games are as synonymous with "family fun" as Mario Kart. Mario Kart 8 Deluxe delivers the exciting kart-racing experience we all know and love with updated visuals and a windfall of new content. Enjoy it with up to four players on the same Nintendo Switch.
Your family is sure to enjoy race after race as you unlock new characters, new kart options, and new tracks – we sure enjoyed it when we tested it out through our initial playthrough. You get to choose from many Nintendo favorite characters and customize your kart for the best racing stats. If Mario Kart isn't new to you, you may even see some familiar tracks!
Luigi's Mansion 3
You and a family member can play through the main storyline together in Luigi's Mansion 3; catching ghosts, figuring out puzzles, and helping each other reach new places. One player will control Luigi while the second player controls Gooigi.
But that's not the end of the multiplayer fun! When we reviewed this title, we found that you can also have up to eight players in ScareScraper and Scream Park modes. In ScareScraper, players each play as a different colored Luigi to save Toad while catching ghosts, working together. In Scream Park, you will be split into two teams and play versus each other. The three games in Scream Park include Coin Floating, Ghost Hunt, and Cannon Barrage.
Pokémon Brilliant Diamond and Shining Pearl
Play multiplayer in a non-traditional sense by battling Pokémon with other players, as well as trading them together. If you have one person with Diamond and the other with Pearl, you can trade Pokémon exclusive to your game to the other player so you'll both have a complete Pokédex. We found Pokémon Brilliant Diamond and Shining Pearl to be a pretty faithful remake of the Nintendo DS Diamond and Pearl games.
Pokémon Sword and Shield
While the main story is single-player, this game encourages you to interact with other players by trading Pokémon and battling Pokémon together. While it may not be our favorite Pokémon game, Pokémon Sword and Shield are super fun and kid-friendly while still appealing to adults. If you have two people in your family that want to play, make sure you give them different versions.
If you have multiple Switch systems in one home, you can trade Pokémon and help each other in raid battles. Trading will allow those with Sword to get Pokémon exclusive to Shield and vice versa.
Super Smash Bros. Ultimate
In our review, we have called Super Smash Bros. Ultimate one of the best games on the Nintendo Switch. Over 80 of the most iconic characters from Nintendo, Capcom, Konami, Square Enix, and more are packed into this super-fun game — and they're all looking for a fight. In addition to favorite characters, Nintendo players will recognize many of the battle arenas from many of their other favorite Nintendo games. Up to eight players can battle in this party brawler for the ages or play against 64 players in online tournaments. While this is a fighting game, the graphics aren't gory or overly brutal. It's very cartoony and light.
Super Mario Maker 2
Super Mario Maker 2 has been, in our experience, a great way for kids to bring out their creativity while playing! You and your family can make your own classic Mario levels and then test them out on each other. You can build the level however you want; it's all yours to create from scratch. If you happen to have Nintendo Switch Online, you can also play thousands of other creations and share your own online.
In Versus mode, you race the clock through a course and try to be the first character through the level. In Co-op mode, everyone has to work together to get through to the end. As long as one player makes it, you all win!
Pokémon: Let's Go! Pikachu/Eevee
Pokémon has always been a social game, but only for people trading and battling each other. With the launch of Pokémon: Let's Go!, these games let you and your loved ones catch 'em all together. Two players can do Support Play, which we note works very well and players are able to travel this world together.
Support Play comes with some bonuses, too. If both trainers throw their Poké Ball simultaneously, you have a better shot at catching your Pokémon. While in battle, each player will have their own Pokémon to battle with, so you'll have twice as many in battles.
Mario Party Superstars
This is the ultimate family game that we say is great for newcomers to Mario Party games. Mario Party Superstars brings back the classic Mario Party games with more than 100 games that up to four people can enjoy. Choose from 1 vs. 3, 2 vs. 2, or have a full-on four-player battle royale in a collection that never seems to get old.
In this board game-style game, players pick their favorite Mario character and make it to the end of the game with the most stars. At the end of each round, players will compete for coins they can use to purchase a star through one of 100 minigames. Not in the mood to play a whole board game? You can just play the minigames too!
Overcooked! All You Can Eat
Get an epic two for one deal with this fun coop game we call "Delicious fun," with Overcooked! All You Can Eat. You and your family will be racing around the kitchen, trying to serve all the hungry guests. Up to four players can join in on the fun.
As you all work together to try and keep the food coming, will there be too many cooks in the kitchen? It will be up to you to talk through what to do as you try to get through each level to make it to the next.
Jackbox Party Pack 8
Jackbox Party Pack 8 is one of those games that still provide that old-time family game show feeling with a touch of sarcasm. There are five games, including trivia, survey, drawing, and improv.
Anyone can play using their smartphones and tablets or Switch controllers. For younger audiences, families are sure to enjoy Drawful Animate and The Poll Mine.
Super Mario Odyssey
We've said that Super Mario Odyssey has limited cooperative gameplay for up to two people but is mostly a single-player affair. However, that doesn't stop it from being perfect for the family, with plenty of puzzles and levels that your loved ones can help each other through.
In the co-op mode, one player is Mario and the other is his hat, Cappy. There are special abilities a player has as Cappy that make it different from co-op in other Mario games for experienced Mario players.
Snipperclips: Cut it Out, Together!
The charm of Snipperclips is hard to match. This puzzle game was made to be played together and gives you that scrapbook feeling as you and your family solve unique puzzles together. Grab three others and see if you can work together to figure out each level!
Players will cut their characters into the right shapes to complete the puzzle in each level. The best part is there could be more than one right way to snip! Up to four players can work together to get the right cut.
1-2 Switch
As if you needed even more party games, we call 1-2 Switch a great simple game for kids. It combines party games with learning the Switch controls. There are 28 mini-games ranging from cow-milking and sword-fighting to a Wild West quick-draw duel.
This game uses the unique features of the Joy-Con controllers to create fun ways to play and win these mini-games. Although you can only play with two players simultaneously, there is a game mode to play with multiple players as teams.
Yoshi's Crafted World
Yoshi's Crafted World is an adorable puzzle platformer adventure. When we tested out the game in our review, we noted that it's friendly enough for the entire family to enjoy. Take control of Yoshi and friends as they search a beautiful world made of everyday crafting materials, such as cardboard boxes and paper cups, for clues to a fabled artifact.
In addition to the single-player story mode, there is also a two-player co-op mode, so two people in the family can play and enjoy together. For an easier time, if you have brand new players, try out the Mellow mode to give Yoshi wings in case he falls.
ARMS
ARMS is a unique fighting game that focuses on motion controls with the Joy-Cons. Pick your fighter from a colorful and bright roster of distinctive fighters, each with its unique ARM capabilities. Every arena stage is also full of obstacles, making the battles even more epic. It's definitely a fighting game unlike anything you've played before, and it's wholesome entertainment for everyone.
The graphics while in battle are bright and fun. In addition to the traditional battle style, we love the other optional play styles like the sport styles, including basketball and volleyball. You can have up to four players, with not only a one-on-one battle option but also a two-on-two!
Mario Tennis Aces
Mario Tennis Aces is a great sports game for the family, even if you aren't usually a tennis fan. You can play with up to three other people in the room for a doubles match or even progress through the single-player mode and other challenges.
Pick your favorite Nintendo character and show off your tennis moves with some flair as you swing your way to the top. Learn how to use your stored energy to make some incredible moves. Make sure everyone uses the Joy-Con straps, so you're only swinging your racket, not your controllers.
New Super Mario Bros. U Deluxe
Have a few spare Joy-Cons? Great! Up to four other people can join the fun in New Super Mario Bros. U Deluxe! There are over 164 classic platforming stages to get through in two main game modes and the replay value is high with even more game modes to unlock. Pick your favorite Mario character and use their unique abilities and traits to make it to the end of each level.
With these new levels in classic style and new characters made for younger players, it's sure to appease experienced and new players alike. There's even a hints gallery and reference videos to help players out when they're first beginning to play. It's perfect for everyone.
Kirby Star Allies
Up to four people can play Kirby Star Allies at a time, so this is an excellent game for the entire family to play together, and as Alex says in her experience of the game, the difficulty level is perfect for young or new players. Control Kirby and use friend hearts to charm foes, and they'll fight alongside you, giving you access to their own unique Copy abilities too.
You can even combine some abilities with elements, giving you an edge in battle against some bosses who are weak to certain elements. Additional players can come in or leave at any point during play. It's up to you and your friends to find out what those weaknesses are!
Minecraft
Anyone with a creative mind should be playing Minecraft and thus, it's perfect for inventive families. Explore an open sandboxed world where you can collect resources from the environment or enemies and use it to build pretty much anything you want.
Make your own village, recreate a familiar place, or anything else you can imagine! Enjoy exploring together while you gather and build freely with unlimited resources in creative mode or take on a little challenge in survival mode. Up to eight players can play together online, and your creations can be shared with anyone.
Splatoon 2
Splatoon 2 is a family-friendly shooter that we have noted will appeal even to people that don't like shooters. Rather than have the objective of getting as many kills as possible, it's mostly about inking your turf in Splatoon 2 matches — whichever team paints in the most turf in a match will win. This brings the battle element without being gruesome.
There's also a single-player campaign and other game modes to check out. Splatoon 2 is a family-friendly shooter that is super cute and enjoyable for everyone, regardless of age. Play with up to eight players.
Just Dance 2022
Just Dance 2022 is packed with a huge assortment of songs, so there is sure to be something in here for everyone to dance to. Up to six people can join in a game of Just Dance 2022 on one system, but there's no limit as to who can join in without a Joy-Con in the background!
The game comes with 40 songs by Camila Cabello, Billie Eilish, and other top artists. Get more if you get the Just Dance Unlimited subscription, giving you more than 700 songs! One month is included when you buy the game so you can try it first.
Animal Crossing: New Horizons
Get the family together for a wholesome island game! Work together to build a community on your own island getaway while you get to know your fellow resident animals. A total of four people can play together on one system simultaneously, but up to eight players can set up on the same island.
Work together to build up the museum with fossils, fish, insects, and art. Decide how your village should be laid out as a family. There are so many creative and cute options for how to play this together. While you'll see in our review that it is a slow starter, if you're looking for something to play together regularly this is a great option with growing opportunities.
Moving Out
There can be fun in chaos! You and your crew will work together in Moving Out to get items moved out of homes, buildings, and even airplanes. Find the best way to move it all and have a blast with various characters, plus special goals at each level!
Story mode can be done alone or with up to four players. Just like moving in real life, this may test you as you decide how to get the furniture out. You can try to play it in a real way or get hectic! Who needs windows and doors as long as your couch is out?
Clubhouse Games: 51 Worldwide Classics
Play a bunch of Nintendo Switch family games in one with Clubhouse Games: 51 Worldwide Classics. Connect in the home with local play of up to four players or connect from afar with online capability. While we've found that the online matching can take a while, playing with a group ready at home is super easy! There's something for every board game lover in this collection.
If you have multiple Switch consoles in the home, you could even use Mosaic Mode for some games. Just put your screens together to form one big screen in a whole new way.
Mario & Sonic at the Olympic Games Tokyo 2020
Are you Team Mario or Team Sonic? Only one team can win! Up to four people can compete against each other and go for the gold in their favorite Olympic sport. Or, eight players can play online.
Mario & Sonic at the Olympic Games: Tokyo 2020 has more than 30 events to compete in and as we note in our review, even has a story mode. Players can enjoy the water, box it out, take it around the track, and more. It also features a way to play 2D sports events from 1964. Start up the friendly competition and get your game on!
Carnival Games
Carnival Games brings you the cutesy style of a real carnival right into your living room! All the games you love at the county fair brought to your Nintendo Switch, as we call it, "A festival of mini-games". Play the classics of hoops, target shooting, and ski ball, plus explore some new additions like cosmic bowling, with more than 20 games to choose from.
You can play solo or with up to three others. As you play, you win tickets you can trade in for rewards to customize your characters. You and your family can have fun creating characters and competing in games.
Super Mario 3D World + Bowser's Fury
Super Mario 3D World, originally released on the Wii U, got a refresh with a more open-world style section: Bowser's Fury. Bowser's Fury supports up to two players, and Super Mario 3D World can handle up to four. In Bowser's Fury as you'll see in our review, the second player controls Bowser Jr., storing power-ups and being your backup in battle. In Super Mario 3D World, how you want to beat the game is up to you — use teamwork to reach the goal or sabotage each other and compete for the most points.
Mario Golf: Super Rush
Mario is adding to his sports collection with Mario Golf: Super Rush! There are 16 Nintendo family characters for golfers to choose from. Many of these characters are showing off some new golf fashions never seen before the green. The whole family can take a swing at the courses with Battle Golf! Up to four players tee off simultaneously, then try to be the first one to reach their ball. There are some tricks and obstacles to help you trip up the other players along the way. But our review shows that this is largely a golf game dressed up in Mario so don't be surprised.
Hyrule Warriors: Age of Calamity
Zelda now has a new game style and a way to play together with Hyrule Warriors: Age of Calamity. This is the newest game in the Hyrule Warriors series and it follows the champions of Hyrule onto the battlefield. One of our favorite parts you'll see in our review is the cast of characters to choose from that we've never played before. Two players can take over the familiar fields of Hyrule as one of several familiar Zelda characters defeats the monsters Calamity has unleashed. Each character has special attacks and moves based on their backstory and weapons. Enjoy playing Zelda together like never before!
WarioWare: Get It Together!
Wario and his friends have made it to the Switch in their own kind of adventure, WarioWare: Get It Together! If you have people to play with, we noted that this is a great group game choice. Choose your character and make your way through more than 200 microgames, working as a team to win each one. The more you beat, the more you earn; use your earnings to customize your character. These quirky games are a great way to spend family game night together.