Best text editing apps for iPad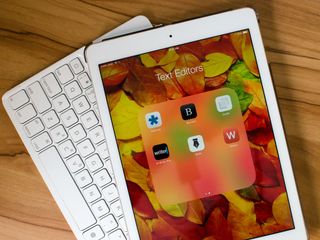 Looking for the best iPad apps for text editing? iPads are quickly replacing laptops as the tool of choice for highly mobile businesspeople, reporters, students, and casual users alike. Not only is an iPad much easier to carry around than a laptop, there are lots of apps specifically tailored for writers of all kinds. If you're interested in the best text editing apps for turning those thoughts into letters, essays, reports, articles, novels, and more, these are the App Store apps you want!
Editorial
Why you can trust iMore Our expert reviewers spend hours testing and comparing products and services so you can choose the best for you. Find out more about how we test.
Editorial for iPad has a customized keyboard which makes it easy to pick out the characters you most frequently use. It supports Markdown and comes with a great resource center in case you're just learning. There's a built-in browser so you can preview your progress as you work. On top of these features, you also get snippet support, configurable actions, and so much more. We're talking full Python interpreted scripting. Yeah. Editorial also supports Dropbox sync to save and backup all your files.
If you write a ton of content in Markdown, love to script workflows in Python, and otherwise crave advanced features, get Editorial.
Byword
Byword supports not only iPad but iPhone and Mac as well. Complete with Markdown previews, publishing options to several different blogging platforms including Wordpress, Tumblr, Blogger, Evernote, and more, Byword also supports both Dropbox and iCloud syncing so you can use whichever you prefer. It's simple, to the point, and keeps your writing as its main focus. The developer has also stated that document picker integration is coming soon.
If you're looking for a complete text editing suite that's simple to use and has lots of publishing options, you want Byword.
See also:
Drafts
Drafts is one of the most full featured writing and Markdown apps available for iOS with support for things like Text Expander Touch, URL actions, message actions, themes, fonts, and tons more. Have a great action you think a fellow Drafts user would enjoy? You can do that too with action export and import, which supports JSON, CSV, HTML or Markdown format. If you can think of an action, Drafts can most likely make it happen.
If you live and breathe inside actions while writing and do most if not all of your work on iOS, look no further than Drafts.
See also:
Writer Pro
Writer Pro breaks writing into three different stages; note, write, and read. Easily swap between different modes to toggle views that are made specifically for that phase of writing. Aside from full Markdown support, Writer Pro boasts an extremely unique feature called Syntax Control that lets you highlight a specific type of word, like adjectives, so you catch frequent uses and repeats while editing. Just like its predecessor, iA Writer, Writer Pro also offers Focus Mode which dims all content but the current sentence you're working on.
If you want a text editor that can guide you through the entire writing process from start to finish, check out Writer Pro.
See also:
Write
Write supports Markdown, with specialized keyboards on both iPhone and iPad versions, iCloud sync, and more. One of the best features of Write is its support for third party apps and social sharing. Clear, Evernote, Tweetbot, Google Drive, and Reminders are just some of the apps that integrate directly into Write. For those that use TextExpander, you can also import your snippets easily.
If you frequently share your writing on social networks or want a beautiful Mac client to compliment your iOS solution, get Write.
See also:
1Writer
1Writer is a complete text editing and Markdown suite that offers an extended keyboard layout and a great interface. Like some of the other candidates here, there's also support for importing your TextExpander Touch snippets so you can use them inside 1Writer as well. You've also got lots of social sharing options, a few themes to choose from, and sync support with Dropbox.
1Writer provides a beautiful writing experience and if you don't need Mac support, you may appreciate its simplicity and ease of use over others.
Your vote for best iPad text editing and Markdown apps?
A lot of the text editing and Markdown apps listed above are the ones that us here at iMore and across Mobile Nations use on our iPad regularly. Now we want to know what you guys are using and why. Be sure to let me know in the comments!
Note: Originally posted August 2013. Last updated October 2014.
Get the best of iMore in in your inbox, every day!
iMore senior editor from 2011 to 2015.
iA Writer is what I use, but not very often.

FioWriter (actually works best on iPod / iPhone). Sent from the iMore App

I'm still using Elements on iOS and BBEdit on OS X. Great combo if you use Dropbox.

So I've tried a few journal apps, but really just want one long one like I used to do with my double pw protected Word doc for years. Is this a good combo for keeping a journal I can store in Dropbox and edit from Mac and iOS?

Sad to hear the Elements was discontinued.

Agreed. I switched to Notesy which is pretty good. I see the new developer of PlainText wrote a comment - I'll have to reinstall and see the recent updates! chris

Looks ok but Notesy is probably better.

nvNotes is worth a try as well. I use it with nvAlt on my Macs synced with Dropbox. Its only drawback is no native iPad support yet, otherwise it's very good.

Looks nice. I see they have implemented the "Syntax" feature found in Writer Pro. Might be a reasonable alternative to Writer Pro if someone is looking for the syntax feature but not willing to pay the 19.99 for Writer Pro.

Still waiting on Scrivener for iOS. I will not write on iPad before its time.

i agree but holy crap!!! how long are we gonna have to wait?? i thought it was supposed to be out in 2012, now it's gonna be at least mid 2014!!

Me too. Its taking forever but Scrivener is the only way to go.

Has anyone heard anymore about the possibility of a Scrivener app for iPad? That is definitely the way to go.

Pages, but more for the footnote & endnote support as much as anything. Anyone know of a list of apps that support this?

Unfortunately Apple has lobotomised the latest Pages 5, removing over 90 features and adding heaps of bugs. EndNote support being one of the features screwed up.

Indeed. Pages (even the new pages with less features), beats everything here handily and yet isn't some super complicated monstrosity like Word. I used to use Scrivner on the Mac, but it's really a fussy product apparently designed according to one person's taste only, and as noted by others here is taking literally forever to come out on iOS. I have since switched to Mellel on the Mac, which is superior IMO, but Pages is pretty much it on iOS and the others are so far away from it that I doubt they will ever catch up. What's really being reviewed by this article is less actual "writing" apps and more quick, simple note taking apps for writers who write for the web only.

I think Wisdom writer can be compared with above apps, also it was free for sometimes. It has all rich text formatting with table and picture tools.

I loved Essay until it got bought by Evernote. I don't love the Essay features as they've been integrated into Evernote. I used Elements until UX Write appeared, which is now my #1 choice. I occasionally use Pages too.

Evernote gets a lot of play and is promoted heavily in the tech media but I've never been impressed with it. It's ugly and it's design, (when it isn't constantly changing) is really amateur hour IMO. I have found in practice, that despite it's heavy promotion, there are as many people that just *despise* it, as there are that love it. I'd like to see that ugly green elephant kicked to the curb for starters. Their branding is hideous.

Pages is working well for me. I used DocsToGo but since I starting using a Logitech ultraslim keyboard folio case & the spell check doesn't work when using that keyboard so pages is now my main one & I really like it.

I was using evernote earlier as I do not write that much on ipad. In-fact I use my iPad to store a lot's of files so i was in need of searching something that can brilliantly manage my ipad files, then I came across files-finder edition for ipad and I was pretty astonished when I used the app and I found it's interface pretty similar to finder of Mac. Now, I can edit my files, sync my files over cloud networks, edit them, sort them. Besides of I got features like in built browser with download manager and file previewer etc.

This post needs to be edited, as Write no longer supports it's remote keyboard feature anymore in iOS 7.

"Not only is an iPad much easier to carry around than a laptop, there are lots of apps specifically tailored for writers of all kinds." Really? Can someone actually write on a tablet? I cannot see how an iPad could replace a laptop for someone who has to do real work. Maybe I am missing something here, but even typing a simple reply such as this is cumbersome on a touch screen. And since the iPad cannot truly multitask, for me, at least, fetching data and searching for information while creating content is very slow and difficult. But it could be just me.

Have you never heard of keyboard cases?

For the record ... no keyboard case, plain iPad mini, starting on my second novel next week. And yes, the entire novel (my first) was written on the iPad or the iPhone, as was 90% of a non-fiction title I'm working on (the pictures and diagrams are impossible to create on iOS). The second iOS devices became available, I switched to writing on them exclusively and haven't looked back. I thumb type at about 40 wpm which is more than enough considering the stop-start nature of inspiration and the fact that most of writing is actually editing. Pages has absolutely stellar editing tools and cursor control. I'm not alone in being an iOS based writer either. This is an increasingly common story.

In that case, a Surface Pro, Surface Pro 2, or even a Surface Pro 3 (if you have a Macbook Air that you want to get rid of) is a far better choice than an iPad. Sent from the iMore App

I am the developer of PlainText. I recently acquired it from its original developer and have updating it regularly. It is not as full featured as the apps here, but it does support iCloud and Dropbox and will soon support Markdown.

Staying with Byword for now, as it works on all devices. I would love to use Ulysses III on the Mac (it is the best Markdown editor for OS X by far), but the only mobile tool it works with is Daedalus Touch and, even if the article says otherwise, its Markdown support is abysmal (I do like the stacks concept, but that's about it).

Byword is my favorite. Simple, clean, gets the job done.

1Writer for me. Simple, beautiful and constantly improved by the developer. It's the most similar to Byword but I just prefer it's interface slightly. Also supports Dropbox and iCloud which is great. Sent from the iMore App

Funny that the page the iPad mini is sitting on in pic contains a grammar error. "Certain iPhone 5s parts leaks "my" be for budget iPhone" lol and this is for writing apps.

Byword stays on my iOS devices, BBEdit on my Macs. But I think I own most Markdown-supporting editors, rotating them out to keep up with their updates. Markdown shortcuts could be better in Byword and I have occasional, minor formatting issues with most of these editors, usually due to the different flavors of Markdown used, which I wish the app developers would list better in descriptions. Happy for all the .md editor choices for Apple devices. Not much exists for Android in this area, and what does is no where close to the quality of any of the editors mentioned above.

I should have mentioned I use Marked 2 on my Macs. If you're really into Markdown, you already know about it and nvAlt from Brett Terpstra. Marked 2 is fantastic.

None of these (with the exception of "Writer Pro") are actually note taking or writing apps. They are all "markdown" or html apps for "writers" who are actually bloggers or web designers instead. I know bloggers and web designers like to think of themselves as writers, but actual writers will have no use for any of these apps. Also, how long is the iPhone 6 review going to block all other content at the top of this site? How does it make any sense to have the same story popping up over a three day period when I go to this site? How many viewers are you going to be sending somewhere else, because they think you haven't updated the site in three days?

Drafts 4 is coming out on October 15th. It will be a new app and a new purchase. From @draftsapp: https://twitter.com/draftsapp/status/517481777007321090

Since I'm a PC user, I guess I'd say the Microsoft Word app for iPad. Haven't tried any of the others, except Pages.

Like mister_grey I wrote my first story (120K pages) entirely on an iPad. In truth if it wasn't for the iPad the story wouldn't have been written. I wish people would stop stating their opinions as fact. If you can't write on an iPad that's great it doesn't mean no one else can. I'm now in the editing phase and Pages was what I used after trying a few different apps. I've also used Evernote but stopped when they decided to cripple the free account to force users to switch to a paid one. Sent from the iMore App

I've tried a lot of them.... Editorial wins easily IMO.

Hi there! I am missing the Textkraft text editor for iPad and iPhone. The built-in dictionaries and cursor navigation tools are outstanding. You can download the free Textkraft Lite to try it.
Thank you for signing up to iMore. You will receive a verification email shortly.
There was a problem. Please refresh the page and try again.