Best Twitter apps for iPad: Twitterrific, Echofon Pro, HootSuite, and more!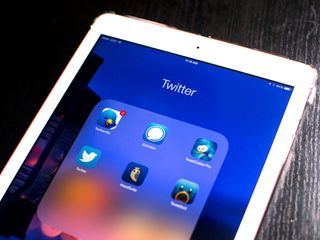 While Safari is a perfectly acceptable way to browse Twitter on your iPad, it's by no means the best experience. For that you'll need a proper Twitter app. Whether you're a casual tweeter who just wants to follow your favorite celebs, or a long-time pro who wants to micro-manage mute filters, lists, and more, there are several really good alternatives. But which one is the best for you?
Twitterrific
Why you can trust iMore Our expert reviewers spend hours testing and comparing products and services so you can choose the best for you. Find out more about how we test.
Twitterrific by the Icon Factory looks like the Twitter app that Apple themselves would have designed for iOS 7. It's simple, elegant, and has a unique Today feature that gives you a summary of new followers you've acquired and interactions you've received. Twitterrific also supports native push notifications, lists, trends, and a slew of other features as well.
If you want the best looking Twitter client available for iPad, Twitterrific is it.
Tweetbot
Even though Tweetbot for iPad hasn't received an iOS 7 update yet — yet, right guys?? — it's still a great app. Tweetbot has all the features you could ask for — push notifications, list management, media timeline, mute filters, and much more. Yes, it's heavy textures do seem a little outdated now, but there's still no matching Tweebot's power.
If you want more power features and options than you can shake a tweet at, there's none better than Tweetbot.
Echofon Pro
Echofon is one of the simplest Twitter clients available but it has a killer feature that makes it a perpetual favorite — unread syncing. You can choose to keep your tweets completely in sync across all your devices, including your iPhone and Mac. Echofon is the only Twitter app that does this flawlessly. There's also push notifications, list support, and more.
If you want to sync your unread tweets between iOS and OS X, there's nothing better than Echofon Pro.
Twitter
The official Twitter app for iPhone is not only designed well, it's come a long way over the past several years. The Connect tab gives you loads of info at a glance including mentions, new followers, retweets, and more. The Discover section pulls in media and news from people you're following that you may have missed otherwise. There may not be a huge amount of advanced features but push notifications and the basics are there.
If you Twitter needs are casual, the official Twitter app gets the job done.
HootSuite
HootSuite is not only a Twitter client for iPad but a complete social networking suite that can combine it with your Facebook, Foursquare, LinkedIn, and more. You can view your feeds separately but toggling between them is just two taps away. You can also schedule tweets to go out at certain times as well as track stats on links you post, a great feature for businesses and blogs.
If you want an all-in-one social network suite complete with schedules and stats, you want HootSuite.
TweetCaster Pro
TweetCaster Pro is made to be used with multiple Twitter accounts. The stack lets you quickly toggle between them and the card layout lets you view multiple types of interactions at once. You can also go into a more personal layout that looks much like the other Twitter clients listed here. View an image timeline, check out your own tweets and who has interacted with them, and more.
If you want lightning fast account switching and prefer column style viewing, check out TweetCaster Pro.
Your picks?
When it comes to Twitter we think all of the apps above are winners in their own right, it just depends how you use Twitter. Did I miss your favorite or did we help you find a new one? Let me know!
See also:
Get the best of iMore in your inbox, every day!
iMore senior editor from 2011 to 2015.
I have both Twitterific and Tweetbot. Even though Twitterific is gorgeous and matches iOS 7 perfectly, nothing beats Tweetbot, especially for a power user. It's just laid out so perfectly.

Tweetlogix is the one I use until Tweetbot updates their iPad app.

Tweetbot, Tweetbot, Tweetbot... Tweetbot, Tweetbot, Tweetbot!
[manic dancing ensues]

I have given up waiting for Tapbots to update TB for the iPad on iOS 7. Since I like my twitter clients to be in sync (i.e timeline position, mute/muffle filters, and read status), I have dumped TB on the iPhone as well. I am all in on Twitterrific. I agree that Tweetbot is geared for the Twitter "power user", Twitterrific has come along nicely with addition of muffles, and wifi streaming. It also has some nice features that TB doesn't have like unified timeline (i.e that you can turn off) which is nice because scrolling past a reply or DM marks the reply/DM as read automatically in the appropriate tab, and the auto (based on location) theme change which I find works better than TB's automatic theme switching based on screen brightness. Now that I am using Twitterrific on both iPhone and iPad, the only thing missing is an updated version for the Mac with iCloud sync. Another plus in Twitterrific's corner: Universal app. <---Clutch!

I had been an avid Tweetbot user and love(d) the new iPhone app, but the long delay in updating the iPad app finally drove me into the arms (claws) of Twitterrific. Twitterrific really has grown on me, especially from an aesthetics standpoint. I wish account switching was easier, and syncing could be better, but it really is a great app. I likely will purchase the new Tweetbot for iPad whenever/if ever it comes out, but it's nice to know there are legit alternatives, especially from developers who actually respond to their customers and aren't 5 months behind in updating their apps.

I use twitterific and tweetbot. I can't wait for tweetbot update for the iPad. Sent from the iMore App

I have both twitterific and tweet bot, and for me twitterific is my go to client. Love how it performs and just can't be beat.

Echofon Pro after many updates still has a major issue with notifications, they sometimes work but more often don't. Echofon sent me a E-Mail stating within a month the notification issue should be fixed. I stopped using my $5.00 app because I want my Twitter App to have working notifications.
Vinny Posted via the Android iMore App!

There's no way I'm going to pay 3 or 4 dollars when I can use a free app, but I did buy TweetBot for the iPhone awhile back when it was on sale, and then you had to pay more money to get the iOS 7 theme update (TweetBot 3.0) which is ridiculous.

Developers have to eat too. I bet you want to get paid to work today even if you're doing the same thing as yesterday, no!? Sent from the iMore App

I too got tired of waiting for an iOS 7 version of Tweetbot for iPad and ended up switching to Twitterific first on iPad and then also iPhone (I like continuity). It looks gorgeous and following various updates now has all the features I need, including translating tweets, while Tweetbot lost some, e.g. customisable triple tap. I'm not sure I'd bother with Tweetbot for iPad now as it would most probably be a paid upgrade and the company has a track record for abandoning apps, e.g. Pastebot, Weightbot etc. The only feature I miss is the way Tweetbot displays Instagram photos. Twitterific uses a web view with a "download the app" banner and even if I have Instagram open and running I can't seem to make pics open in the (installed) app - I'm always taken to the app store instead.

I never have problems with the unread syncing between TweetBot on iPhone and iPad...?

Everybody waiting for Tweetbot update on iPad, but srsly now? They will ask for more money like on iphone update? lol

And the problem with that is? While I posted above that I thought Iconfactory's decision to make Twitterrific universal was "clutch", I have no issue whatsoever buying applications that provide me value, especially if the price is reasonable. And like many developers before TB, redesigning an application for something as radically different in terms of UI presentation is no trivial task. They should ask people who value the app for more money. That being said, I don't recall, but didn't Iconfactory charge for the Twitterrific 5 update?

Yes they did. Sent from the iMore App

and completely agree. I'll never understand the entitlement people have when thinking $4 enslaves a developer to them for life. Sent from the iMore App

God forbid a developer wants to get paid for working. What is this world coming to? Do you want a paycheck for working every day? Even if you do the same thing as yesterday? Sent from the iMore App

I agree that paying for updates isn't that big of a deal. I gladly will pay a developer a few dollars if I know the new app is worth the price. With the exception of Clear+ (a separate issue), I don't regret a single app I bought. The problem with Tapbots, however, is that the developers have ZERO communication skills when it comes to letting customers know about future updates and releases. People (myself included) are CLAMORING for a status update (as in, "We are aiming to release it in a few weeks/soon/this quarter") of the new Tweetbot iPad app, but one look at the Tapbots and Tweetbot Twitter feeds reveals a single answer: "We're working on it." They've been saying that for months, yet we're about 9 months removed from the unveiling of iOS 7 and a few months away from iOS 8. Quality apps take time to build, but for crying out loud, Tapbots should throw us a bone here. Don't allow people to buy the old version and then suddenly drop the new one on us and then say, "Too bad, so sad." I'll pay $5 for a an awesome update, but not a day after buying the previous version with no warning an update was coming. That's how some of these developers lose business - poor customer service and lack of communication.

Allyson, do you know why the iMore site doesn't format correctly using Tweetbot anymore? It's been months since it's worked for any of the mobile nations sites. It doesn't give you the readability style format like it used too. The whole page loads instead if just the article. Other sites don't do this. Just wondering. Thanks.

I'm not sure. I always use full site view but I'll pass your comment on to our tech people. Thanks! Sent from the iMore App

No other App did charged you for an iOS 7 update.

I'll admit, I would prefer an app that is Universal since I use Twitter across three main devices (iPhone, iPad, and Macbook)... and any option that saves me from purchasing a client three times definitely gets extra consideration. BUT, I'm also willing to pay for something that works well. I've been a longtime Echofon Pro devotee, and have always championed it over everything else due to it's clean interface. Plus, since I use it across three devices I do love it's unread sync feature. Unfortunately, the above description needs to remove it's mention of push notifications. Sure, that is a feature listed by the developers, but for anyone that uses the app full-time... well, just know that push notifications haven't worked on Echofon for quite some time. It's maddening. I now use BOTH the official Twitter app (to be able to catch notifications) and Echofon Pro simultaneously (because the official app's interface for Lists requires the user to dig down way too many levels, and has a very clunky interface in general). I have to ask: of the above apps that mention push notifications... which ones ACTUALLY work? Echofon Pro's DO NOT and HAVE NOT for months. If the developers would get them working again reliably (like a previous commenter mentioned he heard is "in the works"), then I would wholeheartedly stick with the app. It has long been my favorite. But I have had DAYS of @-replies and DM's go by with no notification from my Echofon Pro app.

TweetEarth is another Twitter Client that is very original to say the least, www.tweetearth.com

Hey Allyson, Thanks for this informative article. It's really useful. I use Sociota https://www.sociota.net/ a latest tool to manage and monitor all my Twitter accounts. All twitter lovers would definitely love this. Looking forward to new articles.
Priyanka