Best voice memo apps for iPad: CaptureAudio, Recordium, and more!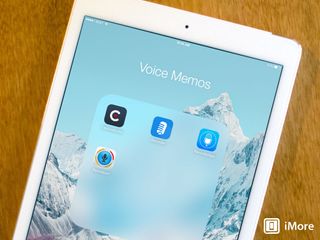 Whether you're a student attending lectures or a professional with a need to record meetings or conference calls, voice memo and audio recording apps are a must have for lots of people. While the iPhone has one built right in, the iPad does not. Luckily, the App Store more than makes up for it with plenty of very good voice memo alternatives. From basic recording to advanced annotation, which one is the best, and more specifically, which one is the best for you? Here are out favorites!
CaptureAudio
Why you can trust iMore Our expert reviewers spend hours testing and comparing products and services so you can choose the best for you. Find out more about how we test.
CaptureAudio lets you record audio notes while taking typed notes at the same time. This makes it an ideal option for students who want to record lecture notes. Any audio notes you take can then be synced up to Dropbox and accessed on your iPhone or other iOS device. The most unique feature of CaptureAudio is its flagging system that allows you to easily drop a flag into a recording for easy access later. It's great for conference calls, lectures, or any other kind of audio recording where you need to remember to follow up on certain items. CaptureAudio is a universal download for both iPhone and iPad.
If most of your audio recordings require follow up on your part, CaptureAudio's unique flagging system makes it well worth a look.
Recorder for Dropbox
Recorder for Dropbox is about as barebones as a voice memo app can get. Just link up your Dropbox, hit the record button, and you're done. That's really all there is to it. There are no time limits on recordings so as long as you've got space in Dropbox, you can record all you'd like. Recorder for Dropbox also uses direct MPEG-4 compression which means your files are super small without sacrificing quality. A compelling feature of Recorder for Dropbox that makes it ideal for teams and workgroups is that it supports multiple Dropbox accounts. If you've got a work account and a personal account, you can link up both and just toggle between them. Recorder for Dropbox is a universal app for both iPhone and iPad.
If you want a simple, clean interface that lets you record without frills and extras, get Recorder for Dropbox.
Recorder App Pro
Recorder App Pro is one of the more advanced audio recording apps available and has extra features such as a private recordings section that's password protected, advanced trimming and clipping options, auto-pause for when long silences are recognized, and more. Somehow Recorder App Pro managed to squeeze in quite a few advanced features without sacrificing interface and design. It's not only one of the most advanced audio recording apps, it's also one of the best designed too. Recorder App Pro syncs with lots of cloud storage services such as Dropbox, Google Drive, SugarSync, and lots more. It's also a universal download for iPhone and iPad.
If you want an all-in-one audio recording solution that doesn't compromise on much of anything, get Recorder App Pro.
Recordium
Recordium lets you record audio notes in just a tap but where it really excels is annotation. Not only can you mark certain parts of audio recordings, you can add attachment including text notes, images, and more. Recordium also comes with advanced trimming features that let you remove parts of audio recordings that you don't need. The file management system inside Recordium is also one of the better ones we've seen since it's got support not only for filing things in folders, but tagging them as well.
If you're more worried about editing tools than anything else where audio recordings are concerned, get Recordium.
Your picks?
These are our favorite voice memo apps for iPad given how we need to work with them, but we know you guys always have great suggestions too. Let us know what you're using to record audio on your iPad, if anything. Why did you pick it over all the other options?
Get the best of iMore in in your inbox, every day!
iMore senior editor from 2011 to 2015.
CaptureAudio sounds like an awesome app simply because of the ability to record audio & take notes. That's the one for me.

I just use voice memos with iOS 7. I like the app that integrates with Dropbox. Great comparisons of these apps. I love these type of articles. Really helps me to select the best apps. Thanks! Sent from the iMore App

DropVox is another that works very well. Sent from the iMore App

Do any of these let you start recording at a scheduled time? I'm trying to figure out what keeps waking me up around 6:30am every morning :P

Notability has to be on this list!!!! It tracks your notes to the audio recording. Absolutely the best note taking/recording app. Can't believe you didn't mention it. CaptureAudio is neat but it doesn't have the syncing ability between text note and audio recording.

I have Meeting-Recorder though I rarely use it. It's just there in case something comes up and I need an audio recorder. If I were to replace mine with another the CaptureAudio app does seem nice. Sent from the iMore App

I think two other worthy apps haven't been mentioned: i) Audiolio, and ii) HT Recorder.
If you need to add annotation to your recording (lecture, for example) where you want to mention when a particular topic was discussed, then Audiolio is a good tool to get it done. But frankly, probably not as exquisite as Recordium has it implemented.
And HT Recorder is probably the best in capturing Audio when you're in an environment where ambient noise is interfering with the recording and is adding extra noise. It has some excellent sound capturing algorithms. The interface needs some improvements, but still is not user unfriendly or cumbersome.

Are there ANY voice memo apps that allow recording while reading email or looking at any other app? I'm dying to find something that doesn't force me to stare at the recording interface while it records. Thanks!

I have another choice. Fast and Simple. Improve everyday. http://ares-huy-le.github.io/eco-recorder/ Eco Recorder, it's a new app, just hold and begin record. Automatically delete old recorder to save your memory. It's awesome!!!

We released FusionVOX a couple of months ago which is a half productivity / half voice recorder app. Read more at the App Store entry: https://itunes.apple.com/au/app/fusionvox-record-memos-composition/id796...

Check out my Voice Memos application for iPad — You Record
It's full featured with a simple and intuitive user interface.
http://itunes.apple.com/us/app/you-record/id461793562?at=10l3Vy
Thank you for signing up to iMore. You will receive a verification email shortly.
There was a problem. Please refresh the page and try again.