Best weather apps for iPad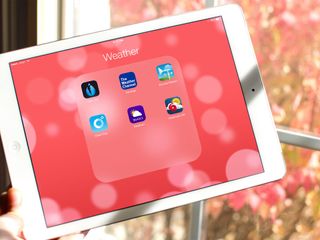 If you're looking for the best iPad apps to tell you all about the weather, including temperature and forecast, you're not alone. The iPad, unlike the iPhone, doesn't include a built-in Weather app. That means, if you're at all curious about sunrise or sunset, chance for precipitation, or anything else climate related, you have to turn to the App Store. Luckily, weather is one of the most popular app categories on the store, and developers and designers have had a field day making weather apps to suit a wide range of needs. So, which one is perfect for your needs?
Dark Sky
Why you can trust iMore Our expert reviewers spend hours testing and comparing products and services so you can choose the best for you. Find out more about how we test.
Dark Sky is one of my favorite weather apps because it can alert you to any kind of precipitation pretty much within minutes. It can then alert you before it happens so you can prepare. If you're running iOS 8 on your iPad, you can even add the Dark Sky widget to Notification Center to see whether or not you can expect rain or snow soon in just a swipe. Dark Sky also provides a 7 day forecast, sunrise and sunset information, and a beautiful live radar map of the entire globe, which is quite possibly the best one you're going to find.
If you live in an area where snow or rain is a constant variable, you need Dark Sky in your life.
The Weather Channel
The Weather Channel app for iPad provides a little over a week's worth of forecasts as well as hourly breakdowns within a glance. The app is beautifully designed and allows you to add as many locations as you'd like. You can also enable push notifications for severe weather and pollen alerts for locations you specify. Other features include sunrise and sunset info, live interactive radar maps all over the world, weather related news, video content, and more. My only complaint is that I wish TWC would offer a way to pay to remove ads inside the app.
For those with allergies, or that only need alerts for severe weather and don't mind ads, The Weather Channel app is more than sufficient.
Wunderstation
Wunderstation by Weather Underground puts over 45,000 weather stations at the tips of your fingers. Once you launch Wunderstation, you can choose what stations you'd like to monitor across the globe. You then get a bulletin board layout that can present info such as 10 day forecasts, hourly forecasts, historical data, precipitation info, and more all at a single glance. You can also customize these tiles to your liking by removing or adding ones you need or don't need.
For a ridiculous amount of information at a single glance packaged in a unique app that's a joy to use, look no further than Wunderstation.
Clear Day
Clear Day, formally Weather HD, is one of the most gorgeous weather apps you'll find. The main screen shows conditions along with a beautiful animated background that alternates as long as its on the screen. Along the bottom you can toggle between current weather, maps, and Clear Day's quickview feature. Quickview shows you a brief overview of current conditions of every place you've added to Clear Day. Swipe back and forth to switch locations. Swipe up and down to view more or less information on the main screen. If there are ever weather alerts in your area, they'll appear along the top of the screen in a red banner.
If you want a breathtaking experience and don't need super advanced weather information, get Clear Day.
Yahoo Weather
Yahoo Weather strikes a nice balance between quick information at a glance and detailed information when you need it. When you view a summary of a location, you're given current temperature, high and low temps for the day, and a breakdown of today with an overview of tomorrow. Swipe up and you get much more than that with data such as extended forecasts, precipitation info, wind speed, radar maps, and more. Yahoo Weather also integrates with Flickr for background images so the graphics you see in most areas are always fresh and unique.
For a good balance between detailed weather info and at a glance info, Yahoo Weather offers that along with an interface that's always fresh and different thanks to Flickr integration.
Intellicast HD
Intellicast HD is one of the most feature packed weather apps you're going to come across, period. With great maps that show current and future conditions paired with lots of forecast information, you won't miss a beat when it comes to the weather. From visibility to humidity to news and more, Intellicast HD is the app for hardcore weather checkers. Sadly, it does so at the sake of interface as so many weather apps do. There's also not a premium version anymore which means like it or not, you're stuck with ads just like you are with The Weather Channel.
If information density is more important to you than polish and design, Intellicast HD fits the bill just fine.
Your pick for best weather app for iPad?
These are what we currently consider to be the best weather apps for iPad, but now it's your turn — what's your favorite weather app for iPad?
Note: Published November 2013. Updated November 2014.
iMore senior editor from 2011 to 2015.
I use a The Weather Channel (TWC) app. Been using it for years.

Yes TWC app is the Best! Sent from the iMore App

Agreed. Most of these 'visually appealing' weather apps don't have weather radar, making them pretty but useless. Function over form when it comes to weather. TWC for me.

Check The Weather. Universal. Dark Sky and Forcast.Io as well.

WeatherPro is currently celebration its 5th birthday. It, and companion app MeteoEarth, are on sale.

Developers should provide greater distinction between their paid

WeatherBug is an excellent app that I use...

A big plus 1 here for WeatherBug as well. Sent from the iMore App

WeatherBug all the way. I'm a big weather junkie and WB is my go-to app on both my iPhone and iPad.

Yes I have to say that WeatherBug is the best I've tried. It has many features that you would expect of a weather app and it actually looks nice! Favorite thing about it is that it uses local sources for weather!

I have three or four weather apps but Intellicast is the one I keep going back to. I upgraded to "no ads" and more extensive storm alerts six months ago and just renewed for six months @ $1.99 so maybe I'm grandfathered?

Accuweather has been my go to for years.....TWC is a solid 1 also. Surprised (not really tho, going by recent "best apps" articles) they weren't listed......

I like Check The Weather by David Smith. It's a universal app that looks and works great on the iPad.

Weather.com seems nice Sent from the iMore App

Forecast.io powered apps look nice, but unfortunately accuracy is iffy in many parts of the world outside the US. I haven't found an accurate weather app yet.

I have always really liked My-Cast on the iPhone. I've never found another app that beats the simple yet powerful design. Unfortunately they never came out with an iPad app and, worse, it hasn't been updated in 2 years so I guess it's a dead product. :(

Weather Underground is awesome for local rainfall amounts and current up-to-date localized temps!!! Sent from the iMore App

Yes, Weather Underground app is my favorite. Lots of information. I used to use just the website but the App is great on iPhone 5.

Yes, the Wundermap app is great for live radar and showing weather watch/warning boxes during storms. Love it.

I use The Weather Channel app, I just prefer it over my local news apps. Sent from the iMore App

Perfect Weather is awesome! It includes weather data, live radar, alerts, and more. It looks beautiful too. I don't mind paying for an app as good as this one.

The Yahoo Weather app is my favorite. I like that it pulls pictures from Flickr based on the actual weather outside. Sent from the iMore App

Google does great for me. That and the weather channel. I still wish Apple did widgets.

I like Clear Day's interface and I like the wealth of data I get with Intellicast. I wish software manufacturers could stay away from politics in their apps. Clear Day's development indicates a political slant (East Jerusalem, Palestine weather). I find this ridiculous and needless attention to highly debatable issues to create an app somewhat distracting. What's the point, Clear Day; the weather or your politics? Dumping Clear Day.

MyRadar Pro is the best one I've seen. Super super super fluid radar and excellent forecasts.

I really love Weather Line. Has Forecast.io integration. Lacks a radar but I use RadarScope for that. Developer says an update is coming for iPhone 6/6+ and new features as well.

Beweather 2 was just released today. It leaves all other weather apps in the dust! I've been testing the beta for a few weeks and it is superb!

Thanks for the heads up on this. Really loving this app. May be my new goto Weather app.

The Weather Channel App is what I use on both my iPad mini 2, and my iPhone 6. Its nice looking and has the right balance of information. I agree, it would be great to pay a little and get rid of the Ad's.

ᴛɪʟ I ʟᴏᴏᴋᴇᴅ ᴀᴛ ᴛʜᴇ ᴘᴀʏᴄʜᴇᴄᴋ ᴛʜᴀᴛ sᴀɪᴅ $9308 , I ᴀᴄᴄᴇᴘᴛ ᴛʜᴀᴛ ᴍʏ ʙʀᴏᴛʜᴇʀ ᴡᴀs ᴀᴄᴛᴜᴀʟʟʏ ʀᴇᴄᴇɪᴠɪɴɢ ᴍᴏɴᴇʏ ᴘᴀʀᴛ-ᴛɪᴍᴇ ғʀᴏᴍ ᴛʜᴇɪʀ ʟᴀᴘᴛᴏᴘ. . ᴛʜᴇʀᴇ ᴜɴᴄʟᴇ ʜᴀᴅ ʙᴇᴀɴ ᴅᴏɪɴɢ ᴛʜɪs 4 ᴏɴʟʏ ᴀʙᴏᴜᴛ 8 ᴍᴏɴᴛʜs ᴀɴᴅ ʀᴇsᴀɴᴛʟʏ ᴄʟᴇᴀʀᴅ ᴛʜᴇ ʟᴏᴀɴs ᴏɴ ᴛʜᴇʀᴇ ᴄᴏɴᴅᴏ ᴀɴᴅ ʙᴏᴜɢʜᴛ ᴀ ʙʀᴀɴᴅ ɴᴇᴡ Mᴀsᴇʀᴀᴛɪ . ʀᴇᴀᴅ ᴛʜɪs................................W­­­W­­­W.J­­­O­­­B­­­S-S­­­P­­­O­­­T.C­­­O­­­M

Intellicast has an in store option for either tracking storms or boating info, if you purchase one of the two it removes the ads. Sent from the iMore App

Dark Sky. Nuff said. Sent from the iMore App

The Yahoo widget pretty much stopped functioning altogether. Both my iPhone 6 are either saying unable to load, or flickering, and apparently many people had this happening for a while - it worked for me until about a week ago... Sent from the iMore App

So just updated to 8.1.1. Guess what - the Yahoo widget is working again :) Sent from the iMore App

It's hard to believe BeWeather 2 was left out of this list. It's by far the best I have ever used. And I've used most that are in the App Store. If you haven't tried BeWeather 2, I suggest doing so. It's well worth the $2.99.
BeWeather 2 by Bellshare Inc
https://appsto.re/us/K1sG3.i

I can also use weather app in my I phone. Weather report is a best app for use.

I am torn between eWeather and Darksky. Both are good ones
Thank you for signing up to iMore. You will receive a verification email shortly.
There was a problem. Please refresh the page and try again.