Best wireless security cameras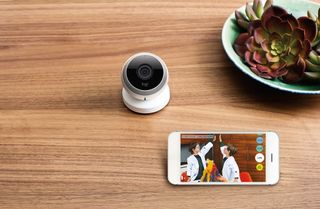 Updated April 2017: We looked at new products and new reviews, and these remain the best options for wireless security cameras.
Having a home security camera is a great way to keep an eye on your house while you're out. Sometimes, you'd like to place your camera in such a way that power cables might be cumbersome or might not reach. Battery-powered security cameras are an excellent solution but are few and far between right now, since they usually have to compromise on key features. We've rounded up our favorites to help keep your security untethered to power outlets (for a while at least).
Netgear Arlo Smart Home
Why you can trust iMore Our expert reviewers spend hours testing and comparing products and services so you can choose the best for you. Find out more about how we test.
If you want a versatile battery-powered security camera, then seriously consider the Netgear Arlo. In fact, it's the best around right now. It can go anywhere — even outdoors — thanks to its magnetic mounts, which allow you to easily place it on the wall, the ceiling, or in a tree outside your house.
The Arlo features an excellent wireless range, which can extend hundreds of feet from your router, all while live streaming 720p video. Unlike Nest Cam, which requires a paid cloud storage subscription, the Arlo records and stores seven days' worth of video for you to review, for free, with paid upgrade options.
Raccoons rummaging through your trash? Boom, night vision. Shady individual approaching your home? Motion detector sends you Smart Alerts in the form of push notifications and email.
You can even connect your Arlo to IFTTT, so you can connect it with other smart devices and create recipes, like "if motion is detected in the garage, turn on the bedroom light," if you have smart lights.
Battery-wise, the Arlo takes four CR123 3-volt batteries, which can last up to six months, depending on usage and your Arlo's proximity to the included Netgear Arlo Hub.
If you're looking for a wireless security camera, period, then go with the Netgear Arlo Smart Home.
See at Amazon (opens in new tab)
Logi Circle
The Logi Circle is a solid Logitech product. Though its wireless battery life is abysmal when compared to our other two favorites (about 12 hours when off its charging cradle), it features two-way talk, allowing you to have Skype-like conversations via the app.
The Circle features live 1080p video and Smart Filtering, which pinpoints important motion that you can jump around to any moment in your video stream. Cloud storage is free, housing up to 24 hours of recorded video at a time for your to review.
A fantastically handy feature of the Logi app is the Smart Timelapse, which creates a 30-second video of the last 24 hours, so you can view everything that happened in a day far more quickly.
The Logi Circle also features night vision and a handy download and share option, which allows you to save any part of your 24-hour stored feed and share it via email, social media, and more.
The Circle's price is right around the Arlo's (about $200), and the two-way talk just about makes up for the lack of battery life. If you want a very family-oriented camera that operates as both a wired and battery-powered option, then check out the Logi Circle and freak out your kids when you start yelling at them through the app.
See at Amazon (opens in new tab)
Homeboy
If you're not too worried about HD video quality or streaming capabilities, then the Homeboy might be a good solution for you. Its rechargeable battery can last up to three months, depending on usage, and it stores 12 hours of video at a time for you to review.
Like the Arlo, it features motion detection notifications in the form of push notifications, though you can also trigger it to send out a Tweet or a Facebook message. You can automatically arm it using its intelligent geo-fence, which is based on your phone's location. You can also create recipes for your Homeboy, using IFTTT.
One of the Homeboy's most useful features is the ability to invite other people to your network so that they also receive notifications when motion is detected. This is especially handy if you're going away for a while but not long enough to warrant a house sitter.
During 2016, Homeboy will be rolling out professional monitoring, sort of in the way that alarm companies do it now. However, without live streaming capabilities, professional monitoring is just as good as receiving notifications yourself.
If you want a home security camera that allows for a virtual neighborhood watch of sorts, then the Homeboy is a solid option.
What's your favorite wireless security camera?
Have you tried any of the wireless security cameras listed above? If so, what's your experience been like? Did we miss your favorite wireless security camera? Tell us all about it in the comments below!
Did we miss an excellent battery-powered security camera? Sound off in the comments below.
Get the best of iMore in your inbox, every day!
Mick is a staff writer who's as frugal as they come, so he always does extensive research (much to the exhaustion of his wife) before making a purchase. If it's not worth the price, Mick ain't buying.
I use Blink. $100 for the 1-camera system (you can add more), no subscription fees at all, and video clips from the camera get automatically sent to my iPhone. https://www.amazon.com/Blink-Security-Wireless-Detection-Android/dp/B017...

I'm still researching on which one to buy. Definitely looking for one with night vision functionality. I was kinda expecting it to show something like this picture http://www.atfservices.com.au/www/1092/files/nightvision1.jpg which shows clearly what's happening there. I will check more these cameras you mentioned and compare the results :) Thanks!

I have the Arlo Pro cameras and they have been great. The batteries are rechargeable and have lasted over 2 weeks on a charge. Things that have impacted this are really windy days as well as constant viewing of live video. I think that the Arlo Pro camera are better than the older Arlo cameras recommended above. Also, buy the other mount and don't bother with the magnetic one that comes with the camera.