Self-install alarm kits have really become a new norm, and Ring makes one of the most affordable options out there. The company has a few different offerings, ranging from a kit that includes 5 pieces all the way up to 14 pieces, and right now you can save on all of them. Today's sale brings the price of the entry-level 5-piece kit down to just $139, which includes a free Echo Dot as well. You can opt to go with the 8-piece kit for $169 or the 14-piece version for $229.
Secure the house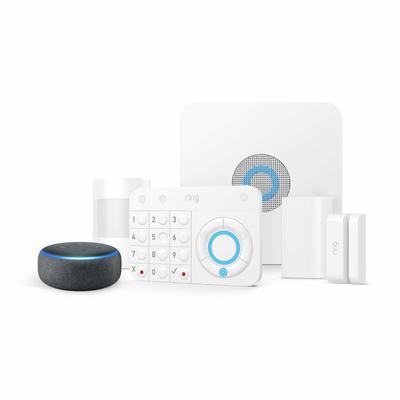 Whether you need the basic 5-piece kit or want to go all-out with the 14-piece option, you can save big right now. Each of them comes with a free Echo Dot, which you can use to arm and disarm the alarm now.
From $139
Each kit comes with the Base Station that is used to keep your alarm online and connected at all times, a keypad for easily arming and disarming your system, a motion sensor, range extender, and a varying amount of contact sensors. If you have a big home or lots of windows and doors you want to keep an eye on, the larger kits are worth the investment. You can always add extra pieces to your system down the road if you want or need more at a later time.
One of the big features here is that Ring doesn't charge a crazy expensive monthly rate for this, and there is no long-term contract. That's right, you can get 24/7 professional monitoring for just $10 a month or $100 per year, and you can cancel at any time if you decide it's not working out for you.
We may earn a commission for purchases using our links. Learn more.