Can I use Instant Pot recipes in my Ninja Foodi?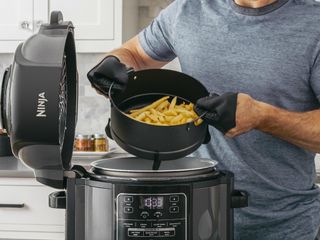 Can I use Instant Pot recipes in my Ninja Foodi?
Best answer: Yes. Instant Pot and Ninja Foodis are both pressure and slow cookers, so any pressure or slow cooker recipes will work in both. However, the Ninja Foodi does not have presets, so you may have to experiment with cooking times if you're following a recipe designed for Instant Pot cookery.Cooker and crisper: Ninja Foodi (opens in new tab) (From $200 at Ninja)Pressure measured: Instant Pot (opens in new tab) (From $100 at Amazon)
It's all about the timing
While you can use the ingredients list from Instant Pot recipes, cooking times are a different matter. Many Instant Pot recipes you can find online rely on the Instant Pot's built-in cooking presets which the Ninja Foodi does not have.
You will find Ninja Foodi cooking charts with suggested times in the "Inspiration Guide" booklet that came with your Ninja Foodi. It's best to refer to these when calculating cooking times for recipes you want to make in your Foodi.
If you've found a recipe you want to make in your Foodi but was initially designed for the Instant Pot, you can look up the Instant Pot presets.
For example, the Instant Pot's "Meat/Stew Function" is a 35-minute program of 230 degrees with pressure set to around 8.7 psi. Once you know this, you can replicate these settings with your Ninja Foodi.
Also, if you're following a chicken recipe designed for Instant Pot cookery, the Instant Pots has a "Poultry" preset which defaults to a high-pressure setting for 15 minutes. Sadly, there is no such button on your NinjaFoodi. Instead, for a whole fresh 5lbs chicken cooked in the Cook & Crisp basket, timing recommendations are high pressure for 22 minutes, then air crisp at 400 degrees for 10 to 18 minutes.
If you're struggling to find recipes to make in your Ninja Foodi, SharkNinja (the company behind the brand) has a really useful website (opens in new tab) that offers a plethora of free meal ideas for both pressure cooking and slow cooking options. From apple hand pies to zeppole, there are literally hundreds of options to inspire you.
Of course, if you don't want to go through all the guesswork, and you really want those presets, you could always go with the Instant Pot. The best choice depends on what you want out of your pressure and slow cooker.
Our pick
(opens in new tab)
Multi-talented multicooker

Any recipe suitable for a slow or pressure cooker is suitable for your Ninja Foodi. Just be sure to research the correct cooking times to ensure food is cooked thoroughly. This may take some trial and error, but keeping notes on what does work is a handy way to improve your multicooker repertoire.
Classic cookery
(opens in new tab)
Button up

The Instant Pot range of pressure and slow cookers are a totally capable and competent option, and thanks to the built-in preset cooking options, ideal for less confident cooks.
Amy-Mae has been writing about consumer technology since before the iPhone was even a twinkle in Steve Jobs' eye. She started out in magazine publishing with the UK lads' mag 'Boy's Toys' then moved online with startup Pocket-lint.com as the first full-time member of staff, helping grow the site to one of the UK's largest gadget sites. Amy-Mae then moved to Mashable when it only had a staff of around 10 people. After working her way up to a senior role there, Amy-Mae left in 2014 to have her daughter. Since then Amy-Mae has continued to contribute to Mashable and The Daily Dot, keeping up-to-date with the latest consumer technology and social media trends. For iMore.com, Amy-Mae gets to her explore her love of home cooking, concentrating on all things kitchen tech.
Get the best of iMore in in your inbox, every day!
Thank you for signing up to iMore. You will receive a verification email shortly.
There was a problem. Please refresh the page and try again.