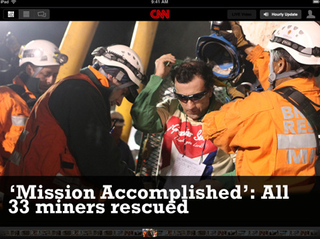 CNN has just launched an iPad app that allows users to browse stories, read breaking news, as well as share stories via Twitter or Facebook. The app has a couple different views built in so you can choose to either quickly view stories or view a complete, interactive slide show.
The CNN app also allows you to leave comments and engage with the rest of the CNN community. As live video is available, you'll also be able to stream that when breaking news occurs. If you find a story you'd like to save for later or show someone else, you can save stories for offline reading as well.
I personally use an RSS app to aggregate all my news feeds into one easy to read place. I really only ever jump into individual news apps when I want to view video or leave comments. It's nice that CNN is giving us that option though.
You can download the CNN for iPad app via iTunes now for free. Any of you really looking forward to trying this out?
iTunes Link (opens in new tab)
Get the best of iMore in your inbox, every day!
iMore senior editor from 2011 to 2015.
Not a big CNN dude.....but I'm a iPad guy so I'll be checking this out n see what it brings to the table

it and the iphone app are free. the iphone app was like $2

Why is this one free and the iPhone app is $1.99?

I have two problems with this app: The Live button is useless if you have to have the app open all the time just to catch a moment of live coverage. They should at least send you a notification when live coverage is happening. There does not seem to be any way to search for stories or subjects. The app is somewhat accessible with VoiceOver. There does not seem to be any way to enlarge fonts
In short, it is pretty good as a beginning. Once these quibbles are addressed, it will be the best news app on the iPad IMO.

I hope it's better than the iPhone app.

Long live the
Communist
News
Network

I'm looking for a slick news app. Using RSS for news feeds is like having to manage an email inbox that never sleeps and hates your guts.