Comic: The Trials and Tribulations of Apple Music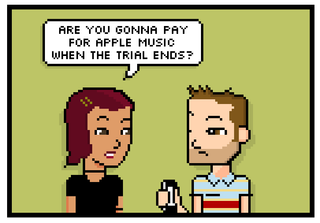 Happy Saturday, iMore! Because Rich is awesome, he's letting us run some of his Mac-themed comics from the Diesel Sweeties archive on weekends. Bonus comics, woo! We hope you enjoy.
Read more comics from the Pixel Project on iMore.com.
Get the best of iMore in your inbox, every day!
Pixel lover and cartoonist. Still have my original Apple IIgs. See more at clango.org or follow him on Twitter @rstevens.
If the guy in the comic wasn't sure if he wanted to keep Apple Music, he should have just turned off auto-renew and it would have just ended on the date the trail ends. Lame comic.

Yes, this one just didnt land like all the others :p Sent from the iMore App

He needs more time to crap? The F***

Haha I was thinking the same thing Sent from the iMore App

I have yet to even try it. As I already have Play music all access and Amazon Prime music I don't think I need another. Posted via a touchscreen, excuse the typoos. Sent from the iMore App

If only this comic strip series was funny, I would have laughed(atleast once)! Sent from the iMore App

apple music is crap but these jokes are even crappier.

I didn't sign up, I already pay for SiriusXM in my car, and for $5 I added streaming on my computer/smartphone/tablet so really for what I want and the channels I like it works for me. But who knows down the road things could change. I never saw a need to use satellite radio until I was on the road a lot and now I simply cannot tolerate terrestrial radio its crap.

The sound quality of Apple Music (and other streaming services) is superior to SiriusXM, IMO.
I suggest you try the free 3 months, you'll likely get a better variety of music as well. Sent from the iMore App

Apple Music is the best deal for me and five of my family members. Awesome playlists and some brilliant music discovery at a good price.

I got one extra month of Apple Music. I was still testing it out. And I'm pretty much sold on the fact that it's awful. I kept telling myself. Maybe it I'll get better. But it never did. It's a streaming service that barely streams. I tried a month of Spotify. Definitely going to continue with Spotify. It's a nice service. Easy to use stream download. Feels like it should. Apple Music is so buggy and unusable. they should have called it awful music.

I did the same, forgot to turn off auto-renew last month, and told myself that I would give it another month. Now auto-renew is turned off and it is back to Spotify for me as well. I really like the social aspect of Spotify for the few friends that I follow, and finding different playlist just seem easier for me as well the Apple Music.

Is this some kind of intelligent comic that will entertain once I "Get it"??