The coolest iOS 8 features you need to know about!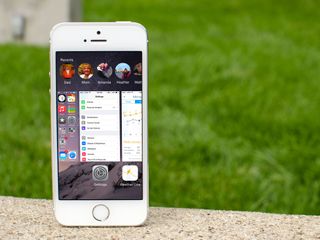 iOS 8 is finally available to the public and brings with it lots of new features, as well as some updates and enhancements to existing ones. From custom keyboards to new ways to silence and send messages, there's a lot of new stuff to explore and learn about. So once you've upgraded your iPhone or iPad, these are the coolest new features in iOS 8 that we think you should check out before anything else!
1. How to quick-reply to a message
iOS 8 finally brings one of the most wanted messaging features to your iPhone and iPad, no jailbreak required. Now when you receive a text message, simply slide your finger down from the top to reveal a quick-reply field. Just type in your message and send it on its way. You can then get back to doing what you were previously, without ever having to launch the Messages app.
2. How to leave a group message
Ever been stuck in an annoying group message that keeps blowing up your iPhone or iPad? Wish you could just get out of it completely? Well now you can, thanks to iMessage and iOS 8.
3. How to silence individual message threads
Sometimes message threads can get out of hand, group and individual. While we've had a general Do Not Disturb option available in iOS for a while now, you know have the ability to silence individual message threads. That means you can mute a single person or conversation and still receive notifications from everyone else.
4. How to send photos, videos, and selfies quicker than ever
Most of us share our photos through the Messages app. iOS 8 has made it easier than ever to snap a selfie, record a video, or share what's going on in front of us. Literally, with as little as a swish and a flick, your picture or video is on its way to the recipient, no fumbling around with the Photos app required.
5. How to enable and use Notification Center widgets
The Today View in Notification Center now allows you to add widgets so you can get even more information at a glance. Apple has also opened up this ability to third party apps, many of which will undoubtedly take advantage. From sports scores to the latest tweets, the possibilities are going to be endless. So make sure you frequently check to see what apps you've got installed have updated to add widget support.
6. How to share your location via iMessage
iOS 8 has much better location sharing options, particularly in the Messages app. Need to give someone directions to your current location? You don't even need to launch a Maps app anymore. Simply share your location in an iMessage and the person on the receiving end can tap on it and immediately be given directions to where you are and how to get there. You can even control how long they'll be able to see your location if you choose.
7. How to use QuickType and custom keyboards
Apple has greatly expanded upon how to communicate in iOS 8. Not only does the default keyboard come with a new feature called QuickType, you can also choose to install custom keyboards for a unique typing experience you can call your own.
8. How to quickly save contact and event info from an email
Our email houses a lot of information and with iOS 8, Mail can smartly detect flight itineraries, contact information, and more. Instead of having to manual enter all of it into the Contacts and Calendars apps, Mail can make smart suggestions using data detection. From there, you can schedule appointments and events, or even add contacts, in as little as three taps.
9. How to use draft cards in Mail for iOS 8
What happens when you are composing an email and suddenly realize that you need information from another email. Before iOS 8 you had to save as a draft, fumble back to your inbox, and then go back to your saved drafts. With iOS 8, you can kiss your drafts folder goodbye. Instead, just flick your email down and it'll save as a draft card at the bottom of the screen. You now have full access to your email and when you're ready to resume composing, just tap on it in the bottom of the screen to continue where you left off.
How to use draft cards in the iOS 8 mail app
10. How to access your contacts via multitasking
In iOS 8, access to your favorite and most recent contacts is always only two Home button presses away. Just double press your Home button to open up the multitasking tray and you instantly have access to your most recent and favorite contacts along the top. Tap on any of them to expand your options and choose a contact method. Easy as that.
Your favorite iOS 8 features?
We know most of you are just now getting your hands on iOS 8 for the first time. While we recommend checking out the above features, there are definitely lots more buried in iOS that are sure to make using your iPhone or iPad even easier than ever. If you've stumbled upon a great one, be sure to let me know in the comments!
See also:
Everything you need to know about iOS 8
All iOS how to's, tips, and tricks
Master your iPhone in minutes
iMore offers spot-on advice and guidance from our team of experts, with decades of Apple device experience to lean on. Learn more with iMore!
iMore senior editor from 2011 to 2015.