Daily Tip: How to connect your iPhone iPad or iPod to your TV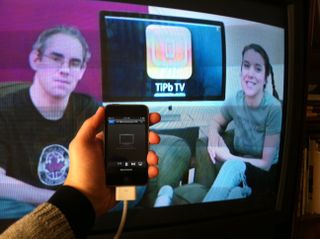 Would you like to know how to connect your iPhone to your television set? This tip will show you how to use a composite AV cable. If you have always wanted to look at your pictures on your big screen but did not know how stay with us after the break.
We are going to show you how to connect a composite AV cable from your iPhone to your television set.
1- Plug the yellow video connector into the video input port on your TV or receiver. 2- Plug the white and red audio connectors into the left and right analog audio input ports, respectively, on your TV or receiver.
3- Plug the iPod Dock Connector into your iPod, iPhone, iPad, or Universal Dock. 4- Plug the USB connector into your computer or a USB Power Adapter to keep your iPod, iPhone, or iPad charged.
5- Turn on iPod, iPhone, or iPad and your TV or receiver to start playing.
[Apple]
Tips of the day will range from beginner-level 101 to advanced-level ninjary. If you already know this tip, keep the link handy as a quick way to help a friend. If you have a tip of your own you'd like to suggest, add them to the comments or send them in to dailytips@tipb.com. (If it's especially awesome and previously unknown to us, we'll even give ya a reward...)
Master your iPhone in minutes
iMore offers spot-on advice and guidance from our team of experts, with decades of Apple device experience to lean on. Learn more with iMore!
Senior Editor at iMore and a practicing therapist specializing in stress and anxiety. She speaks everywhere from conferences to corporations, co-host of Vector and Isometric podcasts, follow her on Twitter @Georgia_Dow and check out her series at anxiety-videos.com.