Desktop version of Google Docs now available on iPad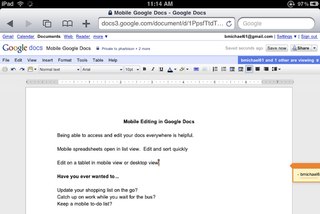 Google quietly announced that the desktop version of their Google Docs editor now works on the iPad. Google recommends you use the desktop version mainly for advanced editing such as the generation of new spreadsheets and alignment modifications. If all you need to do is make a few quick and easy edits they still guide you towards their iOS friendly mobile editing version.
Will this help make you more productive or is the mobile version more than enough to satisfy your document editing needs? Let us know if this is a welcome addition for you in our comments section.
[ 9To5 Mac ]
Direct hit @ iWork suite in my opinion.

@Mxo for sure especially since it's accessible easily from any device anywhere so long as you have internet connectivity.

Is this supposed to available/working in Canada ?
I does not currently work on my iPad. No edit button showing up on an existing document. Tapping on a text does not allow editing either. Only works on spreadsheets.

About time! I haven't tested it yet, but if it even works halfway it will be awesome. Agree with @Mxo, it's a direct shot at iWorks and the "Office" apps. They won't be missed by me.

Want on iPhone 4, Please.

Is this supposed to available/working in uk ?
Get the best of iMore in in your inbox, every day!
Thank you for signing up to iMore. You will receive a verification email shortly.
There was a problem. Please refresh the page and try again.