DJI Osmo Mobile 3 vs. DJI Osmo Mobile: Should you upgrade?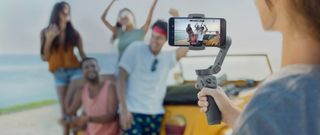 DJI Osmo Mobile 3 vs. DJI Osmo Mobile: Should you upgrade?
Best answer: DJI's original Mobile was a great tool at the time, but now that we've seen the third incarnation, we think it might be time for the early adopters that bought the first-gen Mobile to upgrade.Smooth operator: DJI Osmo Mobile 3 (opens in new tab) ($119 at Amazon)
Three is the magic number
Cell phone videography has advanced leaps and bounds, thanks to new technology. That means you can shoot professional-quality footage on your mobile device. Some specialist accessories help though, like a stabilizing phone holder to help you achieve super-smooth footage. The Osmo Mobile was a very capable device when it hit the market a few years ago, but DJI has now discontinued its original Mobile model having since launched the Mobile 2. Now, they've unveiled an even more updated version, the Osmo Mobile 3.
In conjunction with the DJI GO app, on the iPhone platform, the Osmo Mobile could create timelapse and hyperlapse videos, long exposure shots, slow-motion footage, panoramic imagery and using the ActiveTrack functionality, follow a certain subject for smooth shooting. The Osmo Mobile 3 can do all this and more. Design-wise, the Mobile 3 is lighter and foldable. Its improved gimbal design, with a newly designed phone holder that allows access to your phone's charging point, is quicker and easier to use as only the roll axis need to be leveled.
The Mobile 3's ergonomics are also an improvement over the Mobile. The 3 boasts a 15-degree handle with a rubber grip. With a conveniently placed trigger button, you can use it single-handedly with the promise of long term comfort.
Simple as 1, 2, 3
While the Mobile worked with the DJI GO app, the Mobile 3 plays nice with the much more advanced DJI Mimo app. This app gives you a "Sport" mode for capturing fast action. There's also the ability to use gesture control (such as a hand wave) to tell the Mobile 3 to start tracking you to take a photo or start recording. The app also offers a range of templates, filters, transition special effects, music options, and more.
The Osmo Mobile 3 has an "M" button which lets you switch from portrait to landscape quickly. It can activate a new standby mode which enables you to use your phone when it's docked in the holder, and it gives you quick access to the app's various smart shooting modes.
Swipe to scroll horizontally
| Header Cell - Column 0 | DJI Osmo Mobile | DJI Osmo Mobile 3 |
| --- | --- | --- |
| Weight | 501 grams | 405 grams |
| Max. Controllable Speed | 120°/s | 120°/s |
| Compatible Phone Size | 58.6 to 84.8 mm | 62 to 88 mm |
| Connectivity | Bluetooth Low Energy 4.0 | Bluetooth Low Energy 5.0 |
| App | DJI GO | DJI Mimo |
| Mechanical Range | Pan:±165° | Pan: -162.5° to 170.3° |
| Row 6 - Cell 0 | Roll:-50° to +90° | Roll: -85.1° to 252.2° |
| Row 7 - Cell 0 | Tilt:-140° to +50° | Tilt: -104.5° to 235.7° |
| Battery | 980 mAh LiPo | 2450 mAh Li-ion |
| Tracking | ActiveTrack | ActiveTrack 3.0 |
| Operating Temperature | 0° to 40° C (32° to 104° F) | 0° to 40° C (32° to 104° F) |
| Battery Life | Up to 4.5 hours | Up to 15 hours |
Your DJI Osmo Mobile may have been your go-to mobile photography tool in the past, but we say it's time to upgrade to the Mobile 3. Thanks to the greatly improved design and the DJI Mimo app, it's certainly worth splashing out for the third-generation model.
Foldable friend
(opens in new tab)
Awesome axis

As a portable phone holder for stabilized shooting, the Osmo Mobile 3 is a strong choice thanks to its 3-axis gimbal, one-handed control and ActiveTrack 3.0 tracking. Add in all the clever little extras the Mobile 3 offers like gesture control, and it becomes an essential bit of kit for any ambitious mobile videographer and a recommended upgrade for any original Osmo Mobile owners.
Get the best of iMore in in your inbox, every day!
Amy-Mae has been writing about consumer technology since before the iPhone was even a twinkle in Steve Jobs' eye. She started out in magazine publishing with the UK lads' mag 'Boy's Toys' then moved online with startup Pocket-lint.com as the first full-time member of staff, helping grow the site to one of the UK's largest gadget sites. Amy-Mae then moved to Mashable when it only had a staff of around 10 people. After working her way up to a senior role there, Amy-Mae left in 2014 to have her daughter. Since then Amy-Mae has continued to contribute to Mashable and The Daily Dot, keeping up-to-date with the latest consumer technology and social media trends. For iMore.com, Amy-Mae gets to her explore her love of home cooking, concentrating on all things kitchen tech.
Thank you for signing up to iMore. You will receive a verification email shortly.
There was a problem. Please refresh the page and try again.