Does Amazon Echo support Apple Music?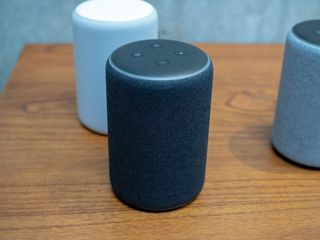 Does Amazon Echo support Apple Music?
Best answer: Apple Music and the Amazon Echo don't work together in the same way that Spotify does. Instead, you'll have to use Bluetooth on your phone to stream Apple Music to your Echo.Amazon: Amazon Echo (2nd gen) (opens in new tab) ($80)Amazon: Sonos One (opens in new tab) ($200)
Unlike Spotify and other streaming services, you can't connect Apple Music to Amazon Alexa and take full advantage of the voice commands on Amazon Echo. Instead, you'll be forced to connect your phone to your Echo just like you would with any Bluetooth speaker.
How to play Apple Music with your Amazon Echo
To your Amazon Echo, say "Alexa, pair."
After Alexa responds that it is in pairing mode, open the Settings app on your device.
Scroll down and select Bluetooth.
Scroll to the bottom of your Bluetooth devices under Other devices.
Tap the Echo device that you want to pair your phone with.
After this is completed, Alexa will tell you that your Echo is now paired with your device. From there, you can just open up the Apple Music application and start playing anything you'd like.
Unfortunately, you won't get to experience all of the great offerings that Alexa has. This means that voice commands you would use to identify a song or pick a specific artist will have to go through Google Assistant.
On the bright side, Alexa doesn't become completely useless when paired with your smartphone. You can still use the following voice commands:
"Alexa, raise the volume."
"Alexa, lower the volume."
"Alexa, skip track."
"Alexa, play previous track."
If you deviate from these specific commands, Alexa won't recognize that it is supposed to work with Apple Music. Instead, it will start playing music from your Echo's default streaming service of Prime Music.
What about Alexa-enabled speakers?
As the smart home lineup continues to grow, more and more smart-speakers are being released. One of the most popular options is the Sonos One due to its great sound and value for the complete package.
An update was released for the speaker which brought along with it Alexa Voice Services. Now, if your device is paired with a Sonos speaker, you can use Apple Music and get Alexa voice controls without using it as a standard Bluetooth speaker.
How to enable Alexa voice controls for Apple Music on the Sonos One
Open the Sonos app on your device.
Tap the More icon in the menu bar.
Select Add Music Services.
Select Apple Music.
Tap Add to Sonos.
Sign in to your Apple Music account.
In order to do this, you'll need to download and enable the Sonos skill (opens in new tab) to your repository in the Alexa app. Then, you will need to link your Sonos speaker with the Alexa app via the settings.
After you have added Alexa and Apple Music to the Sonos speaker, you can proceed to use all of the same voice commands that the Echo has to offer. This is just a workaround for those with Sonos speakers, but we are still holding out hope that Apple Music compatibility with Echo products will eventually come.
Our pick
(opens in new tab)
Big sound in a medium-sized package

The standard Amazon Echo offers enough sound to fill the room if you're hosting a party or even if you're trying to get some housework done.
Apple and Alexa together
(opens in new tab)
For a superior Alexa experience

If you really want to pump up the volume, then you'll likely want to spring for the Sonos One. This brings Alexa in a bigger package and makes it possible to use voice controls with Apple Music.
Get the best of iMore in your inbox, every day!