Dragon Dictation Voice Transcription for iPhone Comes to US App Store -- Get it While it's Free!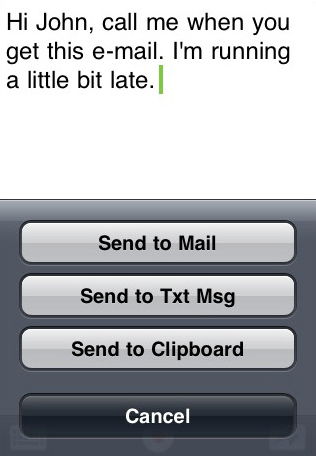 Dragon Dictation [Free - iTunes link (opens in new tab)] brings the voice recognition and transcription technology behind Nuance's well known Dragon Naturally Speaking to the iPhone (and iPod touch with mic attached. Apparently, per comments below, it won't allow download to iPod touch (?!) ).
Basically, you tap a button, say what you want to say -- from a brief reminder note to long, flowing prose -- and Dragon sucks it in and coverts it all to text. Nuance claims it's 5 times faster than typing, and you can email or SMS the results, and of course to update Twitter or Facebook via copy and paste. There's even a voice-controlled correction UI.
Best of all, Dragon Dictation is free for a "limited time" -- though it appears to be US-only at the moment (what, licensing problems, or don't international users speak?)
If you give it a try, let us know how you like it...
Get the best of iMore in in your inbox, every day!
Rene Ritchie is one of the most respected Apple analysts in the business, reaching a combined audience of over 40 million readers a month. His YouTube channel, Vector, has over 90 thousand subscribers and 14 million views and his podcasts, including Debug, have been downloaded over 20 million times. He also regularly co-hosts MacBreak Weekly for the TWiT network and co-hosted CES Live! and Talk Mobile. Based in Montreal, Rene is a former director of product marketing, web developer, and graphic designer. He's authored several books and appeared on numerous television and radio segments to discuss Apple and the technology industry. When not working, he likes to cook, grapple, and spend time with his friends and family.
Maybe it doesn't understand non-US accents so it is limited to the US only.

Just downloaded it. It worked fantastick in the first test and it was quick! So far so good

Just tested and worked EVERY time!!!
WOW!!!

This is a test of the new dictation reporting device just got
Just copied and pasted this from dictate

Awesome awesome awesome guess the only thing it would need now is the ability to reply like that when yu get a text from sumone, it's gonna come in handy while DRIVING!!!

I'm sure it can't process the Canadian "eh" or "aboot"

Pretty impressive. Got it right nearly 100% of the time and only messed up with words that technically don't exist.

evol, you could just not be a tool and attemp to text and drive lol.
it had better be free when the UK gets it too.
seriously dont understand the "licensing" issues that stop apps coming out outside of the us, when 95% of other apps comes out same time. Prime example is the photoshop app which is finally out now

It doesn't like nonsense words, especially really fast in a row, but it did get supercalifragilisticexpialidocious right.

Just to be clear, the name of the app is Dragon "Dictation," not "Dictate." This is important if you don't have iTunes on your work PC and are trying to type the name of the app into your personal iPhone.

Read the Eula it uploads your entire contacts list to their servers and there's no way around this if you want to use the program!

Why do they need your full contact list?

not perfect...be nice if jailbroken got it and made it overlay into the actual messaging center

It requires 3.1. I guess it's time I get off my but and upgrade. :)

@chrstphr.ross
I agree. The only way to make this great is to integrate it into the text messaging and/or email app. The copying and pasting is really clunky. I could have typed it out by the time I get it pasted.

Very cool app. I am very impressed with the accuracy. I wish there was better integration with e-mail and SMS, but I suppose those are limitations established by Apple SDK.

I'm sure with the size that Nuance is, which is relatively large, especially in the medical society, they could work something out with Apple, unless Apple has already got plans for something like this in 4.0 crosses fingers...
This only would help while driving or some other task that requires my other hand cause with two hands free, i can type WAY faster than dragon. It's why I don't use the PC version of the software outside of testing for work.

You say iPod touch with attached mic, but the App store doesn't allow the download (device incompatible). Bummer.

Not in Canada! Us hosers getting hosed again.

No problem with the US-only app store even for non-native speakers of English. Got this app via my US account and I'm using it to send this comment from Hungary. But editing is necessary for punctuation. Or maybe I just need to say question mark?

Hopefully none of my contacts will get spammed or anything.. but this is a useful tool.. and really acurate.

Apple restrictions prevent it from being able to go directly into email or txt

Why oh why can't we get this app in Canada? I just don't get why the USA's the first for everything! First TV shows getting blocked now iPhone Apps?!?

not saying it was the app, but right after i installed it, i used it a little to test, then i ate lunch. when i came back to my phone, the only thing showing was the apple logo. i couldnt get the phone back on. after several tries it came back. again, not saying it was this app, but it was my first culprit as everything was fine before installation.

Umm not appealing -- it collects ALL YOUR CONTACTS, and can send them to third parties! No thanks! I assume it will also send notes in contacts too, many people might keep private confidential information there. The user should have full control over WHICH contacts and WHICH fields are allowed to be used! UNACCEPTABLE.

It collects your contacts to add them to the speech library. If you read the agreement it clearly states that they will not use the info to contact anyone. Third party probably means programs may be affiliate to ad speaking instruction funculatity.

Also, if you actually read instead of freaking out about the contacts being sent....it states that NAMES of contacts will be sent. Implying only the names are sent, not phone numbers etc. Not a whole lot a company can do with names as far as invade ones privacy. Jack Lee, wow yea if a company got that name off your contacts list they would definitely be able to track down the individual using just their name.

Well we get it first because apple is a US based company. Just like Japanese based companies release stuff in Japan first.

Have to be a little careful with enunciation. My first test, speaking completely naturally, produced some amusing results. Second test, being just a bit careful, produced perfect results. It's very easy to edit if it doesn't quite get it right. My accuracy with the no-tactile-feedback keyboard just hasn't got up to what I had with my old Treo, so this will be a godsend for long messages.

Love it. Just wished there was a way to integrate it with the email or SMS client, so that I can respond to messages with it. Another great iPhone app.
Haven't completly figured out puncsuations. I do type faster even on the iPhone but it's still great. Wouldn't use something like this on a full sized keyboard.

I think the app has a lot of potential, but until they change the behavior of stealing names from your contact list I won't be installing it.

I'm sure the company is going to do alot with the majority of your contact names. Oh no, Tim, Erik, John, Mom and Dad are all in for serious spamming.

Wow this app work pretty well !!!!!!

The speech recognition engine on the Nuance server needs to know the names you're likely to say otherwise it won't be able to transcribe it. It is not going to correctly transcribe "Dieter Bohn" or worse still "Malatesta" if it isn't added to its dictionary first.
The Dragon product for the PC also does this by scanning your documents and emails. Only difference is that it does the transcription on your PC so nothing is sent to Nuance.

Thought id chime in, I went to Nuance web site and they have a blog dated Dec. 8 2009 regarding the Contact information, "What Dragon Dictation for the iPhone Does (and Doesn't Do) with Your Contacts" and the only use the names from your contact list "It's important to note that we only upload the names, not the e-mail addresses, phone numbers or any other personally identifying information from your contacts."
With that i downloaded it as i dont care about names, since you can get names out of a phone book. I know my concern was numbers and emails, but since they dont download that its ok with me. I will try it out later and give my rating.

Great app, as Don said above, my first test wasn't perfect as I was speaking naturally, but on my second test I rattled off about 100 words that it wrote out perfectly. I just spoke slower and more clear. Very valuable tool, especially for long texts or emails, or texting while driving, which of course, I don't do!=)

Great app, but unfortunately 40% of users won't have access to it because ipod touches are not allowed to load it. weird. they do have mics you know. plus, everyone is waiting for the iphone to go to a different carrier anyway.

To Fred Avolio (and any other):
Athough you can't see the app via the iPod app store (because it is for iPhone only), you can download it via the full fledged app store. At least you can dl while it is still free and then if they ever open it to iPod or you get an iPhone you will have already "purchased" it.

Just got back from the Canadian iTunes store and am so pissed! This Dragon app is what I've been waiting for for years...dragon sends me an email intro to it...and I can't get it because I'm Canadian? ARGH!!! Nuance...get with it! I wonder if I can open a U.S. iTunes account?

Ok for short messages using simple words but hopeless for technical or medical terms. Also wish it saved the corrections so that it learned. By the way, I am addicted to Dragon for all my writing on my desktop.

Works amazingly well! I read out the first paragraph of the Gettysberg address at a natural speed, and it got only one word wrong.
Also, you can opt NOT to have the contacts' names uploaded, though they assure you it's only the names, and it seems it's for the purposes of knowing what to do when you dictate messages that start out like "Dear Maya Soetoro Ng," etc. :)

Thanks for taking the time to share this, I feel strongly about it and love reading more on this topic. If possible, as you gain knowledge, would you mind updating your blog with more information? It is extremely helpful for me.

Hi folks has anyone got a solution how I can get this App if I'm based in the UK please?

now supports the ipod touch. downloaded from US store but doesnt seem to like my British accent

I downloaded the app - HOW do you tell the text (after you record it) where to go? Which individual you are texting?

The EULA states under Section 3.3 (b) (paraphrasing) that it also collects Speech & Transcription data. This is more problematic than Contact Names. Needs to be an "Opt Out" for this also.

its amazing what are phones can do for us these days! I'm going to have to get this app

I have the Dragon Dictate app on my IPhone 4, and was initially delighted. I could rapidly dictate a quick e-mail or note, getting the text back in less than a minute, sometimes less than 30 seconds. However, now when I record even a short one-liner [i.e] "Mike's phone number is 8714716", I get a "progress halted" message, which stays on the screen for several minutes. I have tested this after midnight and in the afternoons, with similar results. I fear that this app may be killing itself with barrages of requests to the servers, which seem to be overwhelmed. If its a case of waiting for the server for 5 minutes or longer, it seems that the purpose of the app, increased efficiency over using the on-screen keyboard, is being defeated already. Someone please correct me if I'm out in left field here. Perhapse Nuance needs to add an indicator to the app, a rough estimate of the number of pending requests at the moment, or a percentage of completion to go along with the "progress halted" indication.

I tried using with the iPhone 4s and it did not work, wrongly translated almost every word. I was very disappointed.

You recognize thus significantly on the subject of this topic, produced me personally imagine it from a lot of various angles. Its like women and men are not interested except it's one thing to accomplish with Lady gaga! Your individual stuffs outstanding. All the time care for it up!
Thank you for signing up to iMore. You will receive a verification email shortly.
There was a problem. Please refresh the page and try again.