The Elder Scrolls: Blades — Everything you need to know!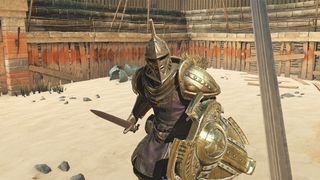 At E3 2019, Bethesda announced some new features available right now in Elder Scrolls: Blades and also revealed that the game is coming to Nintendo Switch later this fall (and it'll also be free).
Free - Download now (opens in new tab)
The new features include custom jewelry making, solo arena battles, and a new dragon quest. All three new features are available now as an update to the Elder Scrolls: Blades app.
This fall, Elder Scrolls: Blades will make its way to Nintendo Switch with all the extra content. And just like the mobile version, it'll be free to download and play with in-app purchases for some additional content.
What is Elder Scrolls: Blades?
Elder Scrolls: Blades is a first-person role-playing game with console graphics but unique to the mobile experience.
You can tap the screen to move or use the on-screen dual stick controls. Combat follows your specific timing and movements. You'll be able to fight with melee weapons and spell crafting abilities.
You'll explore hand-crafted procedurally generated dungeons, as well as run around in outdoor environments.
You can customize your character with different features and pick your race and class. As you level up, you'll be able to enhance your attributes by applying points to your ability tree.
Elder Scrolls: Blades has three modes of play.
Abyss - A roguelike experience where you dungeon crawl through a perma-death game.
Arena - A battleground where you fight one-on-one against other real-life players.
Town - Story mode, complete with town building, quest runs, and well, story.
In Town mode, you play as a member of a group called "The Blades." You've been forced into exile and must return to your hometown, which you find destroyed.
You can rebuild your town in-game with unlockable buildings, decorations, and more, which you earn through gameplay. Every person's town can look completely different and you can even visit your friends' towns to see what they've done with the place.
Because of the graphic-intensive gameplay, Blades will only be available on newer-model iPhones and Android devices. Here's a list of the mobile devices it can be played on:
iPhone XS/iPhone XS Max/iPhone XR
iPhone X
iPhone 8 Plus
iPhone 8
iPhone 7 Plus
iPhone 7
iPad Pro
iPad
iPad Air
Galaxy S9
Galaxy S9+
Samsung Galaxy S8
Samsung Galaxy S8+
Pixel 2
Pixel 3
All this and it'll be playable in landscape and portrait mode!
Elder Scrolls: Blades is coming to mobile devices very soon. It's also going to make its way onto consoles (as yet unnamed), VR headsets (including stand-alone, mobile device connected, and PC connected), and desktop computers.
It is free and available for everyone to download and play right now.
Free - Download now (opens in new tab)
Thank you for signing up to iMore. You will receive a verification email shortly.
There was a problem. Please refresh the page and try again.