The Emerson Sensi smart thermostat DIY version is down to $84.99 on Amazon and comes with a free Echo Dot. This is a combo that normally sells for around $125, and the thermostat by itself goes for somewhere between $95 and $105. There's a ton of value in this deal thanks to the free smart speaker.
Control the weather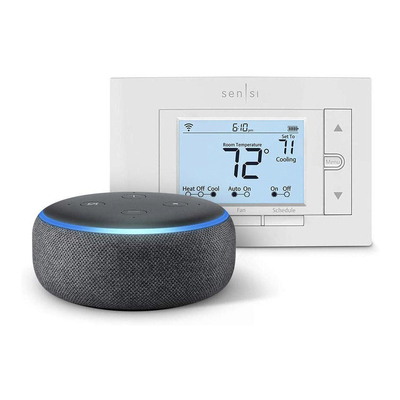 Emerson Sensi Wi-Fi smart thermostat with Echo Dot
The thermostat is Alexa compatible so you can use the Echo Dot to control it and change the temperature. Works with HVAC equipment and can save you 23% on energy costs over a year. Has flexible scheduling, remote access, and more.
$84.99 $125.00 $40 off
The Emerson smart thermostat has extensive compatibility with HVAC equipment, electric and gas furnaces, heat pumps, humidifiers, and more of the common equipment found around most homes. Because it is Energy Star certified, you will save up to 23% on HVAC energy.
The features for the thermostat include things like geofencing, which activates the thermostat when it detects your smartphone. Set this up if you want to do something like start warming the house as soon as you come home from work. You'll also have access to 7-day flexible scheduling that you can set on the thermostat or through the free mobile app. Other features include remote access, a circulating fan, smart alerts, and energy usage reports.
The thermostat can be installed in 30 minutes or less. You'll find step-by-step instructions and video tutorials to help you through it. It will require a c-wire for heat-only, cool-only, and heat pump systems.
Installing a smart thermostat can save you money in other ways, too. You might be eligible for actual rebates from your utility company. Emerson has a section on the website you can check for that.
Obviously this deal comes with an Echo Dot so you can use Amazon Alexa to control it with your voice. However, it is also compatible with Google Assistant and Apple HomeKit. If you have either of those systems, you can use them for voice control as well. (HomeKit also requires the use of a c-wire during installation.)
We may earn a commission for purchases using our links. Learn more.