Everything new with HomeKit from WWDC 2022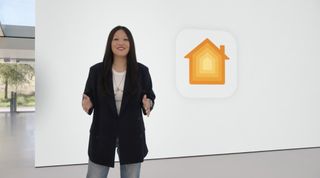 (Image credit: Apple)
Alongside massive updates to iOS, iPadOS, macOS, and Apple Watch, Apple detailed some significant upgrades coming to HomeKit at WWDC 2022. A complete overhaul of the Home app, new lock screen widgets, and some behind the scenes improvements will change the ways that we interact with are smart homes this fall. Here are all the details about the latest and greatest HomeKit and Home app features.
Redesigned Home app
The Home app is finally getting some much-needed love this fall in the form of a complete redesign. While we have always been fans of the simple "tile" design, it didn't provide a quick way to locate HomeKit devices as everything looked the same regardless of device type.
The redesigned Home app solves this problem with new icons, tile sizes, and grouping. With larger tile sizes, the Home app can highlight security devices such as door locks over lighting, and rooms are now grouped in-line on the app's home screen instead of having a separate tab — at least on the iPhone.
For cameras, the new Home app will provide a single tile that can display up to four HomeKit cameras at once in a grid view. If you have more than four cameras, you can access them with just a swipe, so you can always check in quickly.
Also coming in the new Home app are tweaks to the home overview. Situtated at the top of the Home app, the overview area gets updated iconography and new rounded-rec buttons that provide more context to what is going on in your home. The new Home app will be available on iOS, iPadOS, and macOS when it drops this fall.
Lock screen widgets
Make no mistake about it, Apple's lock screen announcements for iOS were the talk of WWDC 2022. With iOS 16, users will be able to customize their Home Screen to their heart's content, with new fonts, colors, and widgets — including a new widget for the Home app.
With the new Home app widget, users will be able to put their HomeKit accessories right on the lock screen without using a third-party app. During the WWDC keynote, Apple showed off a familiar climate control widget for HomeKit thermostats along with a handy status overview that lists how many smart lights are on and the state of locks around the home.
Home Keys
Apple's incredibly slick Home Keys feature is limited to just a couple of HomeKit locks, but that will change soon. During the WWDC 2022 keynote, Apple dropped a couple of new vendors while speaking about new Wallet app features.
These new vendors include Level Home — makers of our pick for best HomeKit door locks — and the home security specialists at Yale. While no specific devices were mentioned, it is encouraging to see a few new names that will join existing options from Schlage and Aqara.
Matter and HomeKit hubs
Despite several setbacks that have pushed the rollout of the Matter smart home standard beyond its initial timeframe, Apple shared a brief update at this year's WWDC. As usual, Apple touted the workgroup as the future of the smart home, with Apple's HomeKit serving as a foundation of the new standard.
According to Apple, there are currently 130 Matter-enabled products in the works. Devices from vendors such as Google, Amazon, Schlage, Eve, Philips Hue, and August will be hitting the market "later this year".
After WWDC, Apple quietly revealed one significant detail surrounding Matter and HomeKit hubs. According to Apple's iOS 16 preview, Matter accessories will require an Apple TV or HomePod running as your HomeKit hub. Noticeably absent in Apple's messaging is the iPad, which has served as a HomeKit hub for years, so it appears that this will be coming to an end when Matter drops.
Behind the scenes improvements
Another brief mention during the WWDC Keynote was that Apple is working on some behind-the-scenes improvements to HomeKit for this year's release. According to Apple, users that have many HomeKit accessories in and around the home should see faster response times and greater reliability:
Apple also appears to be targeting how accessories — and presumably the Home app — respond when there are multiple users and devices in a home:
We are especially interested in seeing how this plays out as the Home app has some issues currently — especially on the Mac — that require a Force Quit to update or refresh content.
TV and HomePod
Surprisingly, something that Apple didn't announce at WWDC 2022 was HomeKit updates for the Apple TV and HomePod. In fact, Apple didn't spend any time on the company's home experiences at all — so we hope that there is something in the works for these platforms, as their absence in the keynote was rather odd.
Big changes coming to HomeKit soon
With a complete Home app redesign, lock screen widgets, and more, HomeKit is getting a huge upgrade this fall. Of course, there is always more to discover when beta versions of Apple's operating systems become available so be sure to check back as we will be diving in to the Home app over the next few days.
Master your iPhone in minutes
iMore offers spot-on advice and guidance from our team of experts, with decades of Apple device experience to lean on. Learn more with iMore!
Christopher spends most of his time writing and dreaming about all things HomeKit and the Home app. Whether it is installing smart light switches, testing the latest door locks, or automating his households daily routines, Christopher has done it all.