Matter: Everything you need to know!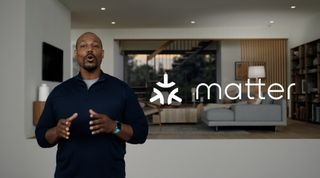 (Image credit: Apple)
One unfortunate thing about today's smart home landscape is that not every smart home accessory talks to every other device. With different platforms, standards, manufacturers, and ecosystems, the smart home space is a bit of a mess. That's what Matter is designed to resolve.
Whether you're a veteran smart home enthusiast or just starting to get into HomeKit, you may have come across the term Matter in recent months. But what exactly is it? Here's everything you need to know about the Matter smart home standard.
What is Matter?
Matter, formerly know as Project Connected Home over IP (CHIP), is a smart home connectivity standard. The new protocol is backed by Apple, Google, Amazon, and some other big names in the Connectivity Standards Alliance to increase interoperability between smart home devices across platforms.
In theory, Matter would mean that popular devices from big-name brands like Ring Video Doorbells and Nest Smart Thermostats would work just as well with your Apple gear as the best HomeKit accessories do today.
How does Matter work?
Matter is built upon Internet Protocol (IP) and will use existing networking technologies in an attempt to unify smart home platforms. That means Matter-certified devices will be using standard stuff like Wi-Fi, Bluetooth LE, and Thread to connect to your network and each other. As both Bluetooth and Wi-Fi technology advance, Matter will probably continue to incorporate new standards.
Manufacturers adopting Matter will be able to make their products compatible with Apple's HomeKit, Amazon's Alexa, and Google's Assistant services easily without needing to support multiple protocols in parallel. As a user, the Matter logo will give you confidence that the product will work with your smart home, regardless of your ecosystem of choice.
Will Matter work with HomeKit?
Yes. Since Apple is a member of the Connectivity Standards Alliance, Matter devices will work within the Home app and with Siri alongside standard HomeKit-enabled devices. Support for Matter is built into iOS 15, and developers can already begin adding support to their smart home apps.
Will Matter work with AirPlay 2?
When Matter was first unveiled, there was no specific mention about how it would interact with technologies like Apple's AirPlay 2 or Google Cast. However, there have since been reports that a standardized casting system is going to be a part of the Matter spec which could serve to replace these proprietary systems with a platform-agnostic alternative.
That being said, manufacturers that sign up to work with Matter are under no obligation to implement all parts of the Matter spec so AirPlay could live on in Apple devices.
When will we see products that work with Matter?
The Connectivity Standards Alliance initially announced that it expected to see the first devices through its certification process in late 2021. In August 2021, it was announced that the Matter standard is delayed to 2022 with products launching in the first half of the year. Fast-forward to March 2022 and Matter has been delayed once again, this time to fall 2022.
Since there's still no exact timeline, and the possibility Matter gets pushed back again, we don't know exactly when the first Matter-approved devices will begin appearing on store shelves. We do know that the first tranche of devices are likely to fall into categories like lighting, electrical, HVAC, security, and more.
Will Matter work with older smart home devices?
The transition details aren't super clear right now, but, ultimately, whether or not your existing smart home devices gain Matter support will depend on the manufacturers and the specs of the individual products.
Since Matter works with existing tech standards like Wi-Fi and Bluetooth LE, it's possible that a firmware update could be issued to devices to push out support for Matter. Devices released in the last few years probably have modern enough components to meet Matter's requirements, but we'll have to wait and see what existing products gain official support.
We've heard from a few manufacturers like Philips Hue, Yale, and Google's Nest brand that they will add Matter support to existing devices, so there is cause for optimism. That being said, it's also possible that device makers will want to withhold Matter support from old devices to prompt new purchases.
How does Matter work with Thread?
Thread is another hot buzzword in the smart home space right now. Thread is a mesh networking protocol that is built into newer smart home accessories like the HomePod mini and allows for more streamlined inter-device communication for speedier response times and a more reliable experience.
Thread will be one of many networking technologies that Matter will be built on top of, in addition to the likes of Wi-Fi, Bluetooth LE, and Ethernet. It's not essential for Matter certification, though we're likely to see more devices adopt Thread over time regardless.
Why does all this matter?
The smart home has been an ecosystem play since these products became mainstream. If you use Apple gear, equipping your home with HomeKit-compatible devices makes the most sense, but it also makes it more difficult (and expensive) to change your mind down the line. Android users may also spend a small fortune on products that play nicely with Google Assistant only to end up with unsupported devices should they decide to switch to iPhone.
Matter sets out to make these different ecosystems more interoperable. It has the backing of the major players in the smart home space, including Apple, Amazon, and Google, which should result in much greater freedom of choice for consumers and fewer headaches when it comes to buying the right devices. Since the exact implementation details are still unclear, there are reasons to think Matter both will and won't matter for your smart home.
Updated March 2022: Updated with new information on Matter's new late-2022 launch timeframe.
Adam Oram is a Senior Writer at iMore. He studied Media at Newcastle University and has been writing about technology since 2013. He previously worked as an Apple Genius and as a Deals Editor at Thrifter. His spare time is spent watching football (both kinds), playing Pokémon games, and eating vegan food. Follow him on Twitter at @adamoram.
Get the best of iMore in in your inbox, every day!
Thank you for signing up to iMore. You will receive a verification email shortly.
There was a problem. Please refresh the page and try again.