Five reasons to skip the iPhone X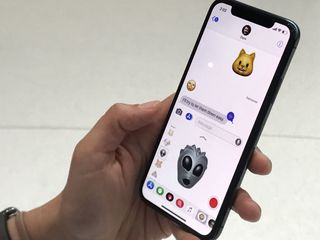 With the impending release of the iPhone X, many folks are going to be burning the midnight oil to pre-order the divisive device. It's Apple's first phone with an OLED screen, and it boasts the impressive "Bionic" chip and a camera set that's sure to wow any phone user (iPhone or otherwise).
Whoop-dee-doo. Here are five reason to skip it.
1. Android's looking great this year
Hear me out. I SAID HEAR ME OUT.
This year's crop of Android phones is excellent. And what it really comes down to is that word "crop". You have choices. If you're not loving the iterative iPhone 8 and really aren't sure about the X, then take a look at what Android has to offer.
Phones run the gamut from the top-tier Samsung Galaxy S8 and S8 Plus and Google Pixel 2 to a more budget-friendly lineup that still wows, including the OnePlus 5 and Moto Z2 Play.
Android may also have some features that tickle your fancy a little more than what the iPhone X has to offer. Sure, ARKit is totally rad, but if you're into great VR experiences (that just keep getting better), then Google Daydream and Samsung Gear VR might be of interest to you. That and Google is working with developers on ARCore, so AR experiences are well on their way to the Android platform. Basically, if you're tired of porridge for breakfast every day, branch out with some bacon and eggs or a breakfast burrito, should the mood strike.
2. That price tag
Even with its updated screen and great camera, the iPhone X is still way too expensive for what it is at $1000. You may want the absolute best Apple has to offer, but do you really need it? iPhone 8 Plus has Portrait Mode, AR capabilities, and is ultimately faster than the iPhone 7 Plus.
So really, what more are you getting in the iPhone X and is it worth it to you? If you've used iPhone all along, then you've never known an OLED display anyway — what's another year? Do you still like Touch ID? Do you really need an edge-to-edge screen?
Really think about the features and your needs and regular use and then determine whether the premium iPhone X is for you or if you would do just fine with the iPhone 8 or 8 Plus.
3. The Notch
That notch, that notch, that f#$!ing notch. Say what you want, but I think it looks dumb as hell. When we have other phone companies nailing screen-to-bezel ratio right now (like Samsung and LG), Apple decides to try and differentiate its phone with an interruption. Not cool, Apple.
Apple really wanted an edge-to-edge screen, but in order to make that work with the ear piece and selfie camera, it had to leave that notch there. So it decided to bring up the sides. Fine. But it could have just as easily blacked that section out with software, and with all the controversy surrounding "the horns", was it worth it?
Don't get me wrong, the Galaxy S8/Note 8 and LG G6 aren't truly edge-to-edge either, and that small amount of bezel may annoy some, but I think I'd rather have a defined end on each side rather than an interruption that my eyes are automatically drawn to when my screen turns on.
4. Face ID
I have the Samsung Galaxy S8, and the facial recognition feature on it sucks. Now, I know Apple has been working with dot projection and really trying to perfect the technology, but the lack of fingerprint sensor just feels like it's too soon to abandon the fingerprint sensor, much in the way it felt (and still feels) too soon to have a MacBook Pro with only USB-C ports. Why would you do away with a good thing? Last year it was the headphone jack and this year it's one of the most convenient features to ever grace a smartphone. Think about it: one face vs. five fingers.
Plus, simply touching to use Apple Pay is so convenient. Pull your phone out, touch it with your thumb, boom. To have to look at your phone, wait for confirmation and then tap seems like an extra step.
Plus, with all the rumors lately surrounding Apple's difficulty with Face ID and perhaps even rolling back requirements (cool it, I said rumors) in order to improve production, I don't know if I trust it. And I'm going to guess that the majority of people who buy the iPhone X will use the passcode to unlock and forget Face ID was ever a terrible, terrible thing.
5. It's not worth it to upgrade yet
Still rocking an iPhone 6s or 6s Plus? Yeah, it's been a couple years, but these handsets are still pretty great for what they are. They may not boast Apple's latest chipset or the phenomenal iPhone 7 and 7 Plus cameras, but they run iOS 11 just fine and will likely see iOS 12 next year. If yours is still working just fine and you don't really need to upgrade, then wait. Next year is sure to blow the pants off of this year.
If you have an iPhone 7 or 7 Plus, then you really ought to wait. The iPhone 8 and 8 Plus aren't much different, and the iPhone X is certainly a step up, but to reiterate an earlier point: do you need the premium phone? Wait and see what the coming year holds for Apple and then make your decision to upgrade or not.
Your iPhone 7 or 7 Plus is honestly probably good to go for another couple years anyway. You'll still benefit from the fun of ARKit and you still have Portrait Mode and one of the best smartphone cameras ever. If you don't need to be shooting video in 4K at 60FPS and don't need all that processing power for daily use, then stick with what you have.
How about you?
Will you be skipping the iPhone X or are you going head-first down the notchy rabbit hole? Sound off in the comments below!
If you think you might be leaning towards getting the iPhone X, then check out what Lory has to say!
Mick is a staff writer who's as frugal as they come, so he always does extensive research (much to the exhaustion of his wife) before making a purchase. If it's not worth the price, Mick ain't buying.
Yes, please everyone skip it so I can actually get one for my bday. Thanks

1. Android's looking great this year
In terms of hardware, yes. In terms of software, not quite. I refuse to run anything but stock, unbastardized Android, which rules out pretty much everything out the except for Pixel devices, which don't really look so great outside their DxO mark scores. That and I feel like I wanna hurl every time I launch the Play Store app. 2. That price tag
Valid argument. Flagship prices are getting crazy (not just Apple, even the Samsung Note is around the $1K mark). 3. The Notch
Yeah, it'll take some getting used to, no doubt, especially in landscape mode. Apple's telling developers to "embrace" it, as if they haven't pandered to Jony Ive's ego enough already. It'll definitely take time for apps to get it right, and by then I suspect we'll be just a few months away from the next iPhone anyway. 4. Face ID
I can't really say anything here. There's that Bloomberg story which Apple replied to real quick, almost too quick. I guess we'll just have to wait and see. 5. It's not worth it to upgrade yet
I'm actually still rocking a 6, and the 1GB RAM is starting to feel a bit restrictive. That and its battery is practically shot after three years of charge cycles, made worse by iOS 11's battery drain issues. No interest in the 8 whatsoever. I'll wait a month before deciding if I want to get the X, but I suspect I'll skip this round and just get a 7 now that their prices have dropped a bit, and hold onto that till next year's iPhone X candidate, which hopefully sorts out all the beta problems of this year's offering.

I'm still debating on upgrading to the x or just wait till next year. I have an 6s plus and would love an upgrade but not of the exact same device (ip8 plus) that to me would be silly as the 8 plus is just like all the others except the new x. I wish last year was the end of the ip6 look. But maybe this is the last year and we'll be seeing new iPhones starting with the x . So yeah gonna wait till I see an iPx in person to finally make my decision. Wish Apple had launched 3 new iPhones would have bought one already.......

Both my wife and I just upgraded to the 8 plus. The main reason being Touch ID. Just not ready to get rid of it yet. And second reason is the price tag! The 64GB iPhone X is going for $599 on a two year contract. Thats too much!

What does "get rid of it yet" even mean? Apple aren't bringing it back, so you'll have to get rid of it at some point.

Android sucks and it will always suck until Google gets their heads out of their ***** and decide to actually support a product and not constantly change their minds. Yes the Pixel looks good. Its feature-rich, but its already got its own problems and as long as you have carrier creep with all the other android phones, you will always have problems... "As of March 2017, Android 5.0 Lollipop (an OS which is almost three years old) still rules the roost with a 32.5% adoption rate, with Marshmallow following closely behind at 31.3%." That's sad. I owned multiple android phones and tablets, Samsung, Moto, LG, Nexus and Samsung, LG and Asus tablets and NONE of them ever got updated more than year after they were made. vulnerabilities everywhere. I have switched to Apple and will never go back. IOS 11 just came out a few weeks ago and its already at 48% adoption rate. Come on, Google, get your act together!

It's my biggest problem with Android. Not to mention I've had the odd bug with Android software, which makes software updates all the ever more important. Apparently Nokia are working hard with their phones to push Android updates quickly, but we'll see

A lot of the folks sticking with Lollilop are doing so by choice, since they've rooted whichever phone they're using and have customized and tweaked it to their heart's content. That's not all on Google. Also, Google is working on getting updates to all devices much sooner with system partitions, allowing Google to send out the update underneath the particular manufacturer's "mask". But remember that the Android lot are a fickle bunch and some just happen to really like a particular iteration of the OS.

Possibly, but the main reason is manufacturers failing to push out updates a year or so after initial release. Some handset manufacturers have even released phones in the latter half of this year with Marshmallow on board which is pathetic at best.

I don't really understand releasing "new" phones with old software. To me that's the equivalent of buying an old phone. Android's fragmentation is a mess

You may like TouchID, but I look forward to being able to open my phone when my hands are wet. FaceID FTW.

For me, this is one of Touch IDs biggest problems. And you're probably thinking "why are your hands wet that much?", but that's not the case. My hands get sweaty, it's just one of those things, and when they are it doesn't work. So some points in the day I have to unlock my phone using passcode, some points in the day I can use Touch ID. Or I'll have to wipe my hands every time I want to use Touch ID, it's a pain for someone like me. Face ID will be much better

I can do that with my Galaxy S8 :)

That's pretty impressive if that works, usually water interferes with the sensors, especially on the touchscreen as well.

Reason #1 is irrelevant. No Apple user is un-smart to walk that path. The REAL reason #1 should be OLED. This is Apple's first time implementing this screen tech and, therefore, there will be many problems that may arise just as any other phones with OLED that came before it. Until I'm sure that Apple really overcome these issues, I'm not going to get the iPhone X. I'll give it a year to see the result from beta testers.

It's harsh to call it a "beta test". The phone has already been beta-tested, but all 1.0 products have issues. That doesn't mean that they're not past the beta-test phase though, that's just a natural thing which happens when humans make a device, we're all prone to making mistakes. Of course, the iPhone X will have some problems, most likely minor ones

Hate the notch...it will bug me every time I look at the phone. Probably won't look at the phone if I had the notch. I've read FacIeD will require a passcode if the FaceID hasn't been used for 4 hours. For me the goal of FaceID/TouchID should be to reduce the the use of a passcode/password.

I can't remember what the timeout period for Touch ID is, but it's exactly the same for Face ID. I've very rarely ran into the Touch ID timeout issue, so I can't see it being a problem with Face ID. As for the notch, you'll forget it's there after using the phone for a week

The time out for both Face and Touch ID is two days. The only difference (according to the Apple support pages) is this: "The passcode hasn't been used to unlock the device in the last six and a half days and Face ID hasn't unlocked the device in the last 4 hours." A bit of a hassle but nothing more of a minor inconvenience.

The keyword there is "and", so Face ID won't just timeout after 4 hours unless the passcode hasn't been used in the last 6.5 days. You're still barely going to have to enter your passcode, unless you restart your phone

I was thinking more about when don't use the phone for more than four hours on day 6, i.e. when I go to sleep. So once a week, and like I said barely a faff.

What's the purpose for needing to use a passcode every 6.5 days? Why isn't the Touch ID or Face ID secure enough?

I guess seven days is the time it takes for Dr Robert Ford to create an android with a perfect recreation of your face, hence the need to lock the phone before it rises from its milky birth soup and tries to steal all your photos.

Nothing is ever "secure enough". Your key lock on your front door is not "secure enough", but it's probably the best thing you've got within reasonable pricing. I'm sure Touch ID/Face ID is pretty secure, but a little bit of added extra security never hurts, so long as it doesn't inconvenience the user, which in this case it doesn't. It's the same reason that Apple recommends you to use 2FA, even though you could just set up a password which is long enough to not be cracked

I'm skipping it. The event didn't show me much confidence in this new device. Apple's software has declined over the last few years. Apple should focus a year on software and fixing the little things that made Apple's products amazing.

What do you mean by "didn't show you much confidence in this new device"? The iPhone X worked perfectly fine in the event, aside from the Face ID mishap, which was confirmed to be nothing to do with the technology itself, but to do with the auto-locking mechanism which is in place with Touch ID as well (i.e. turn off your phone, and you have to use the passcode to unlock it before you can use Touch ID/Face ID

I thought Face ID failed on stage because the iPhone X identified too many of the faces of the techies on stage that happened to look at the device? This doesn't happen with Touch ID, unless said techies decided to press their fingers against the fingerprint sensor as the pass the phone.

Nope, it was just the standard timeout which activated for whatever reason, but of course the internet quickly jumped on the "Face ID is ****" bandwagon, when it was nothing to do with the Face ID technology.

That's not what Apple said: "People were handling the device for stage demo ahead of time," says a rep, "and didn't realize Face ID was trying to authenticate their face. After failing a number of times, because they weren't Craig, the iPhone did what it was designed to do, which was to require his passcode." In other words, "Face ID worked as it was designed to." I.e. it wasn't a time out, it was a lock out due to Face ID scanning unrecognised faces.

Ah right, I was misinformed. Still, it's working as its supposed to, which is the main thing

Again, as I already said in my previous now deleted comment (?), last paragraph of point 4 is nonsense.

Elaborate and back up your claim.

Mike do you seriously think people using the iPhone X are going to resort to using passcodes because Face ID is so terrible? I mean honestly? This is utter nonsense.

I thought the same thing. And his use case of faceID being an "extra step" for Apple Pay is a real stretch. I'd bet 99% of people look at their phone while using Apple Pay anyway. FaceID is going to remove a step in a lot of cases, not add one.

Face ID will be much better for me. Nothing more embarrassing than Touch ID failing, then having to say to the cashier "sorry, one second", having to take my phone away from the reader, type in the passcode, then put my phone back to the reader again. With Face ID, I'll just look at my phone, then touch it again the reader. Simple
Thank you for signing up to iMore. You will receive a verification email shortly.
There was a problem. Please refresh the page and try again.