Five reasons to skip the iPhone X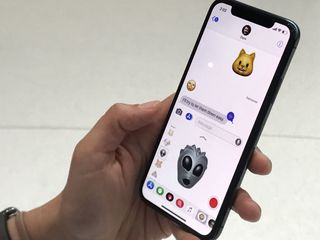 With the impending release of the iPhone X, many folks are going to be burning the midnight oil to pre-order the divisive device. It's Apple's first phone with an OLED screen, and it boasts the impressive "Bionic" chip and a camera set that's sure to wow any phone user (iPhone or otherwise).
Whoop-dee-doo. Here are five reason to skip it.
1. Android's looking great this year
Hear me out. I SAID HEAR ME OUT.
This year's crop of Android phones is excellent. And what it really comes down to is that word "crop". You have choices. If you're not loving the iterative iPhone 8 and really aren't sure about the X, then take a look at what Android has to offer.
Phones run the gamut from the top-tier Samsung Galaxy S8 and S8 Plus and Google Pixel 2 to a more budget-friendly lineup that still wows, including the OnePlus 5 and Moto Z2 Play.
Android may also have some features that tickle your fancy a little more than what the iPhone X has to offer. Sure, ARKit is totally rad, but if you're into great VR experiences (that just keep getting better), then Google Daydream and Samsung Gear VR might be of interest to you. That and Google is working with developers on ARCore, so AR experiences are well on their way to the Android platform. Basically, if you're tired of porridge for breakfast every day, branch out with some bacon and eggs or a breakfast burrito, should the mood strike.
2. That price tag
Even with its updated screen and great camera, the iPhone X is still way too expensive for what it is at $1000. You may want the absolute best Apple has to offer, but do you really need it? iPhone 8 Plus has Portrait Mode, AR capabilities, and is ultimately faster than the iPhone 7 Plus.
So really, what more are you getting in the iPhone X and is it worth it to you? If you've used iPhone all along, then you've never known an OLED display anyway — what's another year? Do you still like Touch ID? Do you really need an edge-to-edge screen?
Really think about the features and your needs and regular use and then determine whether the premium iPhone X is for you or if you would do just fine with the iPhone 8 or 8 Plus.
3. The Notch
That notch, that notch, that f#$!ing notch. Say what you want, but I think it looks dumb as hell. When we have other phone companies nailing screen-to-bezel ratio right now (like Samsung and LG), Apple decides to try and differentiate its phone with an interruption. Not cool, Apple.
Apple really wanted an edge-to-edge screen, but in order to make that work with the ear piece and selfie camera, it had to leave that notch there. So it decided to bring up the sides. Fine. But it could have just as easily blacked that section out with software, and with all the controversy surrounding "the horns", was it worth it?
Don't get me wrong, the Galaxy S8/Note 8 and LG G6 aren't truly edge-to-edge either, and that small amount of bezel may annoy some, but I think I'd rather have a defined end on each side rather than an interruption that my eyes are automatically drawn to when my screen turns on.
4. Face ID
I have the Samsung Galaxy S8, and the facial recognition feature on it sucks. Now, I know Apple has been working with dot projection and really trying to perfect the technology, but the lack of fingerprint sensor just feels like it's too soon to abandon the fingerprint sensor, much in the way it felt (and still feels) too soon to have a MacBook Pro with only USB-C ports. Why would you do away with a good thing? Last year it was the headphone jack and this year it's one of the most convenient features to ever grace a smartphone. Think about it: one face vs. five fingers.
Plus, simply touching to use Apple Pay is so convenient. Pull your phone out, touch it with your thumb, boom. To have to look at your phone, wait for confirmation and then tap seems like an extra step.
Plus, with all the rumors lately surrounding Apple's difficulty with Face ID and perhaps even rolling back requirements (cool it, I said rumors) in order to improve production, I don't know if I trust it. And I'm going to guess that the majority of people who buy the iPhone X will use the passcode to unlock and forget Face ID was ever a terrible, terrible thing.
5. It's not worth it to upgrade yet
Still rocking an iPhone 6s or 6s Plus? Yeah, it's been a couple years, but these handsets are still pretty great for what they are. They may not boast Apple's latest chipset or the phenomenal iPhone 7 and 7 Plus cameras, but they run iOS 11 just fine and will likely see iOS 12 next year. If yours is still working just fine and you don't really need to upgrade, then wait. Next year is sure to blow the pants off of this year.
If you have an iPhone 7 or 7 Plus, then you really ought to wait. The iPhone 8 and 8 Plus aren't much different, and the iPhone X is certainly a step up, but to reiterate an earlier point: do you need the premium phone? Wait and see what the coming year holds for Apple and then make your decision to upgrade or not.
Your iPhone 7 or 7 Plus is honestly probably good to go for another couple years anyway. You'll still benefit from the fun of ARKit and you still have Portrait Mode and one of the best smartphone cameras ever. If you don't need to be shooting video in 4K at 60FPS and don't need all that processing power for daily use, then stick with what you have.
How about you?
Will you be skipping the iPhone X or are you going head-first down the notchy rabbit hole? Sound off in the comments below!
If you think you might be leaning towards getting the iPhone X, then check out what Lory has to say!
Master your iPhone in minutes
iMore offers spot-on advice and guidance from our team of experts, with decades of Apple device experience to lean on. Learn more with iMore!
Mick is a staff writer who's as frugal as they come, so he always does extensive research (much to the exhaustion of his wife) before making a purchase. If it's not worth the price, Mick ain't buying.