iPhone 8 review: The upgrade many people will be looking for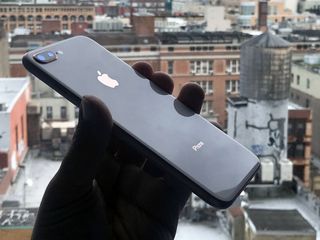 (Image credit: iMore)
April 11, 2018: (PRODUCT)RED iPhone 8 and iPhone 8 Plus now available in stores and for immediate delivery.
Just like last year, Apple has released a new iPhone color for the spring — and it's (PRODUCT)RED. iPhone 8 and iPhone 8 Plus begin shipping in Product RED on Friday, April 13, in Australia, Canada, China, France, Germany, Hong Kong, Japan, New Zealand, Singapore, South Korea, the UK and US on Friday, April 13. Brazil, Denmark, Ireland, Italy, Malaysia, Mexico, Netherlands, Norway, Russia, Saudi Arabia, Spain, Sweden, Switzerland, Taiwan, Thailand, UAE. Other regions to follow.
See at Apple (opens in new tab)
Greg Joswiak, Apple's vice president of Product Marketing:
Deborah Dugan, (RED)'s CEO:
The most notable difference this year is the inclusion of a black rather than white front plate. Not only will that appeal to those who prefer the red on black look, but it differentiates this year's (PRODUCT)RED iPhone from last year's, which is important.
People are both easily bored and hate change. We want something familiar but different. And just how familiar and how different varies from person to person and situation to situation.
Do you prefer The Force Awakens because it's the next iteration of what you know and love, or do you prefer Rogue One, because it mixes some of those elements up in interesting new ways?
This year, Apple is asking the same question. Would you prefer iPhone 8, a better version of what you're already familiar with, starting at $699. Or are you ready for iPhone X, a more radical departure, starting at $999.
Both phones have many of the same core feature enhancements, including camera sensors, processors, and inductive charging. It's how you can tell Apple is offering both as legitimate options. It makes choosing between — and reviewing — them a challenge.
See at Apple (opens in new tab)
iPhone 8: In brief
4.7 and 5.5-inch options
The most powerful phone/pocket computer on the market
Significantly improved cameras
Wireless charging
Fingerprint biometrics
Gold color option
Deleted bezels
Deleted Home button
OIS on both wide and telephoto cameras
New design
Face ID biometrics
Low pricing
If you want an all-new iPhone experience, iPhone X will be here in a month or so. If you love everything about your existing iPhone, including the Home button and Touch ID, and you just want it to be faster, with better cameras, and convenience features like inductive charging, iPhone 8 is here for you right now.
iPhone 8: Second opinion
I review iPhones from the point-of-view of an iPhone owner and someone immersed in the Apple ecosystem. Increasingly, though, iPhones are being bought by people switching from Android.
In order to provide a second opinion, and from a perspective very different from mine, we collaborated with ace YouTube reviewer Michael Fisher to get his take and an early look at how iPhone 8 compares to the competition.
iPhone 8 Unboxing
Included in the iPhone 8 box is the phone itself, information pamphlets and Apple stickers, Lightning EarPods, 3.5mm to Lightning adapter, a Lightning to USB cable, and an AC adapter.
Given that Apple has sold MacBooks and MacBooks Pro with only USB-C ports going on three years now, the lack of a USB-C cable with USB-A adapter is beyond ridiculous.
Likewise, in an era of fast charging, the lack of an AC adapter that can charge fast is disheartening.
iPhone 8: Name and design
About the laziest way I could start this review is with some crack about how Apple should have gone with "iPhone 7s" for the name. (Almost as lazy and predictable as saying Apple should have gone with "iPhone 6sss".)
I think Apple originally went with the "number" / "number + s" convention to try and market around the generations where the more substantive changes were internal rather than external.
We tend to be superficial and so the excitement over new optics, silicon, or other enhancements can pale by comparison to new visual design. iPhone 3GS and iPhone 4s were seen as more acceptable, especially in a market where most people upgraded only every two years or so. (It also kept Apple from running out of single-digit numbers in 2015...)
Then, Apple learned to hack our superficiality by adding color variations to the s-years. Turns out, we'll grouse about the look staying the same but we'll leap at the chance to get it in gold.
Now, the market has matured. I think we've matured as well. We've realized that both "number" and "number + s" generations can introduce significant improvements, including virtual assistants, display sizes, biometric identity scanners, pressure sensors, fusion camera systems, and more.
iPhone 7 exemplified that. Apple's industrial design team could have made it triangular or donut-shaped if they'd really wanted to stick with the old naming pattern. Instead, they iterated on materials while leaving the shape almost the same.
Same with iPhone 8. Instead of sticking to pattern for pattern's sake, Apple seems to believe the all-new industrial design combined with the new internals are enough to warrant a full number increase for the name. (And they're willing to use up one of the precious few single-digit versions left — or intent on burning through them as fast as possible.)
What all-new industrial design, since iPhone 8 looks so much like iPhones 6 through 7?
The all-new industrial design that rebuilt iPhone 8 down to an atomic level. That Apple once again made iPhone 8 fit into exactly the same shape as the last few iPhones before it shows, like last year, just how dedicated the team is to that shape. Like switching from vanilla to chocolate cake but using the same mold.
It's as if Apple's industrial designers resolutely believe they've achieved the Platonic ideal for a device of this size with a Home button and Touch ID sensor — Form iPhone — and they're not going to change it just to be trendy or simply for change's sake.
It might be admirable. It might just be stubborn. It might keep them customers adverse to change and cost them customers who find it boring. Either way, it's clear that Apple's hardware team took the new glass and new aluminum and went out of their way to fit it all into precisely the same shape, even knowing the just-as-same-old "bored now" comments that would follow. (Perhaps because this year, they knew they'd have an answer for those people with iPhone X.)
The new glass in iPhone 8 is the result of a close partnership and collaboration between Apple and Corning. One that goes down to the engineering level. It allowed both companies to collaborate on an ion-exchange process that goes 50% deeper than before, and support it with an internal, laser-welded, steel and copper substructure.
Thanks to Apple and Corning's partnership, iPhone 8 (and iPhone X) also has exclusive access to this ultra-durable glass. At least for now.
It's still glass, though — once again on both sides, like iPhone 4 and iPhone 4s before it. (Though now, serenely, absolutely free of FCC indicia.) And glass breaks, just like ceramics shatter and metal bends. (Physics, it turns out, is a jerk.) But at a materials level, it feels like Apple is doing everything possible to make its new glass the most resilient possible, and to mitigate against the smaller scratches and fractures that can lead to cracks and breaks over time.
And that's good, because glass is slippery. iPhone 8 isn't as bad as Nexus 4, which if you put it in the middle of a flat table would eventually find its way to the floor, but it's slipperier than any iPhone since iPhone 4s. So, if you typically put your iPhone on armrests, sofas, or other non-flat surfaces, stop doing that or get a case with a higher coefficient of friction. At least until Apple figures out how to make its new glass less slippery.
Over the course of the last week, I've seen both iPhone 8 and iPhone 8 Plus survive some pretty nasty falls, and I've seen one hit stone tile and crack across the Home button. (The internet is full of drop tests already as well, because internet.)
I'm sure I could keep dropping iPhone 8 until I shatter them on both sides, just like I could keep crossing the street until I got hit by a car. I'm not terribly interested in discovering either of those failure points right now. I do have a history of dropped phones, which is why I have Apple Care and recommend it to anyone who asks. It's a relatively small investment, and an excellent value for a device that has literally become the cyborg extension to my life.
The glass — and iPhone 8 — comes in three new finishes marketed under three not-so-new names: space gray, silver, and gold.
Apple says there's a seven-layer color process behind the finishes that allows for both opacity and depth. It reminds me of how Jony Ive and team got so much depth in the original iPod finishes. The silver and space gray end up looking pearlescent white and slate, the gold, opalescent taupe. And because they're glass, the antenna lines are all gone.
The new aluminum is 7000 series and "aerospace" grade. It's silver, gray, and coppery/rose-ish gold on the three finishes respectively. To prevent attenuation between the different antenna systems, there are still breaks in the bands. Those are color-matched to the glass.
They're also microscopically sealed to protect against liquid and particle ingress. That means, like iPhone 7, iPhone 8 is IP67 water and dust resistant under IEC standard 60529. In my quick splash and immersion tests, they can take the same kind of dipping and keep on ticking. (Sorry.)
That's despite having a speaker system that Apple says is 25% louder and with deeper bass than last year's. In my testing it's absolutely lounder and hass more bass, but I'm not sure it's clearer. I don't have golden ears, nor am I a fan of booming systems, so I'll hit up some of my more musical colleagues to get a better sense of the speaker quality. Calls sound fine, not too Mickey, not too Vader.
Practically speaking, I wasn't sure how the loss of the previous aluminum chassis would affect the rigidity needed for 3D Touch, especially on iPhone 8 Plus. Thanks to the combination of new glass and new aluminum, though, I haven't had any problems. The best compliment I can give is that I haven't even noticed the difference, and that's a pretty impressive feat of engineering.
Put that in your iPhone 7s bubble pipe and pop it.
iPhone 8 True Tone Display
Last year, Apple brought DCI-P3 wide color gamut to iPhone with its richer reds, deeper magentas, and more vibrant greens. The results were dazzling and there's simply no going back. The next best step would be HDR (high dynamic range), which allows for even more detail in highlights and shadows.
LCD, which is the technology Apple has used for all iPhones to date, has many great characteristics, but the brightness and contrast ratio needed to really showcase HDR isn't one of them. We still have the building blocks in iPhone 8, including hardware-level support for 10-bit HEVC and a brightness level that goes up to 625 nits. So, like the latest iPads Pro, iPhone 8 will do the best it can with HDR. But, it's really the upcoming iPhone X, with a 1:1,000,000 contrast ratio OLED display, that will put real, end-to-end HDR in our hands and pockets for the first time.
What we are getting this year is True Tone. It debuted on the 9.7-inch iPad Pro over a year ago but this marks the first time it's been available on iPhone. The technology is cool: A four-channel ambient light sensor measures the color temperature of your environment and then adjusts the display so that white looks white. Not warm, yellow, incandescent white. Not cool, blue, fluorescent white. White. Paperwhite.
It's different from Night Mode, which subtly shifts the display towards the warmer, more yellow temperature as the day wears down in an effort to mitigate against the sleep-damaging effects of staring at screens all evening.
True Tone works 24/7 to make sure when you read an eBook, look at a photo, browse the web, watch a movie, or do anything at all on iPhone 8, the color is accurate. And not just accurate to how Apple individually calibrates it down to the sub-pixel level at the factory. Accurate to how you're looking at it every moment, from sunlight to candlelight, halogen to Hue. Carrying your iPhone around becomes like carrying a tiny, printed book or magazine around. It just looks right.
Like DCI-P3 and HDR, once you see, you want it everywhere and it's incredibly hard to go back. Like whiplash of the eyes hard.
iPhone 8 Wireless Charging
Once upon a time, Apple said it was unclear how much convenience wireless charging actually added. Same with NFC payments. Steve Jobs, famously, said no one wanted to watch video on an iPod. Now we have the TV app in our Home screens, Apple Pay in our hands and, with iPhone8, Qi standard inductive charging from any nearby pad.
I'm not a huge fan of inductive charging. I've had it on phones since my Palm Pre in 2009 and on one Android phone or another over the years.
It does offer convenience. Rather than having to reach for and find the end of a Lightning cable, and fumble with getting it into the Lightning port, you can simply drop your iPhone 8 down on the pad and it'll start charging. Mostly.
My experience is that every once and awhile, it'll miss the sweet spot or get jostled off of it at some point and simply not charge. The same is true for iPhone 8.
It's also not as fast or as efficient as wired charging. The current Qi implementation feels about as fast as using the tiny square brick that comes with iPhone 8. Meanwhile, wired charging with an iPad brick is significantly faster and, and getting faster still with an iPad USB-C brick — up to 50% in 30 minutes.
Still, setting up a Qi pad on the table next to your bed or the desk where you work is nice. When you're tired or busy — as long as you make sure the connection takes — it's super nice.
Two things have to happen for it to go beyond super nice, though. At least for me.
The presence of Qi pads in restaurants, coffee shops, hotels, and vehicles has to rapidly increase.
Contact charging needs to give way to short distance charging.
Apple pushing Qi could and should help with the first one. There's nothing like flooding a market with tens and eventually hundreds of millions of implementations to get supporting industries to take notice. When every Starbucks, McDonald's, Aloft, and Uber has one, the value will be astronomically higher.
Apple super-setting Qi, the way the company is already doing with it's AirPower pad, coming next year, could and hopefully will result in the technology improving faster. As long as the pad/pod is on the table or desk, I should be able to drop my iPhone anywhere within a few inches and have it just charge, sweet spot be damned.
AirPower will charge either an iPhone, Apple Watch Series 3, and AirPods (with an upcoming and sold-separately new charging case), or up to two iPhones and a Watch or AirPods. It's already an example of Apple super-setting Q, and hopefully just the first.
iPhone 8 Camera System
As petty as the "iPhone 7s" naming quibbles are, a real argument could be made for calling this device iCamera 8. Neither name accurately reflects the full range of capabilities we now have in our hands and pockets but its clear the camera is one of the things Apple puts extreme effort into year after year, and one of the primary reasons people upgrade their iPhones year after year.
The quality of call you place to your loved ones is certainly important. But the photos and videos you take of them — the memories in time and space you capture — are absolutely priceless.
Having the "world's most popular camera" comes with enormous responsibility. And having the "best camera you have with you" comes with enormous pressure to make it the best camera you have period.
With iPhone 8, Apple takes another step in that direction. The rear-mounted camera system remains single lens (wide-angle) on iPhone 8 and dual lens (wide-angle + "telephoto") on iPhone 8 Plus, and 12 megapixels. The wide angle likewise remains f/1.8 and the tele, f/2.8.
What's new is the sensor. The pixels are "deeper", which further reduces cross-talk and improves accuracy. It's also larger and faster. That means it will pull in more light and let you capture more immediately, so you get the moment you want, not some moment close-ish thereafter.
There's also a new color filter, which is a rarity these days in the camera world. Apple isn't saying much about it yet, but the company is promising it provides better, truer colors across a wider dynamic range, and with less noise.
Like iPhone 7, the wide angle lens has optical image stabilization (OIS). Also like iPhone 7 Plus, the telephoto lens does not. That means low-light won't be as tack-sharp as absolutely possible under some circumstances. If you want OIS on both, you'll have to wait for iPhone X.
You do get the new quad-LED flash, still named True Tone, which is confusing now since the new display technology has been given the same name. The big deal with the new version is slow sync.
Typically, when you take flash photos at night, you get lit up subjects and blacked out backgrounds. Slow sync combines a slow shutter speed with a short probe pulse that better exposes both the subject and the background.
Slow sync is exactly the type of feature I never realized I was missing on my iPhone until I shot with iPhone 8. Then I wished I could go back in time a retake every extreme low-light photo I've ever taken. So my memories would look like they existed where they really were and not in some cave.
Apple's new ISP (image signal processor), built into the company's A11 Bionic system-on-a-chip (see below), does all the usual auto-white balance, auto-focus, and auto-exposure, but also analyzes the scene for lighting, people, motion, and other elements and continuously optimizes for capture. That way, when you hit the shutter, it's not just ludicrously fast, it's ludicrously good.
It's also speedy enough that HDR is simply left on automatic by default. You can toggle it off if you really want to but you shouldn't. The ISP will read the scene and, if it thinks HDR would be a benefit, it'll shoot in HDR about as fast as it would without.
It'll also detect things like sky, fabric, and other textures. That way, even after it does its fancy new hardware accelerated multi-band noise reduction, it can go in and make sure texture is not only maintained but not interfered with by compression. The result is skies that look deep and clear, weaves where you can almost see every strand and thread, and gravel that you can almost hear the crunch.
It also detects things like concerts, which are traditionally hard to resolve, and then figure out the background while focusing on the action. Snow and ice too, so rather than massive blowouts you get detail in the frozen landscapes without losing your subjects to shadow.
It's all part of Apple's continued goal to give everyone an easy-to-use camera and Camera app that's ready the moment you pull it from your pocket and, when you hit the shutter, captures you the absolute best, most natural-looking photo, in the widest range of situations and circumstances as possible. And, year after year, iteration by iteration, pixel by pixel, Apple is delivering.
When comparing to iPhone 7 it was small differences that I noticed. Leaves in the background or wooden planks on the floor that were clear and distinct rather than smeared together. Even in low light.
Those kinds of details might not matter to you but they make the scene more real and more powerful, and that matters to me and, I think, to everyone who cares about imaging quality.
Here's what a gentleman at Apple Store 5th Ave. told me on launch day about why he was picking up an iPhone 8 Plus:
Of course, the cost of all this silicon-enhanced photography is that it sometimes fails you. It's not often — usually when you're combining several factors like extreme low-light and motion detection, you can hit the limits of the system. But those are often the shots you'd never have gotten before. Maybe never even tried. Now the expectations have changed and you're willing to try almost everything.
That brings me to iPhone 8 Plus. Optical zoom and Portrait Mode — now out of beta — benefit from the better optics. Portrait mode also gets huge boost from A11 Bionic. Where, previously, it felt like the effect was pegging the A10 Fusion on my iPhone 7 Plus, on iPhone 8 Plus it feels like it still has tons of headroom. So much so, that Apple is adding Portrait Lighting — now in beta.
Where Portrait Mode tries to solve for "people like Bokeh in their photos but don't want to carry around big, fancy lenses", Portrait Lighting tries to solve for "people like dramatic lighting in their photos but don't want to carry around floods and reflectors".
Portrait Lighting is only available on iPhone 8 Plus and iPhone X. Apple could certainly run the software on iPhone 7 Plus, but the experience isn't what the company wants. (Much like video was exclusive to iPhone 3GS when it launched, and indie efforts to port it down to iPhone 3G resulted in a frustrating 15 fps capture rate.)
Even on iPhone 8 Plus, Portrait Lighting is still a work in progress. Under ideal conditions, you get a Studio Light that illuminates your subject's face, a Contour Light that tunes up the shadows and highlights, a Stage Light that loses the background to inky darkness, and a Stage Mono look that does the same but in black and white.
Under less than ideal conditions, you get hilarious failure replete with miss-detected edges and wackily illuminated faces.
But here's the thing: It costs you nothing to try. Apple supports the HEIF (high-efficiency image file) format not only in iOS 11 but at the hardware level on A11 Bionic. With HEIF, the depth map is stored separately in the same container, so you can toggle it on and off at any time, just like a non-destructive filter effect or one of the new Live Photo modes like Bounce or Loop. That means you're free to experiment with zero risk. If it works, great. If not, tap it off and you have the original, unmodified image. It takes all the stress away and just lets you play. And that's where real creativity and inspiration comes from.
Also, Portrait Mode has made incredible improvements over the span of the last year, though, and I expect Portrait Lighting to be similar.
Most of all I'm wondering what trick Apple's computational photography team can take from the pro photographers bag next? Portrait Backgrounds?
Where Apple is clearly competing with the best in prosumer pocket cameras now there's on area where the company feels its pulled far ahead: video.
For iPhone 8, the architecture from capture to encoding has throughput enough to record 4K at 60 FPS. And it can maintain that capture rate for extended periods of time without breaking a sweat. Seriously, roaming on the cellular network warmed the glass up more.
It can also do 1080p Slo-Mo at 240 FPS. Like the 4K at 60 FPS, these simply aren't features you expect to see on prosumer video cameras, much less "phones". Yet here they are and, in our quick tests, they hold up remarkably well.
Apple's using HEVC (high-efficiency video codec, the horrible acronym for H.265) for the encoding now, which has more overhead but results in files roughly half the size of H.264. Again, it's supported in both iOS 11 and at the hardware level on A11 Bionic, which seems to just chomp through it.
What's more, the ISP is doing predictive analysis on the video at a granularity of 2 million tiles per frame for the same kind of elements as is does for photos, including skies, textures, and motion, and then optimizing the compression to preserve as much detail as possible.
My colleagues, Serenity Caldwell, Derek Kessler, and I are in the midst of our usual in-depth photo and video tests, so expect much more on all of this over the next few days and weeks.
The last but absolutely not least thing to note about the iPhone 8 camera system is that it's been enhanced for augmented reality (AR). Apple's gone all-in on its ARKit framework and, to ensure the best experience possible for ARKit-based apps, the company has calibrated the camera system and updated both the gyroscope and accelerometer specifically for AR.
Since ARKit apps started hitting the store at the same time as I started using iPhone 8, I haven't been able to compare extensively with how they perform on iPhone 7, but they're impressive on both.
For a while, Apple was making previously inert input devices smart: The mic got Siri so it could understand what we said; the Home button got Touch ID so it could tell who we are. The camera has had face detection for a while and will soon have Face ID. But with ARKit it starts to understand that world around us, interpret it, and bring it to strange new life.
Sample furniture as if it's sitting in your very own living room. Raid a castle floating over your coffee table. Land a starfighter in your backyard. See a Sudoku scanned and solved right before your eyes. Punch a hole in the world and step right on through.
It's sci-fi magic. Even if you have to hold your iPhone 8 up in front of your eyes to see any of it. At least for now.
iPhone 8 A11 Bionic
Last year Apple switched from using simple, raw numbers to differentiate its silicon generations to numbers backed up by brand names. So, iPhone 7 launched with A10 Fusion, a reference to it's dual, paired performance.EFFICIENCY cores. Now, iPhone 8 launches with A11 Bionic. It doesn't have human.MACHINE cores so much as it has a Neural Engine block and Bionic — as in the Six Million Dollar Man and Woman (ask your parents) — is just a cool sounding way to market that.
It's also a cool sounding system-on-a-chip. Instead of four cores it has six, two high-performance and four high-efficiency. The high-performance cores are up to 25 percent faster than A10 and the high-efficiency cores are up to 70 percent faster. Instead of being paired, all six cores can be addressed at the same time for some impressively massive parallelism.
It results in A11 Bionic benchmarking faster than some laptops, including MacBooks Pro. In a system that fits in your pocket. Without a fan.
Part of the silicon team's secret sauce here is their performance controller. They've only been singling it out for a couple years, but it's essentially the dispatcher that sits between tasks and chips and makes sure everything is done as fast as possible while consuming as little power as possible.
Also new this year is Apple's first, fully custom, three core graphics processor and the aforementioned Neural Engine block. The graphics, for example, lets iPhone 8 render highly detailed, highly textured models to put into the CPU-tracked 3D space of ARKit. The Neural Engine block accelerates Core ML, the machine learning framework that's increasingly touching so much of Apple's experiences.
What's fascinating is that, when you hear people talk about it, it sounds more like training a pet than coding a computer. Which is amazing. And terrifying. (Though Apple, as always, is keeping everything local to the device so it's private and secure. And, in an AI uprising, I can take an iPhone. I think…)
Equally interesting is that, while competitors were screaming AI from every stage and analysts were worrying that Apple had missed it entirely, three years ago the silicon team was already working towards it for A11 Bionic, just like software teams were already doing computer vision and the hardware teams were already using predictive patterns to optimize battery life.
Speaking of which, I've only been using iPhone 8 and iPhone 8 Plus for a few days, and alongside other phones for relative testing.
I have played some Pokémon Go on iPhone 8 Plus, which is about the worst thing you can do to a battery, and it's held up about the same as my iPhone 7 Plus did. That is to say, it drains, and fast, but at around the same rate.
That's in line with Apple's estimates and long-standing practice of keeping battery life the same while using improvements in efficiency to offer more features or lighter, easier to handle devices.
While I get that lightness is key to usability — if you can't hold up your phone for long periods of time to read a book, play a game or watch a movie, that extra battery life doesn't help you much — we are entering an era where I think Apple has to work for a better balance.
It's not just Pokémon Go, either. It's Snapchat and Instagram and now, AR. Modern usage isn't just checking mail or surfing the web every few minutes. It's firing the display, GPS, cellular data, and hitting the SoC, hard, for long and sustained periods of time.
Yes, batteries are insulators, which increase heat, and they're not RF transparent, which makes radios a challenge, and you can't just pipe more in like it was frosting. But increasing battery life to better meet the demands of modern apps is something Apple's going to need to address.
(It also seems like Apple is doing something strange with GPS on iPhone 8. In low-power mode it no longer updates as continuously as it did on iPhone 7. Even off low power mode, it'll sometimes jump around when waking from sleep. I'm looking into this more and will update with any answers I get or figure out.)
iPhone X is teasing an extra couple of hours of battery life, perhaps due to its new technologies like OLED. If that ends up being the case, it's a good step forward.
Overall, A11 Bionic shows that, even though no one else in the industry is doing silicon like Apple. Not even close. And Apple is happy to keep that team and these chipsets not just racing ahead, but accelerating.
If you're a fan of computers in general, you can't help but want iPhone. A-series powered devices continue to be the most exciting silicon in consumer tech.
iPhone 8 Accessories and Apps
iPhone 8 and iPhone 8 Plus are physically the same design and dimensions as iPhone 7 and iPhone 7 Plus. While they're broadly the same shape as iPhone 6s and iPhone 6s Plus, and iPhone 6 and iPhone 6 Plus, differences in the camera size and positioning, and the absence of a 3.5 mm headphone jack can cause some issues with older accessories. Measure twice, fit once.
Needless to say, there are a ton of accessories available already, from cases to screen protectors, charging pads to car mounts, toys to drones. We regularly update lists of our favorites:
Since iPhone 8 and iPhone 8 plus run iOS 11, they're compatible with all the millions of apps in the newly redesigned iPhone App Store. That includes all the apps from Google, Microsoft, Facebook and Instagram, Twitter and all the games you could imagine. If you're coming from either Android or Windows Phone, you'll feel right at home.
There's also a whole slew of just-launched augmented reality (AR) apps as well.
iPhone 8 can run AR with processor headroom to spare, and the cameras have been calibrated to provide the best AR experience possible. Many of them are cool. Others open up new worlds and blow your freaking mind.
Every iPhone 8 and iPhone 8 Plus ships with iOS 11, Apple's latest-generation multitouch operating system. It will even let you set up your iPhone 8 simply by bringing it close to your old iPhone.
iPhone 8 Pricing and Availability
iPhone 8 and iPhone 8 Plus are available now starting at $699 and $799 (opens in new tab) for the 64 GB versions, or $849 and $949 (opens in new tab) for the 256 GB versions. (Apple is no longer offering versions with less than 64 GB, or a version with 128 GB.)
Still, that's $50 more than the starting price of any previous iPhone flagships and, even with the storage increase, that sucks.
Apple hasn't said specifically, but with iPad Pro prices rising as well, it's likely the same cause — the soaring cost of memory chips. It's unclear how long the shortages and related increases in component prices will last, but hopefully, we'll see a corresponding price drop if and when supply and pricing stabilize again.
With your iPhone 8 comes Apple Stores and AppleCare.
Apple Stores are in the midst of a serious upgrade. Not only are they improving the traditional Genius bars to provide for better, hands-on technical support, they've added Creative Pros to help you with using the features on your phones, and Apple Today as a hub for education and arts.
Competitors still haven't caught up to the level of service available in the old Apple Stores, much less the new ones. And there's just no way to even begin to compare the value of iPhone to other phones without including Apple Stores — and Apple Care.
With Apple Care, you're covered against the usual issues for a year. With Apple Care+, you're covered for two years, including up to two $29 screen and $99 water/other repairs/replacements.
If, like me, you're not always as careful with your technology as you should be, then you, like me, might extract significant value from AppleCare+ over the course of a couple years.
iPhone 8 Conclusion
It's not hard to justify iPhone 8. Even in a world where Apple could have gone all in on iPhone X, it would have left some customers behind. That's easy to do when the base is in the tens of millions. It's much harder when it's in the hundreds of millions.
We saw that first hand when iPhone 6 and iPhone 6 Plus launched. Apple didn't hedge with an update of the existing design and that upset some customers. Customers who stayed upset until iPhone SE was introduced over a year later. Maybe, just maybe, Apple has learned a thing or two since then.
Unless you're part of the iPhone Upgrade Program or a similar carrier program, which provide year-over-year upgrades as part of the monthly payment plans, most people simply don't upgrade every year. They upgrade every couple or few years. iPhone 8 will be the first upgrade for people coming from iPhone 6 or iPhone 6s, maybe even from iPhone 5, iPhone 5c, or iPhone 5s. Compared to those phones, especially the older ones, either iPhone 8 or iPhone X will be tremendous upgrades.
If you want an all-new experience, you'll be able to get iPhone X in November. If you love everything about your existing experience, including the Home button and Touch ID, and you just want it to be faster, with better cameras and conveniences like inductive charging, you can get iPhone 8 today.
See at Apple (opens in new tab)
Rene Ritchie is one of the most respected Apple analysts in the business, reaching a combined audience of over 40 million readers a month. His YouTube channel, Vector, has over 90 thousand subscribers and 14 million views and his podcasts, including Debug, have been downloaded over 20 million times. He also regularly co-hosts MacBreak Weekly for the TWiT network and co-hosted CES Live! and Talk Mobile. Based in Montreal, Rene is a former director of product marketing, web developer, and graphic designer. He's authored several books and appeared on numerous television and radio segments to discuss Apple and the technology industry. When not working, he likes to cook, grapple, and spend time with his friends and family.
So will there be a significantly noticeable difference in photos taken in bright light? The majority of the time I'm taking photos is in brightly lit places. Likewise most of the things I do on the phone apparently isn't "modern," is that to say I'll see little to no discernible difference with a 6s for Mail, Safari, Google apps, and more text based networks like FB and Twitter?

Most likely no. Those things don't put a ton of stress on the phone so really anything from the 6s and up won't see much difference in those tasks.

A brightly lit outdoor scene is ideal for any camera, it when things aren't ideal that camera advances show themselves. iPhone 7 and iPhone 8 both let me take photos previous versions couldn't — at least not in usable or even enjoyable form.

In day light there will barely be a difference. In low light there will be some different. If you barely ever take photos with a flash, then there will be less difference. Someone here still has an iPhone 6 Plus. Daylight images are barely worse than my 7 Plus. Performance is still good, but you can feel the RAM strain. If you have an iPhone with 2GB+ RAM, these models are 100% skippable, and it makes perfect economic sense to wait untilnext year. The only people who can truly justify paying to upgrade to these are those in 5S/WE and 6 models. At this point, the 4.7 model (and It's horrible battery life) isn't an option to me, even though I'm desperate for a smaller phone. The X isn't an option. You're really overselling the camera improvements. I've upgraded every time and they've all been underwhelming compared to previous generation - including the 7 Plus I have now. This leaves the phone feeling 3 years old even though it's 10.5 months old, because it feels exactly the same as a 6 Plus did and does. These will be no different. Upgrading iPhones now feels like buying a pre-order phone at a pawn shop. I feel like going out and getting the Galaxy S8, but I think I will wait for the S9. March isn't that far off. If I switch phones, I'm ditching the Mac as Android works better with Windows. I'm due to upgrade my iMac this holiday season (will put that off and wait until Samsung's next S model). If I move mobikes, I'll just order a new Windows PC at the same time and move on in one fell swoop.

same here feel the iphone 8 is just an iphone 6sss

Hows the call quality? External speaker quality?
Does the glass help with spotty cell service?
As always, love the review :)

I'm on a different network for iPhone 8. Cell is a little muddier to my ear but FaceTime sounds absolutely terrific, so I'll need to swap SIMs for a while and see what's what. Reception seems on par but again, I'll need to do some proper isolation testing for that. External speaker is aces.

Not the upgrade I'm looking for. This is the iPhone 6sss.
Not sure the x will be the one either. Note8 is calling for me.

Check out SuperSaf's camera comparison between the Note 8 and the iPhone 8 Plus. For cameras being lauded in the fashion that iPhone cameras are every year (...b/c they are awesome) it is amazing to me how Samsung's high end is consistently ahead in photo quality, with better functioning HDR and more detail in its captures.

I just watched...The Note 8 picture/video quality is A1!

So far iPhone 8 is beating Note 8 in most camera tests. Even MrMobile saw that last week (watch his video, above.)

Huge MrMobile fan. I watched his video as soon as it dropped, but when he does comparisons, they are a section of an overall take on a product. Camera comparisons are Saf's stock in trade. Not saying that visual evidence from either is right or wrong, just that Saf's take is going to be more comprehensive, by the nature of what he does.

I do not care about using a phone as my camera. This smartphone craze is going a little overboard. It is a phone first. Apple is "improving" the camera with software but no real megapixel improvements. Apple also takes away features such as the headphone jack and soon with iPhone Ten the home button and touch ID. Tim Cook justifies a price increase by saying on Good Morning America that it is "value priced" for the technology provided. What technology provided... You mean the technology replaced by an unproven Apple created technology and taking away choices from the customer. One example, Samsung's Note 8 provides 3 biometric ways of unlocking the phone... fingerprint and iris sensors as well as facial recognition. Apple should make a good phone first and forget the gimmicks such as AR and animi. Is this a phone or a new electronic game. Apple is clueless.

They are not phones first. They haven't been. YOU may think so, but that would be based solely on your use case. No, these are so much more than just phones first.
The fact that you make the MP argument tells me your just not that technical of a person, so maybe you really do just use this as a phone.

the price on the iphone 10 is high because apple made really good money on the iphone 6 and the iphone 6sss followed. because is the same body and just internal changes so it is cheaper to make over time. now with the change they have to get more money otherwise they do not make as much money.

does it matter which camera is better?

hey that is my comment iphone 6sss. yeah note 8 looks great but that thing is a giant but the screen....wow

So, what is the most impressive immediate take away for this years iPhone? Speed is always nice, but iPhones are always enough ahead of the performance curve that you don't see differences for a generation or 2. Wireless charging will be more impressive when it is more ubiquitous. Its the same with AR. Sooooo... True tone maybe? The new camera modes?

True Tone is amazing, especially if you read on your iPhone like I do. Can't go back. The new camera mode is beta, but the improved optics and ISP make a difference in low light and with the reproduction of textures and other details. Basically, iPhone 7 could take photos previous iPhones couldn't. iPhone 8 can make those photos look AMAZE.

Interesting. I didn't expect the iPhone 8 to beat out those android phones in camera tests. I'm actually ok with the $50 dollar increase for more memory. I paid $750+ tax for this same configuration for my iPhone 6s. 64GB is better than 32GB, so for me that's a $50 dollar savings. That being said, I'm really leaning on keeping the 6S one more year. I want OLED but I also want Touch ID and better camera. So, whatever next year brings is what I'll buy no matter what either way. Unless they totally kill the Touch ID that is. Then I guess it'll be time to relearn or look at other options.

You should watch some real camera tests with live samples. The iPhone 8 does good but not great. Inconsistency in hdr between the two lenses is atrocious and the gap of not having ois in noth lenses leaves this camera behind.

I was actually looking at the LG V30 which was shown on the video here. The pictures appear better on the iPhone8. It may be possible that the videos could come out better. I don't know. But really I rather wait. No hurry. The 6S does everything I need it to do. I expect the camera to only get better next year on the new iPhones.

Apple seems to prefer Face ID to Touch ID, so Touch ID may be going away. We'll have to wait and see.

How can you say that when the only phone that will have it still has not gone up for sale and they just released TWO new phones WITH Touch ID! So are you saying Apple is saying, sorry everyone who buys the 8, but you're getting obsolete technology?

That would be too bad because my wife also uses my phone when I'm not available (FeedBaby app) so the ability of being able to store more than one fingerprint via Touch ID is indispensable and a good reason to continue to keep it. At worst, Apple should consider moving it to the back.

Seeing the iPhone 8 had glass back, is the signal strength any stronger? I always have the best Android & iPhone every year, I just have to have them, saying that the Android always beats the iPhone in signal strength. I always assumed it was because of the metal backs on the iPhone compared to the glass backs on the Android. Can anyone say if the iPhone 8 signal is stronger than iPhone 7??

I haven't noticed a huge difference in signal strength. What I'll be testing is whether signal stays usable in a wider range of places, especially ones where previous iPhones dropped off.

Call quality seems to be the same, if not better for me. I am on Verizon and I live in Los Angeles.

I have noticed the call quality and signal strength to be better. I'm on Verizon I had two bad spots in my area and I have a signal on I didn't know what to blame it on but that could be the answer. Rene speaking of the palm pre if Apple would have included a magnet like the pre the sweet spot would have been better to find. I personally love the growth of the iPhone. I always thought that the plan was to improve on what was good hardware and software. People are to involved in the one more thing waiting for something that will give them Jedi powers to stop and see how far the phone has come.

I am going to pass. Both the iPhone 8 and X are fairly disappointing to me. Not enough improvements to justify switching from 6S. To each their own though.

I'm so on the fence. My iPhone 6 is screaming for an upgrade, so this is the cycle for me. But 8, 8 Plus, or X? The camera is really important to me, so that is pushing me towards the 8 Plus or X. I really, really like the new gold color, but not the size of the 8 Plus. The screen on the X looks amazing but the rest of the design doesn't do much for me, at least from what I've seen in the videos. For now I'm just sitting on the sidelines waiting for the X reviews to come out before making a decision, and hoping that if I choose the X I'll be able to get one before the end of the year.

If you want the best camera in the smallest size, that's iPhone X.

Why is it the best? It is the most expensive!

Two things distinguish X from Plus: OIS on both rare cameras and front camera Portrait.

I am still waiting for the iPhone 8 to arrive in the country. I wish Apple could have gone with black faceplate on the gold phone like Samsung has done with every color. I really cannot take a phone with white faceplate anymore, it shows too much of the sensors on the top. So I'll go space gray again.

Is it really necessary to omit the definite article when referring to an iPhone? It's not big and it certainly isn't clever.

A11, Face ID, new cameras, AR, the level of Apples innovations is incredible this year. However I'm not a fan of glass back and wireless charging without AirPower is not convincing. We also don't know much about iPhone X before it's thoroughly tested. I'm personally holding on till next year, really looking forward to getting X, but not as early adopter.

Just curious as to what you think airpower is going to bring? You can get charging pads that charge multiple devices at the same time now.

Airpower will not only have an image of a partially eaten fruit on it, but will also cost way more than any of the others.

AirPower brings refinement and improvement of wireless charging experience that I usually expect from Apple, I don't think there is any pad right now, that can charge my iPhone and Watch at the same time.

Nope, and the only reason for this is because Apple blocks out chargers that they haven't manufactured even though their Watch uses the Qi standard to charge.

I don't care the reason, AirPower gives me sth that doesn't exist right now, sth that will enrich my user experience in Apple ecosystem.

I'm considering switching from my Android to iPhone. Deciding whether it's worth it to go with the 8 Plus or just get the 7 Pluss and save a few bucks at Verizon. Thoughts?

If you take many photos I'd go for the 8Plus. Whilst my 7 Plus takes great snaps in daylight, it's pretty hopeless in darkly lit environments. The 8 Plus appears to perform way, way better.

iphone 7/8 plus is to big for many better get a V30

Excellent review, as always. Keep up the great work, iMore!

The real problem is "dead end syndrome" because all of the early rumors for next year is iPhone X will come in large (5.8") and larger (6.4") only - in other words iPhone X and iPhone X Plus. If that is the case, iPhone 8 is the end of a model design (like cars) and won't hold resale value as it has in the past. PS - EXCELLENT review, as always.

Thank you and that's an interesting point. It could also be seen as the height of this era of iPhones, much as iPhone 5s was the era before (and that returned, beloved, in iPhone SE).

I have my iPhone 8 Plus and really like it. I have no interest in X or it's extra features. I don't want facial nor do I want to go without a home button.

Yeah gonna wait till the x comes out. With the 8 seems like some new features but with a lot of recycled/reusing old materials. Would like an upgrade but was waiting something new and to me the 8 looks and feels except the glass back like a 6,6s, or a 7. And can't see paying another 900$ for the same experience. Im hoping the x knocks it out the park. If not android may be the only radical way for me to go. iOS 11 didn't add many new features to phones except how it looks now for the iPad with drag and drop and true multi windows multitasking would have been awesome on the iPhone.

Where's the black one, though? :(

found it - it's just almost never shown in their adverts

. . . It's just a phone, first and foremost, and if it's having issues with that simple function then there is already a red flag raised up right there, regardless of how many other "cool" features a phone may have. That being said, the iPhone 8 Plus was an upgrade I ONLY needed, but I by no means wanted. I definitely don't need the X either, at least not this year (there will be a place for that in November). But for now the iPhone 8 Plus is what it is, an iPhone 6S Plus on cocaine and Ecstasy. It's not a crappy phone by any means, but all smartphones IMO that have been released in the past 3 years have pretty much been subpar to me (yeah, I said ALL smartphones). I'm still waiting on true Wi-Fi/Wireless charging and not this Bull**** excuse known as Conductive charging where one is still tethered to a puck. let me move around while my phone can still charge, and that right there is what I'll call "innovation." Also, not that it won't matter at that point, but has anyone not realize that both the 8 and X (the one with the $300 premium) are going to be Obsolete at the exact same time in 2022?? Yeah, if you are one that only upgrade when your phone is essentially dead, that should be taken into consideration. I plan on keeping this phone for 3 years, cause I really believe upgrading every year for small improvements is pointless, just my opinion though. So, I like the phone, but regardless, if my iPhone 6S Plus wasn't suffering from those Bluetooth, Wi-Fi, and Battery issues, I would skip out on both 8 and X, and so should you if you are not in need of an upgrade.

Passing. Looks like a 6 Plus and I've had all iPhone Plus since then. I've run out of patience with this design, and the iPhone X price is an insult. They also raised the price on these models. Not worth the upgrade from a 6s or 7 Plus. Maybe worth it from a 6 Plus but the person in this house says they're keeping their 6 Plus as it works fine and still gets great battery life. No use paying for another phone and jacking your bill up if you're done paying for what you have and it works fine 😉 The improvements in new phones, and their impact, are always overstated - especially on fansites/blogs. I take all of this with a grain of sale. The iPjone 8 Plus is basically a 6 with some component upgrades the C advertises a 5.8" screen, but it's actually closer to 5.5 thanks to that awful cutout. The price is ridiculous, and I usually don't blink before buying a new phone. The spell has definitely been lifted - for me, at least. These devices are too iterative. Samsung would be laughed out of the building for using the same base design for four years in a row - especially with bezels that big and battery life like what you get on the smaller iPhone (even with that middling screen resolution).

Only if you use the camera a lot I would ever suggest to upgrade all the time. Always makes a big difference.

I've been hearing a lot of chatter that the cameras on both version's of the 8 have the ability for facial recognition, that it will be "opened" in a future update. Truth or no?

I'm sure the iPhone 8 models are both very good devices. But I've clung on to my iPhone 5S for so long I feel really far behind and don't want to be any more. So I'm holding out just a little more for the iPhone X when it becomes available. Looking forward to it too! :-)

From my perspective, the 8/8 Plus has everything that the X will have except the display and its smaller package, neither of which are crucial for my primary needs. My 8 Plus arrives tomorrow and I will have spent $300 less, a savings that includes being able to use my current phone cases. I do get those who await the X. Just no need for me.

My decision: It's all about the Home button, similar specs, and that 256 GB. If Apple makes their 2018 iPhone with a virtual home button then I'm in. Until then, and any Face i.d. quirks go away, the iPhone 8 Plus is for me. I'll be ordering mine by the weekend.

when i picked up my iphone on Friday i was excited like always. i unboxed the iPhone and first time i did not feel anything. the last iphones like iphone 6 new design iphone 6s 3d touch iPhone 7 plus new camera and iphone 8? nothing like nothing. thnak god thise time i did not sell my iphone 7 plus. i will return my iphone this week and back to my old iphone.
it shows that apple focus on the new iphone X and next year we see something brand new. maybe one iphone X would be better after all.

I thought for sure I would move from my 6S Plus to the X. Almost the same size screen in a smaller form factor. Then after listening to ATP they reminded me the X is about as narrow as the 6/7/8. I hate typing on my wife's 7, the keyboard seems so cramped. That coupled with the **** show that will be trying to buy the X made me get the 8 Plus.
For years I have hated putting such a beautiful device in a case.
Apple bragged about how strong the glass is on the 8. So I skipped the case and went with AppleCare instead.
Now I am seeing articles all over the web saying you drop an 8 you are almost certainly breaking the rear glass.
This is really bumming me out now.
And this 8 Plus is slippery, I thought it would be a bit less so in the hand.

Get an apple leather case for your 8 plus....they are fantastic...

Difficult moment as an Apple fan. The 8 is a fine device, and that shape remains iconic. But its the best of the last generation. You only need go into a phone shop to see that the wider market is moving on from the basic template they all nicked off Apple in the first place. Its just about acceptable this year, but you buy a phone to last you two or more years usually, and in two years time the iPhone 8 is going to look really old fashioned. The camera looks best in class, but there's no huge gap anymore between Apple's cameras and everyone else's. You're talking marginal differences most people won't be able to notice. Add in the fact that the price is still right at the very top end of the market and its a tough sell. On the other hand the iPhone X looks exciting, but has a number of issues. The price is unjustifiable imo, and the fact that it can only be produced in small numbers means that, realistically, most people won't be able to get one. For most users, it may as well not be on the market its so unobtainable. Apple have traditionally offered affordable luxury. You pay a small premium for your Apple device, but you get more than you pay. You get a device that's so finely made that you appreciate it every day and looks better than anything else not the market. And while some Android is usually offering something or other that's more cutting edge in one area, Apple always had the best tech that mattered to most people. That seems to have changed this year. You pay a premium still for the iPhone 8/8+, but you get a phone that doesn't look as good as its main competitors, and the gap will only grow. The iPhone X looks the part, but that's no small premium you're paying, its a huge gap - its almost double the price of its main samsung competitor. Thank heavens iOS 11 is so good, because on the hardware side, its hard to make the case that Apple is at the front of the pack any more.

Hey René,
If Portrait Mode, Portrait Lighting, and the telephoto lens are not of interest to me, I am assuming that the iPhone 8 model otherwise gets all the new camera goodies? Is it a big enough jump from the 6s to be worth the upgrade?
Thanks, and great review!

New Apple iPhone 8 and 8plus cost 600usd, Apple iphone 7 and 7 plus 550usd serious buyer should contact us. Whatsapp CHAT or Call : +19842085304 or 0019842085304

imore i get it you make money review apple products so you have to talk pro apple. otherwise the benefit is gone going to events and getting review units and so on. which is critical for the business. i used the iphone 8 for a week and honestly there is nothing that makes me happy. wireless charging i believe they could of done it last year. the camera same thing just a software update and same thing. apple chip is faster oh my iphone 7 was already fast. now apple give the chips even names to make it sound better. someone see the drop test from the iphone 8? best glass ever made? still shatters when falling. iphone 8 is just a joke and nothing more.

New original Apple iPhone 8 and 8 plus cost 600USD. come with 1year warranty, iPhone 7 and 7 plus cost 550USD, serious buyer should contact us. Whatsapp CHAT or Call : +19842085304 or 0019842085304

With the glass back of iPhone 8 prone to crack most people will put a case on it. This make decision to choose iphone 8 difficult since the front side is really old and outdated. IPhone 7 brought the jetblack and dual camera but 8 lack the wow factor and hide in the name of resources management (blah3 iPhone X blah3). The lack of focus was further worsen and contradicted by the price increase. I choose iphone 7 plus to upgrade my 6 plus and was not surprised when report suggests the 7 out sold the 8. How good the future of Apple will be remain to be seen but smoothing all these blunders by pro-Apple site like iMore will only do harm. A good friend is the one who dare to spell the bitter truth.

I am beyond happy with my upgrade from the iPhone 6 (darn battery issues but I was long overdue for a change anyway). This is a considerable upgrade with the new touch optics and live photos. Due to my extensive list of photos, music, podcasts and downloaded videos from YouTube, I needed a 256 MB model so, price wise, it worked out. The 8 Plus is too large for my pocket AND the extra features on the X (animojis, portrait mode) isn't worth the extra $300 as it only grants access to one person (can have more than one fingerprint stored on the 8).

How do I zoom in on a video selfie? I see the other camera zooms with pinching. Is there any way after a selfie (or any video) to edit to get just the center square area, and eliminate sides, top, bottom? Cropping seems to just change the length of a video. FYI I have SE.

I am a huge Fan of the iPhone. And I loved the iPhone 8 Plus camera with 10X zoom and much more.
Get the best of iMore in in your inbox, every day!
Thank you for signing up to iMore. You will receive a verification email shortly.
There was a problem. Please refresh the page and try again.