Free Push Notifications with Push Doctor on your Hackivated iPhone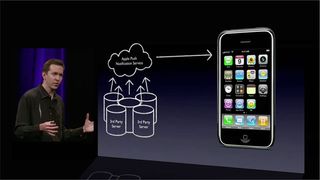 If you are the owner of a hackivated iPhone today seems to be your lucky day as Push Doctor for push notifications has arrived via Cydia. Push Doctor supplies you with true activation certificates so unlike other workarounds, certificates are always unique.
Push Doctor is completely free and can be found on the NERV repository (http://www.cmdshft.ipwn.me/apt/) which you must add in Cydia. Keep in mind you will not see any application on your Springboard as all it will do is add certificates to your device. If you do give this a try remember to be patient as the server has been getting hammered all morning and push notifications may not work right away. So if you get any sort of error on install, simply try again at a later time.
Let us know how it's working for you in the comments below!
Get the best of iMore in your inbox, every day!
Your source for all things Apple
What is this? Why would I want it?

If you don't know, then you don't need it. Seriously now, what were you thinking?

I had the same question at first too. Did some looking and it's for HACKIVATED phones only - basically if you don't know what this is, it doesn't affect you at all.
Hackivate - activate your phone through an unauthorized carrier.
Push Doctor just fixes a Push Notification problem for hackivated phones where push isn't working.

hahahaha~ newb cake. seriously, why do you own an iPhone if you don't know anything about it? i hate those kind of people who owns an iPhone to show off.

@Kayrezz Not Everyone has a Unlocked Iphone, So be nice to people that just have it Jailbroken and dont need this feature.

Haha wow you guys need to stop bashing, not everyone buys an iPhone to jailbreak or to show it off. People buy it cuz thy like it and want it. Knowing about the iPhone and knowing about hacking and jailbreaking is two different things. Jailbreaking and modding is a hobby not a requirement to own a iPhone.

@kayrezz So you hate millions of people. You seriously should consider not to be so extremist. They could say they hate you for owning an iPhone and think you use better than them, just because you know how to jailbreak it or what hacktivated means...

"I hate those kind of people who owns an iPhone to show off" really?
thanks for that Gollum..
Why not tries to help someones out when they ask a simple question? Not knowing everything about Hackivating means you know nothing about an iPhone? You're an idiot - keep your cynicism to yourself.
I hate those kind of people who can't spell when they jump on someone for nothing.. go back to Lord of the Rings

I installed the packages on Cydia. HOW WILL i know if it works?

@kayrezz Dude get a life and stop being a jack***. You probably read and reply to every single iPhone blog just to be nasty and superior other people.

Is this fix the youtube problem as well??

To test if Push apps are working after installation of Push doctor...
Go to the Apple App store and download the Free app "ipusher"
it will check and see if your push apps are working!
Push doctor is the Best push fix around!

Hahaha that Mario...!
Hey Friends,
Check out this new site I found called GiftMonkey.com. They give away free high end Laptops, Video Game Consoles, iPods, Plasma TVs, and they even have GPS Navigation Systems.
This site is different from all of those others. They don't give you a time limit, and they don't make you signup for 10 sponsors yourself. All you have to do is try one of their sponsored offers like eBay (which doesn't cost anything), refer your friends, and they ship your free gift to your door, also free!
Follow my link to get started: http://www.GiftMonkey.com/?s=176291
Please help for my college... Thank you.

I know this is truly boring and you're skipping to the next comment, but I just wanted to throw you a big thank you - you cleared up some things for me!

My iphone cant install. My iphone is lock set after jailbreak n unlock it. Error mesaage show"subprocess post-installation script returned error exit status 1" my iphone 4 is version 4.1.

i followed the steps and i installed push doctor but it' s not working properly message appear that : half installed package,when the shell scripts associatedwith packages fail, they are left in a bad states know as either half-configured or half-installed. these errors don't go away and instead continue to cause issue. these scripts can be deleted and the packages forcibly removed.
any idea please .......

problema com push do iphone? http://www.pushiphone.com.br
push the problem with iphone? www.pushiphone.com.br