Apple Music subscriptions explained: The difference between free and paid accounts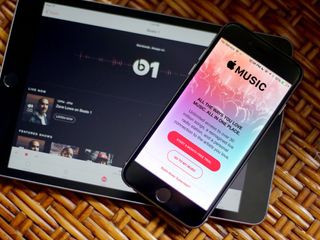 When you sign up for Apple Music, you'll get access to all the features of a paid account for the first three months of your subscription. After those initial 90 days, however, you'll have to choose whether you're going to continue paying for Apple Music—and keep those paid account features—or downgrade to a free account. If you're not sure what the distinction is between the two levels, we don't blame you: No one has a free account right now, as everyone got three months of paid subscription free, so it's hard to tell off the bat what you'll be missing out on if you cancel your subscription.
So let me straighten things out. Here's what you get with each subscription type, and what you're missing out on.
What a free account offers
If you don't have a paid subscription with Apple Music, you'll be able to:
Listen to any music you've purchased, ripped, or uploaded to your device.
Listen to Beats 1 radio
View and follow an artist's Connect stream (but not view or download exclusive Connect content)
Listen to ad-supported Apple Music radio stations—though you'll only have limited song skips available.
What a paid account offers
With a paid subscription, you get all of the above, plus:
unlimited listening to the entire Apple Music catalog
the ability to add Apple Music songs to your Mac's library and listen offline
your entire purchased and ripped library, matched and uploaded to iCloud
unlimited skips for Apple Music radio stations
the ability to like, comment, play, and save Connect content
access to Apple Music's hand-curated recommendations and playlists
What happens if you stop subscribing to Apple Music after the three-month trial?
If you decide not to subscribe after the three month trial, the following happens:
Any streaming music you've added to your library from the Apple Music catalog will no longer be playable
Unless you have iTunes Match account, you won't be able to stream your previously purchased and uploaded music to your devices, and any songs from your Mac's library that you've downloaded to other devices will be removed. (Your Mac's original iTunes library remains as-is.)
You'll stop having access to Connect content
You'll be skip-limited when listening to Apple Music radio stations
Other questions?
Hopefully we were able to make sense of free and paid accounts. If you have a question about them, just ping us in the comments and we'll do our best to reply.
Sweet Music
(opens in new tab)
Millions of songs in your pocket.

Apple's music streaming service boasts over 70 million songs, live radio stations anchored by renowned personalities, and thousands of curated playlists spanning every genre you can imagine.
Serenity was formerly the Managing Editor at iMore, and now works for Apple. She's been talking, writing about, and tinkering with Apple products since she was old enough to double-click. In her spare time, she sketches, sings, and in her secret superhero life, plays roller derby. Follow her on Twitter @settern.
Unfortunately, it's not the entire iTunes catalog as opposed to the Apple Music catalog. Do a search for The Beatles. Makes me wonder what else is missing.

Sorry, but wording:
Under what the free account offers
"uploaded to your device" should be "synced/transferred to your device" upload is to the web. Threw me off when I read it as I thought they were doing the 25k matched songs that used to be iTunes Match only for free. Glad someone laid it out plainly though.

Hi, You said: "Listen to ad-supported Apple Music radio stations—though you'll only have limited song skips available." You should add only in the US. Elsewhere, it seems to be part of the subscriptions. And beats 1 is not really a worldwide radio station as it is only available in 100 countries... Sent from the iMore App

Yeah good point. In the UK with Match but not Apple music so do I get the radio stations without ads?

Maybe you should differentiate between deactivating Apple Music and deactivating iCloud Music Library. These are two different options and the consequences are also quite different.

Isn't this article just a rehash of what it says on https://www.apple.com/apple-music/#mn_p ? Except it's a lot easier to read at a glance on Apple's site.

I have iTunes Match, so I have had Apple Radio stations without commercials. Will I still have no commercials on Apple Radio like before or do I lose that feature (which was pretty important to me).

Kinda wondering this too. If we drop the Apple Muscic subscription to we have to re up on iTunes Match?

I always planned on keeping Match but letting Apple Music go when the three months was up. I mean, it's just music, but the monthly price is what I pay for Netflix or NHL GameCenter Live! That's nuts!

Can you please update us on what percentage of new subscribers have had their personal music libraries compromised when they agreed to let Apple Music put their music files up on iCloud Music Library? Since reading of the potential for personal music disasters I and several of my friends have hesitated to subscribe to Apple Music. Has Apple acknowledged this problem? Have they got a date for a fix? Thanks.

I hate vague phrases like "limited number of skips." How many? How often does the number of skips refresh? Is it a certain number per hour?

I think you can actually access connect content with a free account... https://artists.apple.com/ "What is Apple Music Connect? This is where fans connect with you, the artist. Share your ideas, audio, videos, and photos, and engage directly with your fans. Your posts and all of the material you upload directly to Connect can be accessed by everyone, not just Apple Music members, making sure your voice has the widest reach possible." The only things from connect that you cannot access with a free account is if an artist shares (not uploads) a song/video/album that is part of the apple music library. Might want to update the article!

I set up my free trial, but there is no option for the free subscription, it just has the price for the family plan, and the price for the individual plan. Also, I added some stuff, and cannot find it. It doesn't make sense. Sent from the iMore App
Thank you for signing up to iMore. You will receive a verification email shortly.
There was a problem. Please refresh the page and try again.